Selfie filter apps can help you make better-looking selfies, whether you're trying to get more likes on social media or simply want to capture special moments with friends and family. This post will share with you the 5 best selfie filter apps to better your selfies. (You can try MiniTool MovieMaker to make a video with images.)
With the help of selfie filter apps, you can edit photos and add all kinds of animations or stickers, or facial features or background effects as you like to highlight your selfies. There are so many available selfie filter apps in the market. It takes some time to choose the best one. Thus, this post offers a list of the best selfie filter apps for you. Enjoy!
B612
The B612 is probably one of the most popular and best free selfie filter apps with over 1,500 various stickers. It is a full-fledged free filter app for selfies and video editor that is packed with multiple tools. It is also loaded with dozens of features that can do wonders and turn an ordinary selfie into an exquisite one.
Apart from a variety of trendy filters, effects, and stickers that are updated every day, it allows users to create their unique filters and save and share them with friends and family.
Facetune
Facetune is also one of the best selfie filter apps to edit your selfies very fast. If you want to create the perfect portrait or capture beautiful selfies, then Facetune might be the perfect choice for you.
This award-winning app offers easy-to-use tools to reshape the face, remove blemishes, correct lightning, add makeup, smooth skin, whiten teeth, sparkle brush, and remove red-eye. Furthermore, it offers a wide range of artistic tools and image correction features.
You may also like: Top 10 Photo Editors Make Your Pictures More Beautiful
Retrica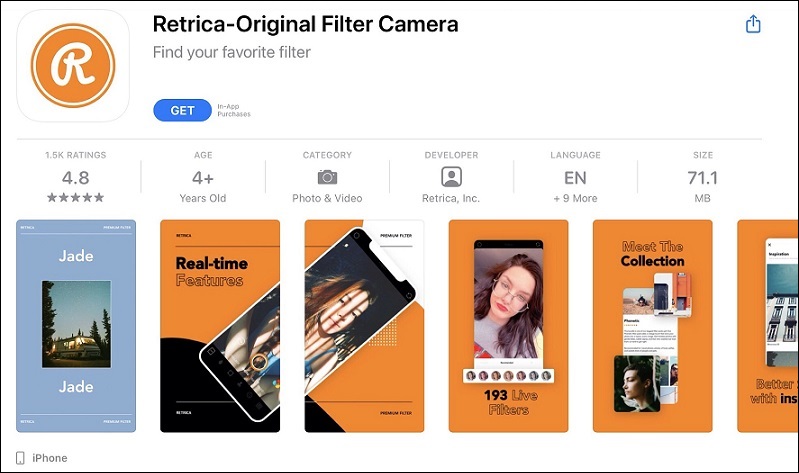 Retrica is also a free selfie filter app that gives you a variety of beautiful camera filters to make your selfies special. It offers many fantastic features like zoom blur effects, time stamping, viewfinder, insight, different colors and lights, and much more.
With this application, you can capture photos and videos directly with real-time filters and effects or edit them from the album on your phone. You can also add vignettes, film grain, or blur to create an interesting retro vibe to your photos and videos.
Snapchat
Snapchat is an excellent app to make your selfies look flawless. It provides great lenses, filters, emojis, and many other interesting features like creating 3D-Bitmoji.
As the name suggests, you can chat with your friends with pictures. With this free filter app for selfies, you can easily save and share all your photos on social networks. There is a chat where you can communicate with your friends.
Related post: 6 Glitch Photo Editors to Add Glitch Filter to Photos and Videos
VSCO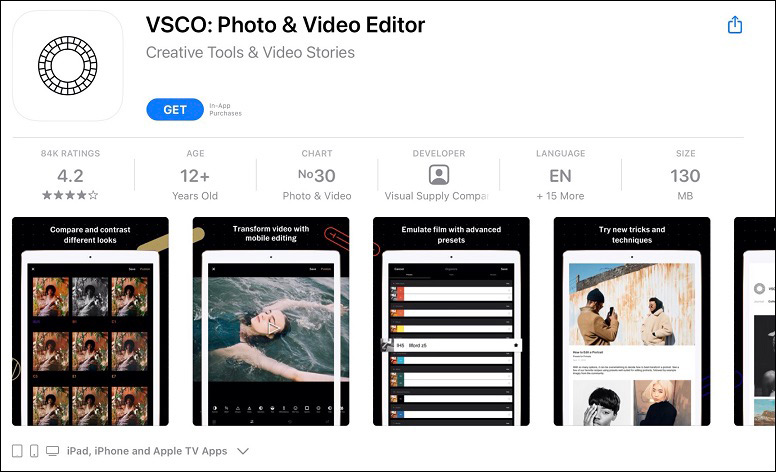 Among the popular and free filter apps for selfies, VSCO is an ideal choice to make your selfies stand out with its artistic filters such as AV4(make the look of the film), AGA1(for outdoor portraits), AL6(keep skin tones looking natural), etc.
The application offers many features, including pre-installed filters, the possibility to adjust proportions, highlights, shadows, and more. You can save your editing settings there and copy them to another photo there.
In addition, this app allows you to use some professional tools like HSL, frames, and video editing.
Conclusion
These selfie filter apps for Android and iOS can enhance your selfies in a great way. Well, just pick one and make charming selfies! What is your favorite selfie filter app? Share it with us in the comments.