Finding the right sizing tool can be difficult because there are too many familiar tools on the market. Compare and filter frequently, this article provides you with 9 best free picture resizer tools. If you want to make a cool video with these resized pictures, try MiniTool MovieMaker.
Are you looking for a free picture resizer? Fortunately, here list 9 best free picture resizer tools, any of which can get the perfect photo fit for your website, social media, or other digital content you're creating.
1. FastStone Photo Resizer
Compatibility: Windows & Mac
FastStone Photo Resizer can be considered as the best free picture resizer, as it not only enables you to resize pictures but also allows you to edit them. It is a one-stop solution for your image resizing, editing, and managing requirements.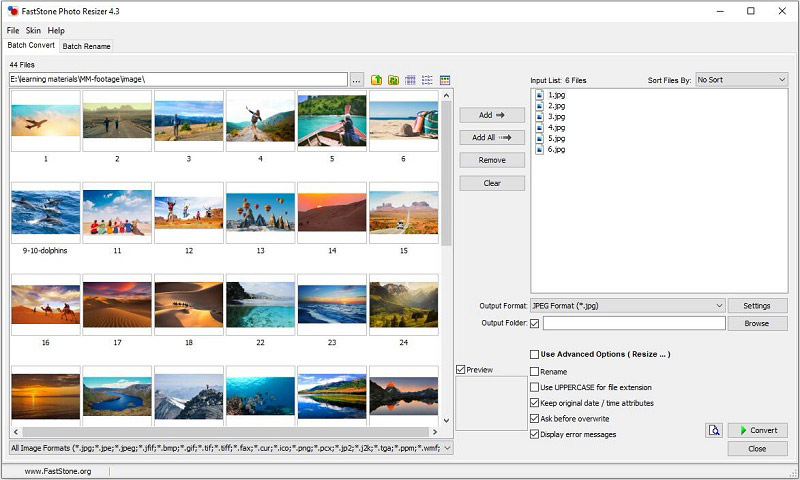 2. Fotoresizer
Compatibility: Windows
Fotoresizer is one of the best free picture resizers for Windows. It can resize your picture into any size you want by scale or by percentage with no hassles. Besides, you can crop, rotate, flip, invert, as well as add special effects and filters to pictures.
You might be interested in: Top 10 Best Photo Viewers for Windows 10
3. PIXresizer
Compatibility: Windows
Pizresizer is another best picture resizer software for Windows, which is a perfect app if you want to change the photo size (to presets or custom), alter the file format (BMP, GIF, JPEG, PNG, and TIFF). This picture resizer allows you to work with single files or in batches of folders.
Related article: WebP to JPG
4. Photoshop Express: Photo Editor
Compatibility: Windows, iOS, Android
Photoshop Express: Photo Editor is an excellent picture resizer, which makes it easy to quickly resize your images using templates for many popular social media platforms. It also supplies a bunch of custom sizes and device options for resizing.
5. Image Size Photo Resizer
Compatibility: iOS, Android
Image Size Photo Resizer is a mobile image resizer app for iOS and Android devices. The interface is super easy to use. One of the most delightful features is that you can enter an exact size in pixels, mm, cm or inches, and your photo is instantly resized.
6. Resizing.app
Compatibility: Web-based
Resizing.app is the first online picture resizer on the list. This tool can resize images online within seconds. The most impressive feature is the ability to export resized images to other formats. Unfortunately, this online service does not provide any additional photo editing options.
Recommend post: How to Overlay Images | A Step-by-Step Guide
7. BeFunky
Compatibility: Web-based
BeFunky is another great online free picture resizer tool because it offers both free and paid versions. With the free option, you can resize your image by width or height, or by percentage scale and the software will automatically adjust the other dimensions so that the picture won't lose clarity.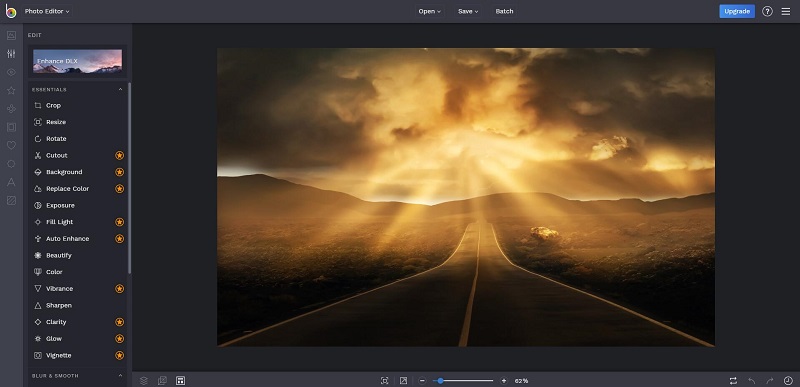 8. Online Image Resize
Compatibility: Web-based
As seen from its name, Online Image Resize an online tool designed to resize images. The most important thing is that it can automatically adjust multiple pictures to the same size. Then you have the option to edit individual files such as crop, rotate, and mirror.
9. Photo Resizer
Compatibility: Web-based
Compare with other online picture resizers in this list, Photo Resizer is a little bit different because it mainly helps you resize images for certain social media uses like Facebook, Twitter, Google+, and Instagram. It also allows you to rotate or flip a picture.
Bottom Line
With all these amazing tools, the task of resizing pictures becomes much easier. Now, you can choose any of the available software for your device and start experimenting. If you have any questions or suggestions about it, please let us know via [email protected] or share them in the comments section below.