Does Spotify Have Audiobooks?
As one of the most favorite music streaming services, Spotify not only provides millions of songs but also a bulk of non-music content like podcasts, poetry, music videos, and more.
Does Spotify have audiobooks? The answer is Yes. In September 2022, Spotify finally launched the long-anticipated audiobooks feature in the U.S. Users in the U.S. can listen to more than 300, 000 audiobook titles from famous writers along with independent authors and major publishers.  
Are audiobooks on Spotify free? Unfortunately, users need to purchase them for listening because Spotify audiobooks are not free. The audiobooks on Spotify support a one-time purchase and have nothing to do with your subscription.
How to Find Audiobooks on Spotify?
You can listen to Spotify audiobooks both in the Spotify app and the web player after your payment. But currently,  audiobooks on Spotify can only be purchased through the Spotify Web Player.
How to find audiobooks on Spotify Web Player and how to buy your favorite titles. Follow the steps:
Step 1. Go to the Spotify Web Player and log in with your account.
Step 2. Click the Search tab on the left side and you'll see many categories. Choose the Audiobooks tile.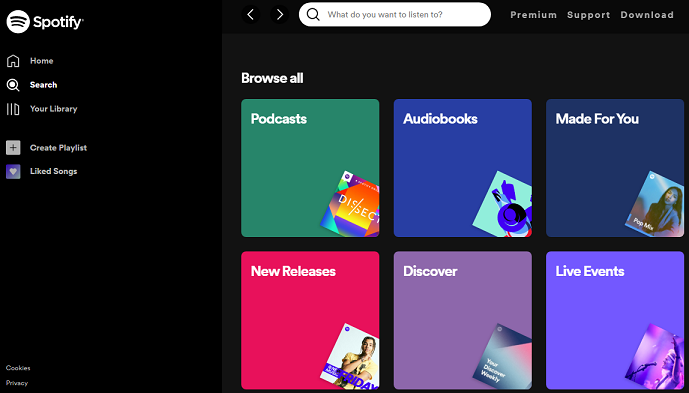 Alternatively, you can directly enter the book titles in the search box to find them.
Step 3. Browse through these audiobooks and find the one you like.
Step 4. Click the title of the book you'd like to buy, click Buy and follow the prompts to complete the payment transaction.
To find audiobooks on the Spotify mobile app, you can search for the book title or author name. Also, you can tap Search and select Audiobooks under Browse All to browse by category.
How to Listen to Audiobooks on Spotify?
After your purchase, you'll find the unlocked audiobooks in Your Library on the Spotify website, mobile app, and desktop app. Click the Play button to start listening.
When you listen to audiobooks on Spotify, you can control the play speed, skip forward or rewind. To download the whole audiobook, click the download button. Then, you can enjoy the audiobook offline.
On the Spotify mobile app, you can set a sleep timer.
But you should know that the purchased Spotify audiobooks can't be shared with other members even if you're on a family plan. Only you can listen to them.
Related: How to Set Spotify as Default Music App? The Ultimate Guide
Audiobooks on Spotify FAQ
1. Are there free audiobooks on Spotify?
Audiobooks on Spotify are not free. You must pay for them before starting to listen. But you can find free songs and podcasts on Spotify.
2. Why can't you listen to audiobooks on Spotify?
To listen to Spotify audiobooks, you should buy them on the web and then you can start listening on your phone, laptop, and tablet.
3. How many audiobooks are on Spotify?
Currently, there're more than 300,000 titles of different categories for you to stream.
4. Which is better, Spotify or Audible?
Amazon's Audible is one of the most popular platforms for audiobooks, podcasts, and other word-spoken content. The biggest difference between Spotify audiobooks and Audible is the charging models.
Users can buy Spotify audiobooks from the web player with a one-time payment, while Audible offers subscription plans and supports on-demand purchases. Choose the right product according to your demands. 
5. Where to find free audiobooks?
You can visit the following websites to find some free audiobooks, such as Internet Archive, LibriVox, Overdrive, Lit2Go, and Open Culture.
MiniTool MovieMakerClick to Download100%Clean & Safe
Conclusion
That's all about audiobooks on Spotify in this post. Now, you can follow the above steps to find, purchase, and enjoy your favorite audiobook on Spotify.