Audacity is a free, open-source, and cross-platform audio editor and recorder that was known as its powerful audio-editing features and addable plug-ins. However, its unfriendly-to-beginners features and not very pretty interface may deter freshmen. Want an easy-to-use audio editor to help you process audio files? MiniTool MovieMaker can satisfy you.
Audacity's wide popularity has proved itself its leading position among the audio editors that are available for Windows, Mac, Linux, etc. multi-operating systems. It's capable of recording, controlling the speed, editing music in audio tracks as well as the import and export in various audio formats.
Inevitably, you may find it buggy or not as good as expected, there is always the need to find Audacity alternatives for your potential switch. Alike any software, Audacity has its own drawback. Users always complain about:
Audacity can't tag music effectively. Audacity can't publish or share directly because it only has one Export option. Audacity doesn't support WMA, AAC, or other formats. ……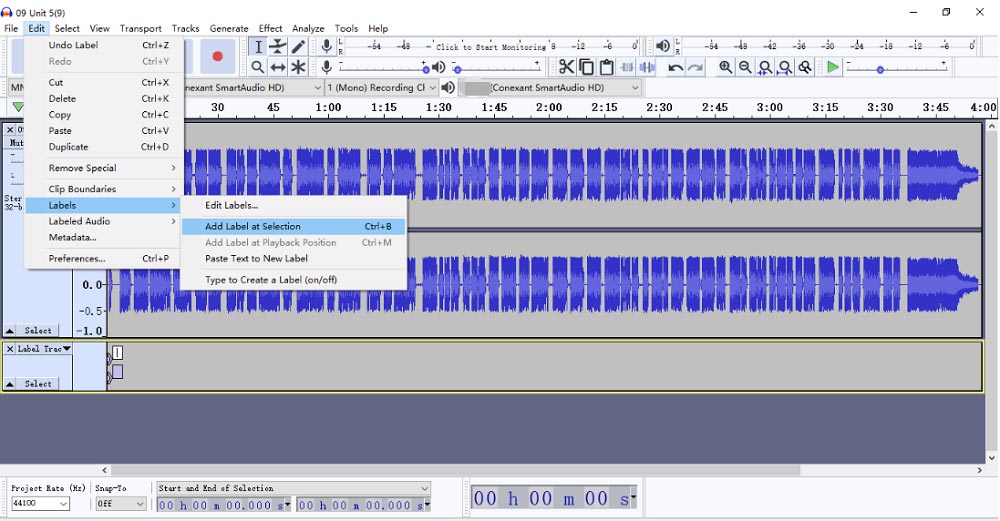 Fortunately, there are many other audio editors as good as Audacity, and you can compensate Audacity's drawback using its alternatives. The article provides top 6 audacity alternatives for you to choose according to your own tastes and needs.
Top 6 Audacity Alternatives
MiniTool MovieMaker
WavePad
GarageBand
Adobe Audition
Ardour
TwistedWave
Top 6 Audacity Alternatives
Below is a list of Audacity alternatives you need. Each one has been marked the compatibility in advance. Based on your operating platform, you can try it out and then decide whether to switch it from Audacity.
#1. MiniTool MovieMaker (Windows)
The first recommended audio editor must be the most easy-to-use and 100% free one. Not as the exclusively free audio editor, MiniTool MovieMaker both contain video editing features and audio editing features. In all, this free audio editing software is one-in-all that enables you to edit video and audio simultaneously.
Apart from being a free audio editor, MiniTool MovieMaker can serve audio converter to some extent, since it supports importing audio files in various formats without limit and exporting as the most common format – MP3, which allows you to convert Flac to MP3. Additionally, it provides many other excellent features with you.
Features
Free, easy-to-use, no watermark, no bundles, no spyware, enough reliable.
Has an intuitive and user-friendly interface, especially for beginners.
Supports importing major audio formats.
Allows you to extract audio from MP4.
Supports to add audio to video.
Allows you to split, trim music easily.
Allows you to convert video to audio.
Enables you to fade in & fade out audio.
Enables you to change the volume of the audio files.
Allows you to merge multiple audio files into one.
#2. WavePad (Windows/Mac/Android/iOS)
Compatible with all platforms, WavePad is the best Audacity alternative that provides many free features as Audacity. Furthermore, it contains premium purchases for your option since free stuffs may be not the best and may cost your time and efforts.
Not only providing basic audio editing features like trim, split audio, WavePad also contains many advanced features, including a diverse library of audio effects such as normalizing audio, etc. and audio compression, scrubbing, spectral analysis, punch and roll recording…
Features
Free & Paid versions are both available.
Compatible with computer systems and mobile phones.
Supports batch processing, multitrack editing.
Provides many audio effects to enhance your audio.
Supports plug-ins as Audacity.
#3. GarageBand (Mac/iPad/iPhone)
GarageBand is a music-making and music-editing software that is free and built inside the Apple devices. Different from Audacity, apart from recording and editing audio, GarageBand is a real music creator to inspire your music-making creation, which can compensate for the drawback of Audacity.
Equipped with the various sound of instruments, you can add grooves to your music when recording or editing. Besides, you will fall in love with its intuitive interface and clear arrangement, which is important for your music creation or editing.
Next, let's see what features GarageBand has.
Features
Free and only is available on Apple's devices.
Provides a complete sound library that includes various sound and audio effects.
Supports multitrack recording, live loops and 3D touch.
Offers a range of advanced audio processing tools.
#4. Adobe Audition (Windows/Mac)
As we all know, Adobe suites all need a paid subscription. Whether Adobe Audition worth 20.99$ monthly? After reading this part of the introduction, you will know. Coming with many incredible features about audio processing, Adobe Audition enables you to record, edit and mix music in multitrack, which can make your work more efficient.
Compared with Audacity, Adobe Audition support many audio formats and some video formats, like MP3, AIFF, FLAC, OGG, MOV, etc. which let you freely get any format. Furthermore, its waving mode enables you to add some audio effects, enhance your audio quality, remove noise…which can effectively refine your audio files.
Features
Provides relevant version to be compatible with your system.
Provides some free sound effects.
Allows you to overlay audio track using different music effects.
Allows you to tag the audio effects easily.
Allows you to remove white noise, like beeps, hisses, and background noise from an audio track.
Capable of making a podcast easily and professionally, such as adjusting levels for tones, capturing multiple speakers, mixing some sound effects.
#5. Ardour (Linux)
If you are a Linux user and want to find a high-quality music editing software, you may find it so hard to find a suitable one. Here I recommend Ardour that is a good alternative to Audacity on Linux system since the above audio editing software cannot work on Linux.
Moreover, its clear interface is a big advantage over the list of audio editors. Ardour allows you to record, mix, editing your audio files with many useful and easy-to-use features. And you can also add some plug-ins to enhance its functions. You may find it appropriate to musicians and composers.
Features
Allows you to record audio or MIDI from the hard drive or Google Drive, etc. cloud drive.
Allows you to tag MP3 and album information.
Provides many editing tools like trim, cut, swing and transpose, etc. to precision edit audio.
Provides fade, mute, automate effects to mix music.
Provides hundreds of plugins for you to mix and edit music further.
#6. TwistedWave
Online audio editors are more easily available and much safer than desktop software if the third-party is downloaded with bundles and viruses. The last but not least, TwistedWave is a web-based MP3 editor that is as well as the above Audacity alternatives. If you don't want to download other software, TwistedWave can totally meet your needs of recording and editing audio files.
With a browser to access to TwistedWave, you can store and process any audio files with its excellent features like normalize, amplify sound, speed, pitch, etc. Besides, it supports importing from Google Drive and Soundcloud, which avoids the trouble of downloading into the local storage.
Features
Free and easily available, no registration.
No need to download third-party software.
Allows you to manage your music through cloud Drive.
Supports various audio formats.
Allows you to edit audio or edit already recorded audio files.
How to Edit Audio Files with MiniTool MovieMaker
You may have acquired a basic knowledge of Audacity alternatives. Then, let's focus on how to edit audio files. In the following content, I will take MiniTool MovieMaker as an example to expound on the tutorial since MiniTool MovieMaker is the most easy-to-use video and audio editor that is a good alternative to Audacity for beginners.
How to Trim/split Audio
Step 1. Launch the MiniTool MovieMaker, and close the pop-up window to enter into the main interface.
Step 2. Choose the Music option in the Media Library to click the Import Media Files button to select the audio file you need.
Note: Please import any video clips or pictures before you add the audio file because mainly MiniTool MovieMaker is a versatile video editor.
Step 3. Drag the audio file by holding the left mouse button onto the timeline video track or click the + icon in the right corner of the file.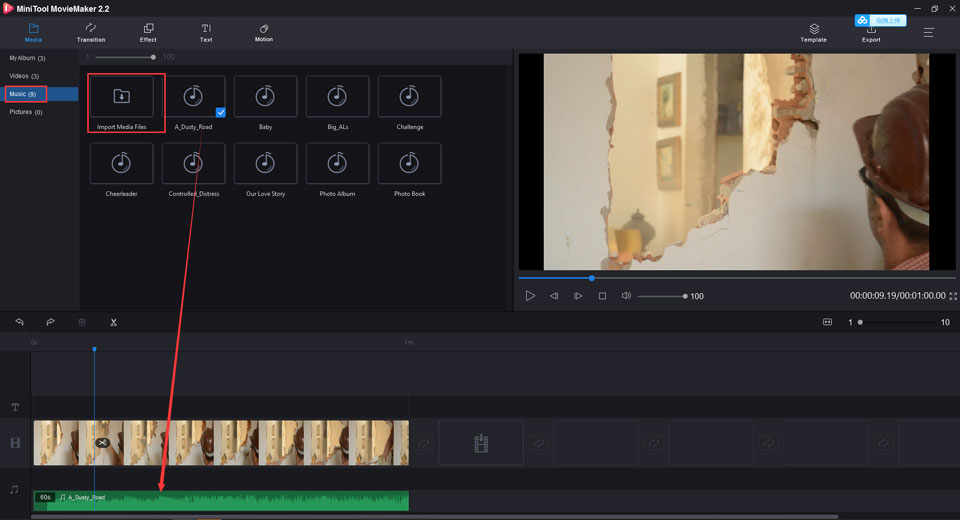 Step 4. Trim and split audio.
Trim audio. Click the audio file on the timeline. Place the arrow on the edge of the audio, and then drag it forward or backward to trim out unwanted parts.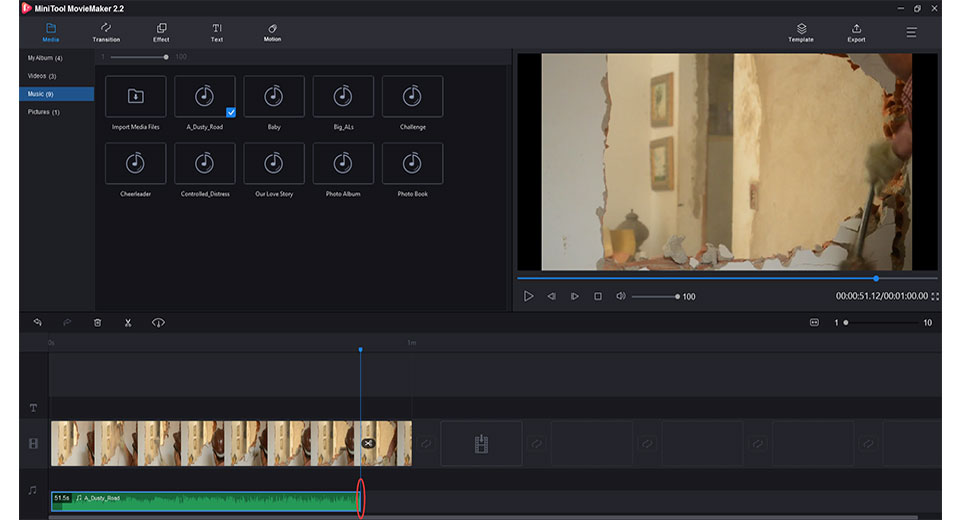 Split audio. Move the pointer on the place you want to split, and then click the scissor to cut the one into two parts. Then, left-click the unwanted audio clip to delete it.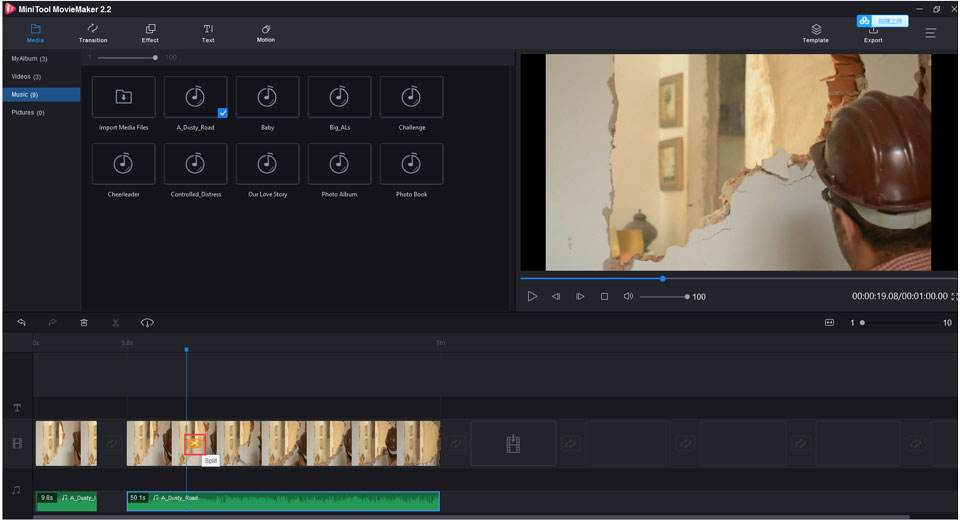 Step 5. Click the Export button to pop up the export window, and select MP3 format to save it on your computer.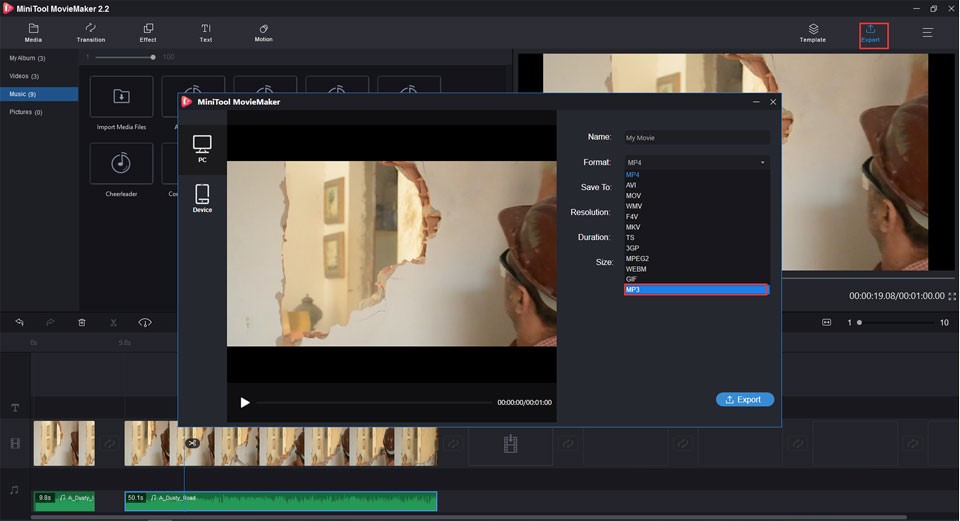 How to Combine Multiple Audio Files into One
Step 1. Open MiniTool MovieMaker.
Step 2. Click the Import Media Files to upload all your audio files and other media files into the media window.
Step 3. Click the + button to add the audio files onto the timeline. Then, trim or split them if you want to adjust them.
Step 4. When you add all audio files onto the timeline, rearrange them in your desired order by dragging and dropping every audio clip in the audio track.
Step 5. Double-click the audio file to enter the audio editing window to apply fade in and fade out effect if you want.
Step 6. If the ultimate work has been done, click the Export button and choose the MP3 format to get your complete music.
How to Fade in/Fade out the Audio
Step 1. Click the Import Media Files to upload your audio files in any formats and other media files into the media window.
Step 2. Add the audio onto the timeline, and then double-click to open up the audio editing window.
Fade in/fade out the music. Drag and drop the slide bar of Fade in and Fade out towards left or right to set the fade in and fade out length. Preview it to make sure the fade in/fade out effect.
Set the volume of the audio. Drag and drop the slide bar left to lessen the volume, or towards right to amplify the volume.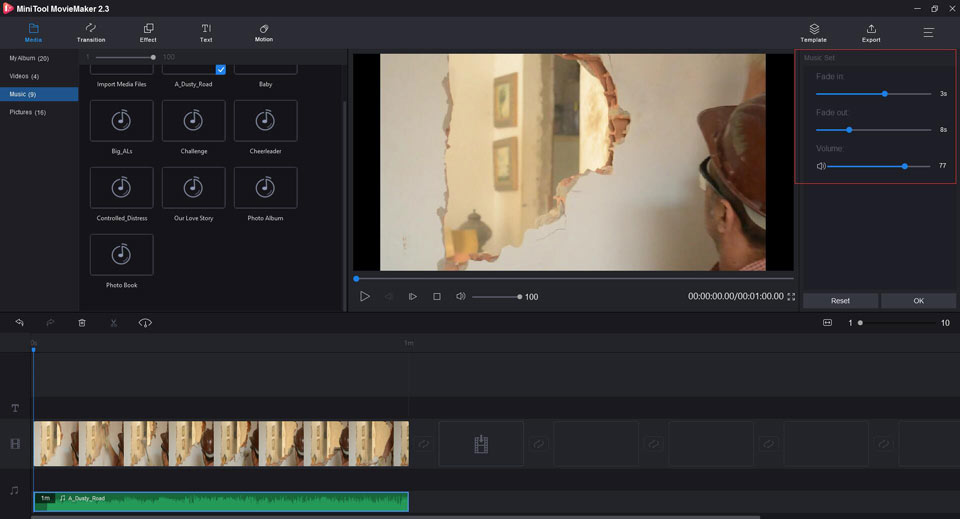 Step 3. Click Export, and choose the MP3 format in the pop-up export window. Then you can get your audio files with the fade in and fade out effect.
MiniTool MovieMaker is so easy-to-use that is a great Audacity alternative for beginners like me! Share it with you to try!Click to Tweet
Conclusion
The above 6 alternatives to Audacity can all work well to process your audio files. If you encounter problems when using Audacity, these Audacity alternatives are suitable for you. Whatever you are a beginner or professionals, you can all find the appropriate one from the list of Audacity alternatives.
If you have any questions or suggestions when using the above-recommended Audacity alternatives, please feel free to contact us via [email protected] or share them in the comments section below.
Audacity Alternative FAQ
Is Adobe Audition better than Audacity?
Yes, it is. As a paid program, Audition is much more powerful, intuitive, and flexible than free Audacity. Audition's multitrack, noise reduction, podcast making, etc. features enable you to record, edit, and mix audio more easily and thoroughly.
What is the best free audio recording software?
For Apple's user, GarageBand is the
best audio recording software
. Its wide range of libraries of virtual instruments and multi-layered tracks would make your recording amazing. WavePad is the widely used audio recording software on Windows due to its audio enhancement functions.
What audio editing software do professionals use?
Undoubtedly, Adobe Audition is the most powerful audio editing software professionals prefer, considering its excellent audio recording and editing features, audio effects, high-quality audio processing, even if it is a paid software.
What is the easiest audio editing software?
As to the easiest audio editing software, MiniTool MovieMaker is the top one. Free, easy-to-use, all-in-one video and audio editor are all the reasons beginners choose it. Using it, you can easily trim, split, merge, convert audio files.