Do you know what is the best video hosting sites? YouTube? Vimeo? Or others? Here, this post shares the top 3 video hosting sites, and shows how to create a video with MiniTool software.
I created a video with free video editing software without watermark – MiniTool MovieMaker. Now, I want to share video on video hosting site. But, what is the best video hosting site?
Here, we list the top 3 best video hosting sites.
YouTube – Best Free Video Hosting Site
Free to upload
Make money on YouTube
The largest video audience
Great for SEO and discovery
YouTube is the most popular video hosting website with 1.8 billion logged-in users per month, providing a massive audience reach. And, Google gives its content premier slots and high ranking in search engines.
If you upload video to YouTube, you can access to the massive music library offered by this video hosting sites and add sound to your videos. And, this video hosting site offers a video editor to help you edit videos. Also, you can add statistics to monitor your audience engagement, getting many views as possible.
Related article: increase YouTube traffic
The most important part, you can get free unlimited video hosting forever if you upload videos to YouTube. And, you can embed YouTube videos on your site, social media, or anywhere else for YouTube SEO.
Last but not least, you can make money on this video hosting site. Learn how to make money on YouTube.
Vimeo – Best for Business
A community of professional
Some of the most flexible paid plan options around

Vimeo is also a social network of sorts, like YouTube. However, Vimeo isn't free, and it offers ad-free videos to share on social media or through your website. Vimeo is designed for businesses and creative types. This video hosting site is the best choice for business since it provides an excellent level of service.
To get enough storage on Vimeo or to access features like customizing your player, privacy controls, and social media integration, you need to pay for a premium plan which ranges from $7 to $75 per month depending on your needs. Of course, if you are a common user instead of business user, you can use the free version.
Some people think Vimeo is the most secure video hosting site because it can generate private links to share video with certain people but keep them out of the public eye.
DailyMotion – Best for Creative Types
Variety of content subject
Newslike feel to the platform
If you hunt for the perfect video podcast hosting sites, you can try DailyMotion which takes the top recommendation for the creative set.
Creatives can easily set up partner accounts and upload videos on DailyMotion, and partners can upload unlimited videos and consume unlimited bandwidth. Unfortunately, viewers can only watch for two hours a day.
DailyMotion is easy to get started and use since its interface is simple and resembles a YouTube page with similar options and features. DailyMotion lets you add music, text, and titles to video easily, and allows you to make money monetizing through the use of ads. Note: if you use the free version, you can upload up to 96 videos per day.
We have spent many hours researching the most popular video hosting websites on the market. Now, we list the top 3 video hosting sites, and I hope this article can help you.
Bonus Tip – How to Make a Video
Do you know how to make a video easily? MiniTool MovieMaker, a free, no ads, no bundle video editing software without watermark, can help you create cool video in three steps.
Step 1. Import your files into this free video editor.
Download and install MiniTool MovieMaker on your PC. Launch it to enter into its main interface.
Import your files you want to use to make a video. Drag and drop these files to the timeline.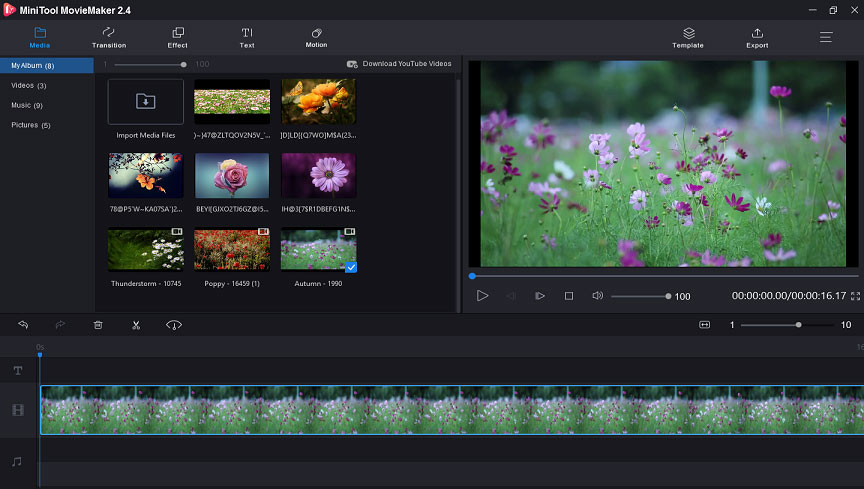 Step 2. Edit a video.
MiniTool MovieMaker lets you split video, trim video, add text to video, apply video transitions to two clips, add music to video, etc.
Related article: video trimmer
Step 3. Save the video.
After editing video, you can save the video and upload it to video hosting sites.