Spotify will add new songs to your playlist without your permission. While you are streaming your favorite songs, you may hear unfamiliar rhythms suddenly when a familiar melody ends. You may find it strange and don't know why that happens.
In that case, it is probable that Spotify promotes its new music and pushes the tunes in front of you. No matter whether you like it or not, it does happen. Some people may find it convenient to discover new songs since Spotify will recommend new lyrics according to one's interest.
However, some listeners may find the auto recommendation annoying since they are not fond of passive acceptance. If you are in the same situation, can you stop Spotify from adding songs to playlists? Is there a way to stop Spotify from adding songs? Of course!
Why Does Spotify Put Random Songs on Your Playlist?
There are several reasons:
First of all, there are less than 15 songs in your playlist. Spotify may think you have difficulty in seeking songs that meet your taste, so it makes its mind to assist you to do that.
Secondly, you are using a free Spotify version. If so, you will not only listen to ads and the same songs published by Spotify but also continually receive songs promoted by the platform.
Finally, you are listening to customized playlists created by Spotify. You can't manage the songs in the set playlist on Spotify. If you'd like to listen to different songs in that situation, you have to create a playlist by yourself. You are able to add up to 10 thousand songs to your private playlist.
How to Stop Spotify from Adding Songs to Your Playlist?
In general, it is easy to prevent Spotify from adding songs to a playlist. To achieve that aim, there are several ways.
Solution 1. Add More Songs to Your Playlist
In the first place, if you are experiencing the recommended songs from the official Spotify for you have less than 15 songs in your playlist, it is just a piece of cake to deal with your problem. Just add more songs to the playlist until it surpasses 15 songs.
Solution 2. Upgrade to Spotify Premium
In the second place, the best way to permanently turn off suggested songs on Spotify is to upgrade your account from free to premium. Premium users won't be bothered by any ads including recommended songs. Besides, a premium account can download any songs you like to listen to them offline.
Solution 3. Disable the Enhance Feature
There is an Enhance utility in Spotify. If you accidentally switch on it, you will get new songs added to your playlist automatically. Those added songs are similar to the ones that you search and listen to.
If that is your case, you can block the function to disable Spotify by adding songs to the playlist.
Go to the Playlist where extra songs were added.
Look for the Enhance option near the playlist button.
When you find it, just toggle it off.
Solution 4. Turn off Auto Play
If you unexpectedly enable Auto Play on your Spotify app, Spotify will put songs whenever you complete listening to each song on your personal playlist.
Go to Settings on your Spotify mobile app.
Select Playback.
Scroll down to find Autoplay and switch it off.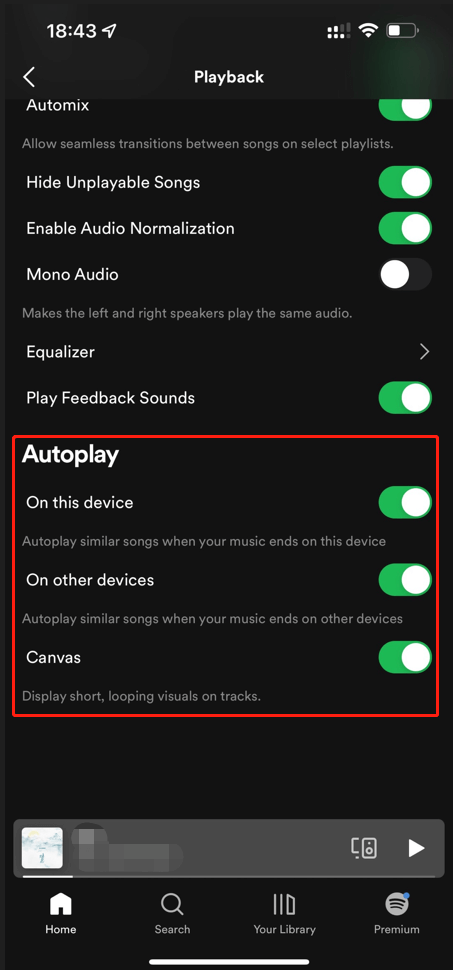 Solution 5. Create a New Playlist
Thirdly, according to the third cause of Spotify adding new suggestions to your playlist, you can try to create a new playlist to avoid that thing. And remember to add at least 15 songs to your new playlist and make sure the Enhance and Auto Play features are disabled.
Videos/Audio/Photos Management Tools Recommended
These applications are completely compatible with Windows 11/10/8.1/8/7.
MiniTool MovieMaker
An easy-to-use video editing software without watermarks and limits. The embedded templates enable you to quickly make personal slideshows and share them with your friends!
MiniTool MovieMakerClick to Download100%Clean & Safe
MiniTool Video Converter
Quickly convert videos and audio from one file format to another to apply to more devices. It supports 1000+ popular output formats and batch conversion. Besides, it can also record PC screens without any watermark and download YouTube videos.
MiniTool Video ConverterClick to Download100%Clean & Safe
Related article: