First of all, it is impossible to get a fixed number for the songs on Spotify since new songs are constantly added to Spotify. You can view comparatively new stats on Spotify's company info page.
How Many Songs Are on Spotify?
How many songs does Spotify have? In general, there are over 80 million songs on Spotify. Launched in 2008, you can discover, manage, and share more than eighty million tracks, including over four million podcast titles, without charge. Or, you can upgrade to Spotify Premium to get extra advanced features like improved sound quality as well as an on-demand, offline, and ad-free music listening experience.
Until now, Spotify is the largest audio/sound streaming subscription service in the world. It has 433 million users with 188 million subscribers all over 183 markets.
How Many Songs Can You Download on Spotify?
How many offline songs Spotify? What is the maximum number of songs that you can save offline and take anywhere your network cannot reach? Generally speaking, you are able to download a maximum of 10,000 songs on a single local device and up to 5 local storage devices are allowed. This limitation applies to a single Spotify account. Yet, you have to go online at least one time every 30 days to keep your downloads, which is for the convenience of Spotify collecting your play data to compensate artists.
However, there is a difference between free and premium Spotify accounts. For Spotify Free, you can only download podcasts; but for Spotify Premium, you can further download albums and playlists.
How to See How Many Songs You Have on Spotify?
How to know how many songs you have on Spotify? There are several ways.
How Many Songs Do You Own in Your Playlist?
How to find out how many songs you have on Spotify playlist?
On Mobile
If you are on the Spotify smartphone application, you can visit any song, tap the 3 dots icon of the song, and select Add to playlist. Then, it will display all your playlists together with the number of songs they already hold.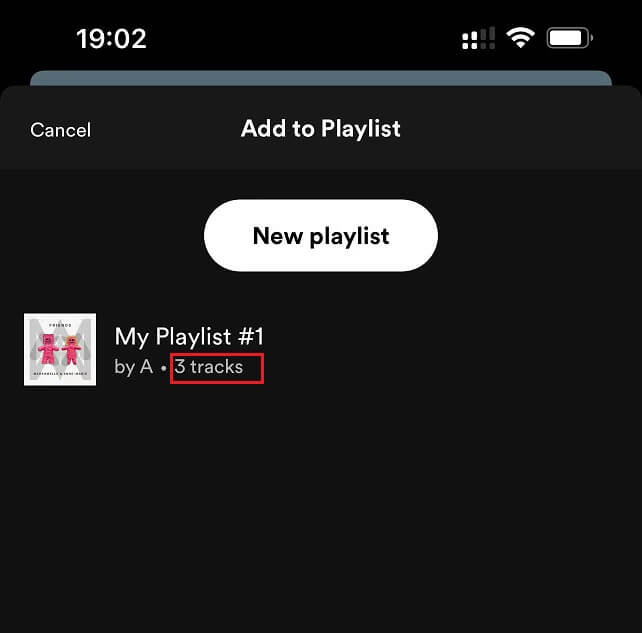 On Computer
If you are using Spotify on a web browser or a desktop app, just go to the target playlist from your library. Then, you will see the current track count of the playlist under its name next to your username.
How to Tell How Many Songs You Have Saved on Spotify Library?
Is there a way to see how many songs you have on Spotify? Of course. Just follow the below steps!
Visit your Spotify library.
Create a blank playlist if you don't have one.
Click on one song in the list.
Press Ctrl + A to select all the songs.
Right-click and choose Add to.
Add your songs to the blank playlist.
Then, go to the playlist to view its track count.
That is the number of songs in your Spotify library just now. there, you can also see the combined length of all the music.
How Many Songs Are on Spotify FAQ
How many songs can you like on Spotify?
How many liked songs can I have on Spotify? As many as you like.
How many songs can you put on a Spotify playlist?
How many songs can a Spotify playlist hold? In the past, the maximum number of songs that you are allowed to add to a single Spotify playlist is 10,000. Now, there is no limit.
How many songs in my Spotify library?
There is no limit to the number of songs you can save in your personal library.
How many songs are uploaded to Spotify every day?
How many songs are released on Spotify every day? It is said that over 60,000 songs are uploaded to Spotify each day.
Why are so many Kpop songs removed from Spotify?
Due to the expiration of the license with the South Korean entertainment company, songs distributed by Kakao M were once unavailable on Spotify. Yet, later, those songs are readded on Spotify.
How many songs have a billion streams on Spotify?
There isn't a fixed answer, you can visit this page for the current number.
How many songs is an EP on Spotify?
4 – 6 tracks under 30 minutes in duration.
How many Spotify songs can you download to Apple Watch?
50 tracks per playlist.
How many songs does Spotify play before an ad?
2 – 3 tracks.
Videos/Audio/Photos Management Tools Recommended
These applications are completely compatible with Windows 11/10/8.1/8/7.
MiniTool MovieMaker
An easy-to-use video editing software without watermarks and limits. The embedded templates enable you to quickly make personal slideshows and share them with your friends!
MiniTool MovieMakerClick to Download100%Clean & Safe
MiniTool Video Converter
Quickly convert videos and audio from one file format to another to apply to more devices. It supports 1000+ popular output formats and batch conversion. Besides, it can also record PC screens without any watermark and download YouTube videos.
MiniTool Video ConverterClick to Download100%Clean & Safe
Also Read: