If you are looking for photo morphing software, you've landed on the right space. Here you will learn the 5 best photo morphing software that allows you to enjoy creative photo editing. Let's take a look!
Photo morphing software is a type of software that allows you to combine two or more photos with cool transition effects. It can help to render smooth and beautiful transitions. It is also be used to combine two different faces to create a new face. You can use the following software to make it happen.
If you want to make a short video from the morphed photos, you can try this free movie maker – MiniTool MovieMaker.
MiniTool MovieMakerClick to Download100%Clean & Safe
Abrosoft FantaMorph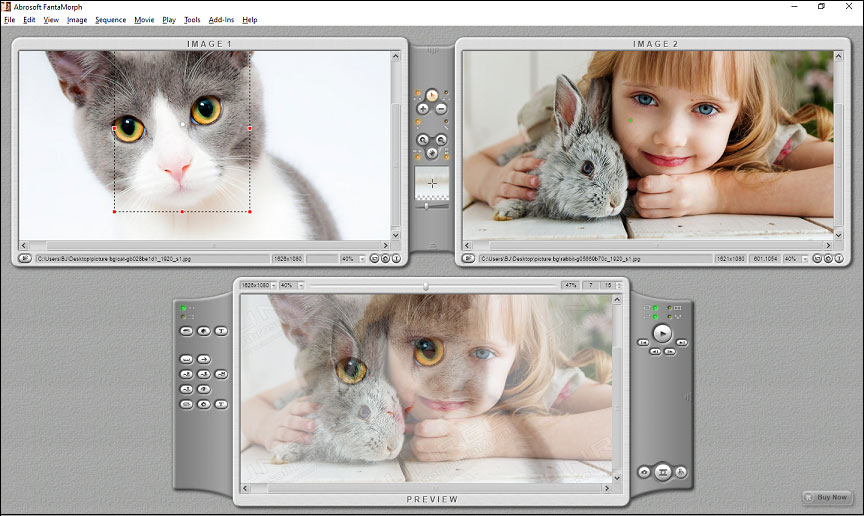 Abrosoft FantaMorph is a powerful and easy-to-use photo morphing software program for creating fantastic photo morphing images and stunning animation effects. With the advanced rendering engine and user-friendly interface, you can produce morphed animation effects for your pictures and create action sequences from still images easily.
You can add visual effects to any electronic documents like web graphics, music videos, presentations, advertisements, and more. It supports most popular image formats including JPEG, PNG, GIF, BMP, TIFF, etc.
It also supports creating multiple morphs, which makes it a breeze to create long movies with multiple source images. You can also warp, rotate, flip, adjust color, add captions to the source images or the final movie.
Morph Age
Morph Age is a professional and free photo morphing software program. It allows you to create warping and morphing animations for your photos. It offers you advanced photo morphing features, including morphing animation control, non-linear morphing, subpixel accuracy, zooming, colorizing, layers, and real-time rendering.
It allows you not only to animate the shapes and curves but also to control the blending process fully. Any change you made on the curves is reflected on the resulting image through the corresponding distortion and morphing effect.
Morpheus Photo Morpher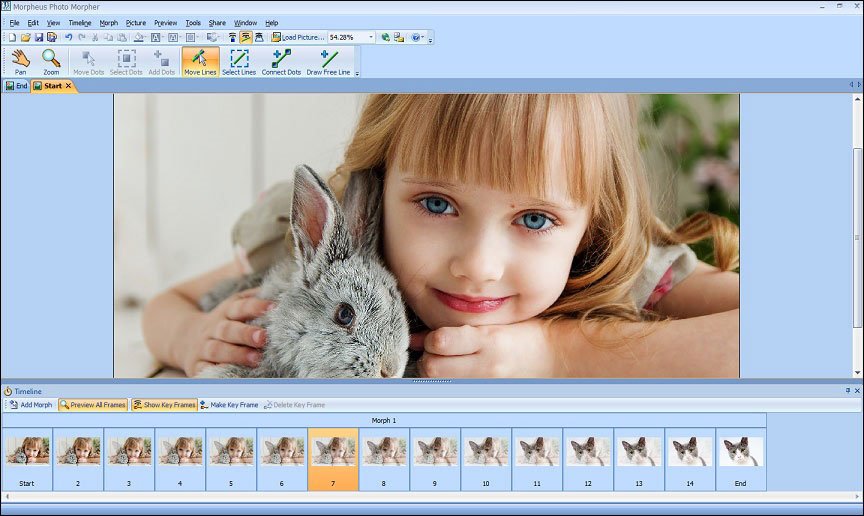 Morpheus Photo Morpher is also one of the best photo morphing software that enables you to transform one photo into another in a smooth morphing animation.
It offers a fast rendering engine for previewing morphs and a picture dotting process with changeable shapes, colors, and sizes. You can render the morphs in popular formats like Flash SWF and Animated GIF.
Morphy
Morphy is one of the best photo morphing software applications. It not only allows you to morph two photos together but also to capture a time-lapse of the blending process. You can add as many faces as you want to each series.
For instance, you can make a series of baby photos into an amazing time-lapse video, or morph into an animal or a celebrity. It has to be mentioned that you can export your work as a GIF or video. Or you can share your morphs via Messenger, Instagram, Twitter, YouTube, WhatsApp directly.
If you want to edit your GIF frames, you can check out Top 4 GIF Frame Editors That Help You Modify GIFs Precisely.
FotoMorph
FotoMorph is more than free software for morphing photos but a photo animation program and a flash banner rotation tool. It enables you to create funny animations in just a few steps.
You can use one or more morph, warp or zoom, or pan sequences to make an animation or project. In the morph sequence, you can transform one image into another. In the warp sequence, you can make parts of an image move and deform. In the zoom or pan sequence, you can zoom and pan between two portions of an image.
You can export your works to many animation file formats like BMP, JPEG, PNG, AVI, animated GIF, and flash movies.
Conclusion
That's all for the introduction about the top 5 photo morphing software. Hope you enjoy the photo morphing journey and have fun!