GIF is a popular way to express our emotions and it is simple animation without any sound. However, this post collects some of the excellent desktop software and online sites that can help you make a GIF with sound, such as MiniTool MovieMaker.
Part 1. What Is a GIF with Sound?
Technically, GIF file format can only save a series of images with text, excluding no sound, whereas video file format can store audio, video, subtitles, and any other metadata.
The GIFs with sound you see on the Internet are actually looped short videos that look like GIFs. However, that kind of video reached the same effect as a talking GIF. And the best solution to create a GIF with sound is to make a GIF, add sound, and then save the GIF into a video format.
Part 2. How to Make a GIF with Sound?
The following are several excellent GIF with sound makers, some of which can even help you convert YouTube to GIF with sound.
1. MiniTool MovieMaker
When it comes to making a GIF with sound, MiniTool MovieMaker is the most recommended desktop software for Windows users.
The program is a free and professional video editor, with no ads, bundles, or watermarks. Meanwhile, it is a great GIF maker that allows you to make a GIF from multiple images or a video.
In addition, it also provides a lot of useful tools to edit GIF, including rotate GIF, flip GIF, reverse GIF, change GIF speed, add text to GIF, add music to GIF, as well as combine multiple GIFs into one.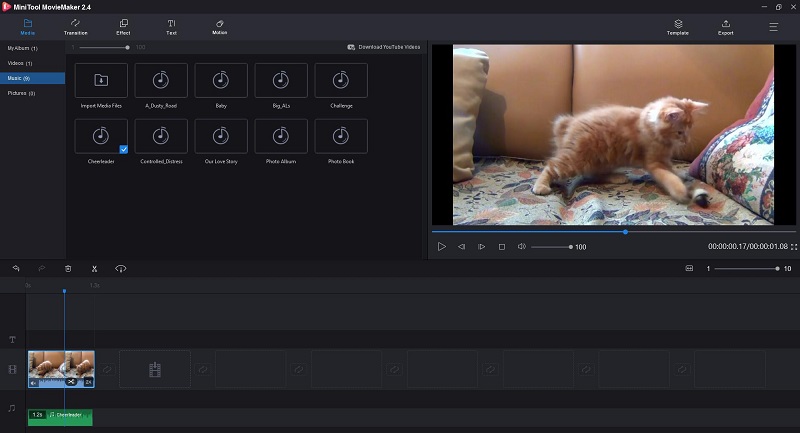 Step 1. Click the Download button below to download and install the freeware. Launch the program to get the main interface, and then click Import Media Files to import your video. Next, directly drag the video onto the timeline.
MiniTool MovieMakerClick to Download100%Clean & Safe
Step 2. Now, you can edit the video to create a unique GIF.
Trim GIF: Hover your mouse over any edge of the video to get the trim icon and then drag the icon forward or backward to trim the unwanted frames. If you want to achieve the same effect that a GIF file can achieve, keep it short.
Reverse GIF: Select the clip on the timeline and click the fan icon to choose the Reverse option from the list.
Add text to GIF: Click the Text tab, choose a caption style, and then drag it onto the text track. Type your text and click OK.
Change GIF speed: Highlight the clip on the timeline and click the fan icon. Choose the Slow or Fast option and then pick one from the given speed options.
Step 3. Go to the Music option under the Media tab to choose any of the built-in audio clips or upload your desired music. Drag the selected music onto the timeline and trim it to match with GIF.
Step 4. Hit the Export button to open a new window where you can set the output format, select video resolution, rename the file, as well as specify the save path.
2. Makeagif
Want to convert YouTube to GIF with sound? Then don't miss Makeagif. It is a dedicated online GIF maker that enables you to create a GIF from multiple pictures, a YouTube or Facebook video, a video from your local computer, or directly from your webcam.
When creating GIFs from images, just rearrange the images via drag-and-drop, resize all of the images at once, and set a custom animation speed. It's also easy to create a GIF from a video. Simply decide how many seconds of it you want to use.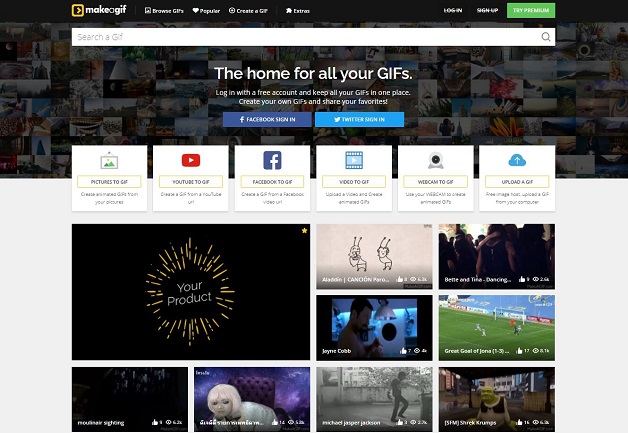 Step 1. Navigate to Makeagif and log in to your Makeagif account. Select the YOUTUBE to GIF option and paste the YouTube URL into the search box, and then it will fetch the video immediately.
Step 2. Now you can customize the GIF, including select the output quality, trim GIF, change GIF speed, add a caption, add a sticker, and apply the Ping Pong effect.
Step 4. Tap on the CONTINUE TO PUBLISHING button. Give your GIF an awesome title, select a category, and then hit CREATE YOUR GIF.
Step 5. Set the output format to MP4 and click the Enable audio icon to keep the original audio track in the video file.
Step 6. Once created, you can download the GIF video to your computer or get its link.
3. Gfycat
Another practical tool to make a happy birthday GIF with sound is Gfycat. It is one of the largest GIF sharing websites where you browse thousands of GIFs shared by users from all over the world, such as gaming GIFs, reactions GIFs, birthday GIFs, and more.
On top of that, the site enables you to create your own GIF. You can upload any local video, or paste a video URL of YouTube, Facebook, Twitch, Instagram, Vimeo, etc., and convert it to a GIF without sacrificing the sound.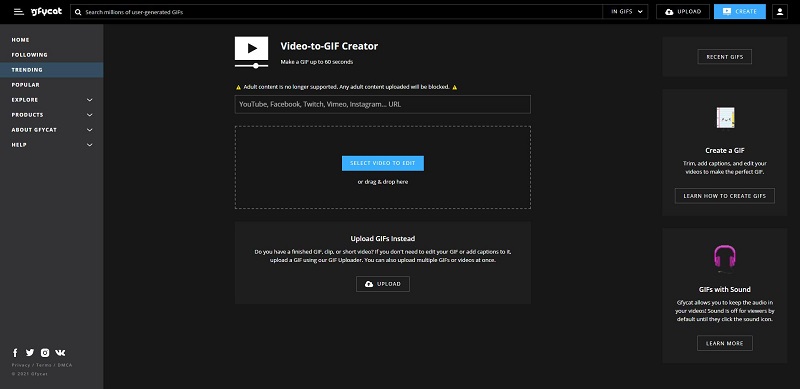 Step 1. Go to gfycat.com on your browser and click the Create button in the upper right corner of the site.
Step 2. You can add a YouTube or Facebook video by pasting its URL. Or click SELECT VIDEO TO EDIT to upload your offline video file.
Step 3. Use the sliders to select the portion of the video you want to keep in the final GIF and click CONTINUE.
Step 4. Add your text, adjust its location and font size and press CONTINUE to proceed. If you don't need to add text, just skip this step.
Step 5. Give a title for your GIF and add some related tags. After that, enable the Make a video (with sound) option.
Step 6. Click FINISH to process the video.
4. Kawping
Kapwing is a collaborative platform for creating images, videos, and GIFs (including GIFs with sound). With this free tool, you can upload any local video files or import a video from other websites, create a GIF, combine it with music, and then download it as an MP4 with just a few clicks.
It provides you with many useful tools to edit the GIF and audio files. You can easily adjust its output size, background color, add text, and overlay videos. However, you can't choose the output format because the default is set as MP4 format.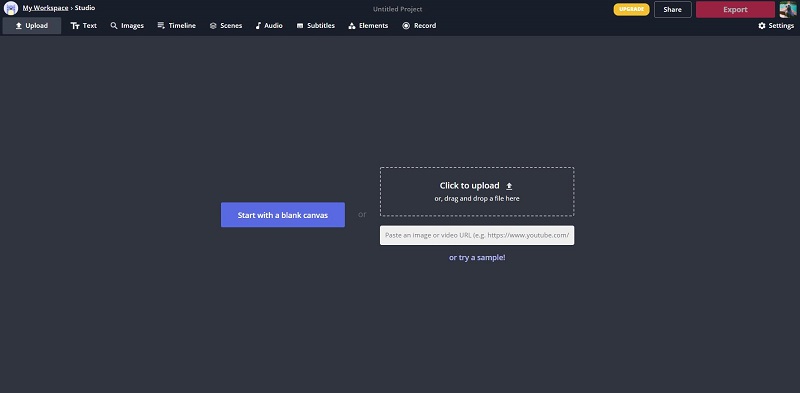 Step 1. Visit the Kawping site on the browser of your device and log in to your account to remove the watermark.
Step 2. Click the Tools tab, scroll down the page to select the Add audio to GIF option, and then hit Get started.
Step 3. Upload the video that you'd like to make a GIF with sound from. Or paste a video link from YouTube, Twitter, etc.
Step 4. Now, you can trim GIF, crop GIF, adjust GIF speed, and rotate GIF using the tools in the right panel. If needed, click the Text tab from the top toolbar to add caption to your GIF.
Step 5. Hit the Audio tab and drag-n- drop your music file onto the upload area. Next, trim the audio to match the final GIF and change the audio volume as you like.
Step 6. Open the Export dropdown list to select Export as MP4. Then your music GIF will be created in MP4 format.
Step 7. Tap on the Download button or simply copy the link.
5. Imgflip
The last program we'd like to introduce is Imgflip. It is an online GIF maker that allows users to create GIFs from multiple sources – images, online image URLs, video URLs from video websites, or local videos.
It provides you with multiple customization options, including cropping, rotating, reversing, slow motion, fast motion, and adding text and images. Moreover, it supports sound on GIF when making GIFs from videos with audio. However, to enable it, you must have an Imgflip Pro account.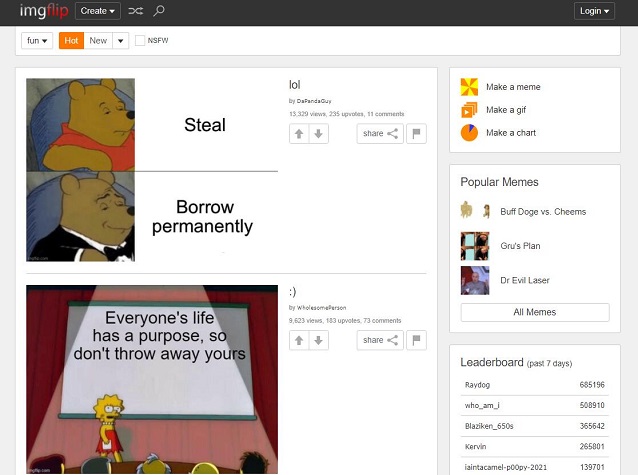 Step 1. Visit imgflip.com on your browser and purchase ImgFlip Pro.
Step 2. Click Make a gif from the right panel.
Step 3. Paste a video URL or import your local video file.
Step 4. Use the green and red triangles on the slider to set the start and end times of the GIF.
Step 5. If needed, you can also add text to GIF, crop GIF, rotate GIF, add image, etc.
Step 6. Click More Options to view other available tools.
Step 7. Open the Sound dropdown list to select Enabled (viewer must tap sound button) or Enabled & Autoplay (viewer will hear sound immediately).
Step 8. Click Generate GIF and then anyone can view this music GIF on imgflip.com.
Bottom Line
Now that you know all the tools that can be used to create GIFs with sound, have you found the best one? If not, we recommend you to use MiniTool MovieMaker, because it is more secure and stable than online tools.
If you have any questions or suggestions about MiniTool MovieMaker, please let us know via [email protected] or share them in the comments section below.
GIF with Sound FAQ
What is a GIF with sound called?
A GIF with sound is a music GIF.
Where can I get GIFs for free?
There are multiple places to get
free GIFs
, such as GIPHY, Tenor, Reddit, Reaction GIFs, GIFbin, Hulu's The Perfect GIF, MotionElements, Animatedimages, Gifer, etc.
Can a GIF have sound?
Although GIF is an image format, it is possible to create a GIF with sound. You can create a GIF from a video on Imgflip, enable the sound in the video, and then viewers can enjoy your music GIF on Imgflip.
How do you make GIFs free?
Visit ezgif.com and select GIF Maker.
Browse the images you want to use as frames and click Upload and make a GIF!
Rearrange and resize the images.
Tap on Make a GIF.