WeVideo is a web-based video content creation and editing platform. Although it comes with some useful features for users, the free account can edit video with time and resolution limits and watermarks. So, you may need some WeVideo alternatives. This post is coming to recommend to you some of the best alternatives to WeVideo.
WeVideo is a convenient web-based platform to edit videos for beginners. Is WeVideo free? The answer to this question is negative. So, some creators may need WeVideo app alternatives. The following parts will cover some of the best alternatives to WeVideo (including MiniTool MovieMaker).
About WeVideo
If you have never heard of WeVideo, you may ask what is WeVideo used for?  WeVideo is an easy-to-use web-based video content creation platform. It is an online video editor to capture, create, view, and share your videos.
Apart from the web-based video editing platform, it also has a WeVideo app version for Android and iOS, so that you can download the app on your mobile device easily.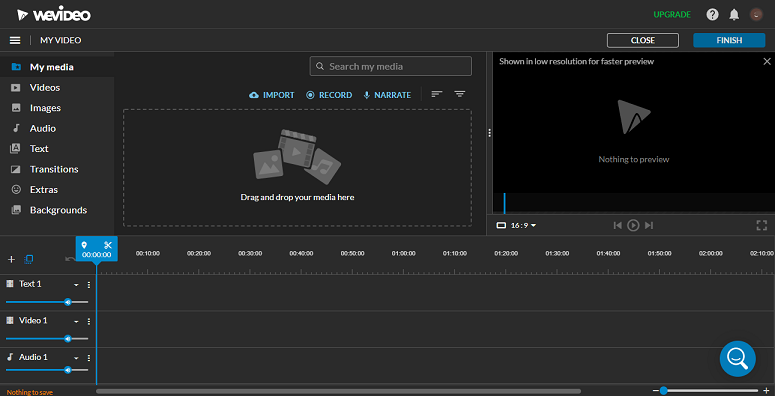 Here's a breakdown of its features:
Screencasting
Slow-motion
Built-in graphics
Motion titles
File and media manager
Music library
Sound effects and voiceover
Multi-track editing and storyboard
Is WeVideo Free?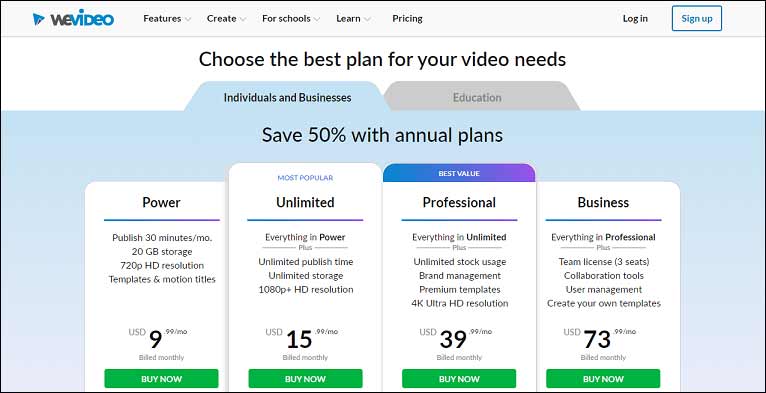 Is WeVideo free? The quick answer is no if you want high-quality video export. It offers you a free account, which allows you to store up to 1 GB and export up to 5 minutes of 720p video per month. It will limit, change, or modify the functionality that provides to Free Accounts at any time.
Is WeVideo free for students? It offers prices for educational purposes. Teachers receive a 30-day free trial while a classroom package is $299/year. For entire grades and groups, you must get a quote per user. Free accounts are not intended for use by an organization like a school, business, or others.
For free accounts, features like cutting and splicing, screen recording, and adding voiceover are available. But there are plenty of limitations. First, your video can't be longer than five minutes. Some essential video editing features like motion titles and templates, slow motion, and green screen aren't included in the free trial.
Also, if you want your videos to be rendered in higher resolution, you would have to subscribe to its plan or pay an additional cost.
Best Alternatives to WeVideo
As an online video editing platform, WeVideo has its merits and demerits. The downsides of using it to edit video are its limited supply of features as well as the unreliable nature of cloud-based service. Therefore, we tested and handpicked some of the best alternatives to WeVideo for you.
When writing this post, we selected the best products that can be used as WeVideo alternatives. On this list, you will find professional software as well as options for budget-conscious users who don't have any advanced experience. We will also cover the apps for mobile phones as WeVideo alternatives. Now, let's explore them one by one!
For Beginners
As for beginners, we will share the WeVideo alternatives that features useful tools and initiative interface. There is no requirement for video editing skills. 
MiniTool MovieMaker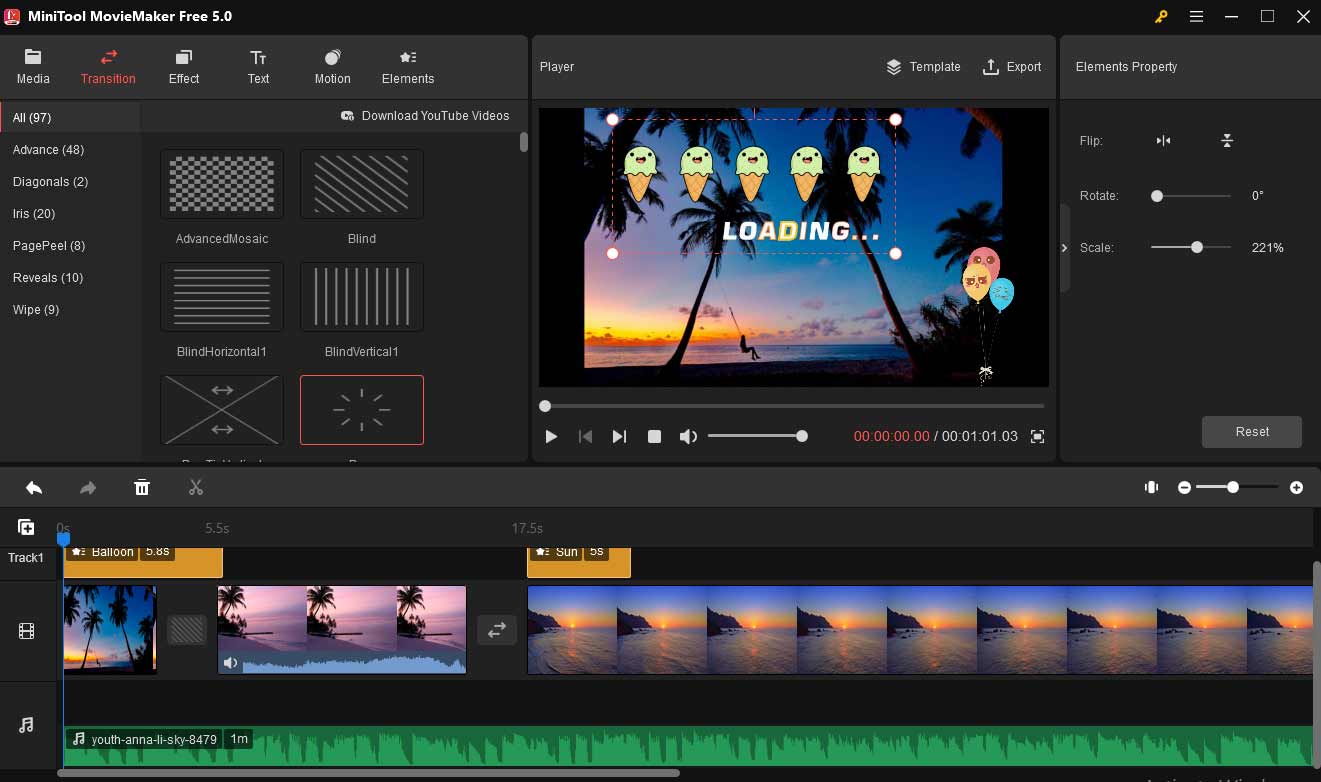 MiniTool Moviemaker is the first product that ranks on the list of the best alternatives to WeVideo. It is a powerful video editor without bundle, ad, virus, and watermark. With a well-organized and intuitive user interface, it is perfect for beginners to create high-quality videos easily.
To create attractive videos, this program allows you to work with different media formats. You can trim, cut, merge, rotate, reverse, and enhance their clips with countless effects like titles, filters, transitions, and animated elements. You can also customize the brightness, contrast, and saturation of the video.
Amazingly, this video editing software also allows you to change the video resolution and video format. After you complete all the editing, you can change the format of your video file to make it compatible with other platforms and media players.
Available for: Windows
Features include:
Clean and well-structured interface
Drag and drop features are available
A variety of video, audio, and image formats support
Numerous stylish effects, transitions, motions, and animated elements
Video editing with real-time previews
Essential tools like video trimmer, cuter, rotator, flipper, speed controller, and more
Conversions support commonly used file formats
Regular updates to improve user experience
iMovie
If you are a Mac user, iMovie is an optional choice for you if you just step into the world of video editing. It comes bundled with Mac OS. Like many native Apple apps, iMovie is uncomplicated and utilizes a simple drag-and-drop interface for moving files from your drive to your workstation. It's an easy way to build powerful videos to boost your video marketing efforts.
The biggest advantage of using iMovie is that your media files are saved on Apple's cloud. It allows you to work on your project interchangeably on other Apple devices like iPhone, iPad, or Mac. This product is instantly being updated; you can always look forward to improvements.
Available for: Mac
Features include:
Cloud-storage functionality allows for working on the same project from other Apple devices
Support for 4K resolution for cinematic videos
Many studio-quality title animations for professional-looking credits
Stylish video filters and transitions built for attractive videos
Built-in music, sound effects, and voiceover recording
Speed controls available
Video stabilization for shaky footage
VideoPad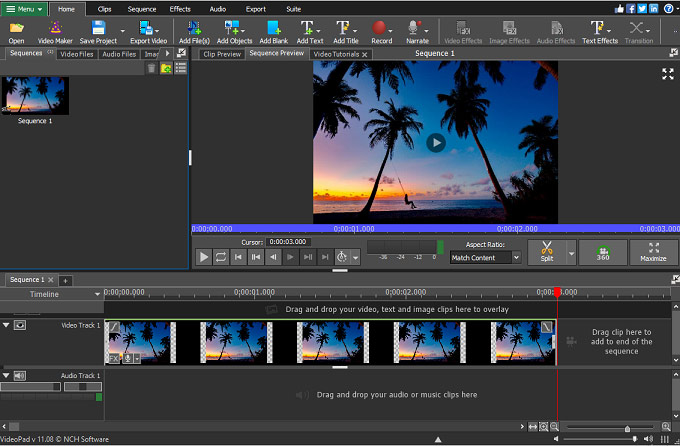 VideoPad is also a great option for anyone who wants to create high-quality videos without spending a dime. With VideoPad, you don't need technical experience or an advanced understanding of video editing programs to use this free video editing software, as it has been built from the ground up to be highly accessible and beginner-friendly.
You can edit your videos with special effects, overlays, texts, and transitions, as well as color adjustment and sound effects. Then export your final video quickly and easily to YouTube, Facebook, Google Drive, and other mobile devices. It even supports burning videos to DVD, CD, or Blu-ray or exporting video to many other formats.
Available for: Windows, Mac
Features include:
Double built-in screen (one to preview selected clips, one to preview complete sequence)
Pre-made customizable transitions
A large library of video transitions and visual effects to customize videos
Video optimization tools such as stabilization
Exporting presets to create optimized video files on Facebook or YouTube
Social media sharing and publishing tools to share videos within the software instantly
Camtasia
Camtasia by Techsmith is an easy, all-in-one screen recording and editing software program. With a streamlined interface and easy-to-master tools, it enables green hands to produce professional videos quickly and easily.
This program works with both Flash and Video Framer technology to deliver the highest quality images and videos. It allows you to work with different formats and view your videos on many devices. While it's mostly suitable for creating tutorial materials efficiently, you can also use it to produce content for lessons, training videos, product demos, and more. It supports recording desktop screens or using webcams to create these videos.
Available for: Windows, Mac
Features include:
Amazing combination of video editing and screen capture feature
Clean setup and simple user-interface
Built-in library with music and sound effects
The good asset library includes icons, intro templates, annotations, motion backgrounds
Recording screen and webcam with a personal touch to videos
Customizable pre-made animations
Zooming in/out, pan animations to screen recordings
For Professionals
For professional users, we will introduce the WeVideo alternatives that offer advanced video editing functionalities. Take a closer look at them now!
Adobe Premiere Pro
As for professional video editing software, Adobe Premiere Pro always ranks highly on the list. You can find so many useful features that may not available in WeVideo. With it, you can edit 360-degree videos in 8K resolution as well as conveniently organize and share your files online.
It provides you with all the tools you need to edit videos, including compositing clips, creating transitions, searching audio, adding titles and animations, and built-in presets. It is designed to facilitate efficient workflows so that you can finish your work swiftly and smoothly.
Better yet, if you have Adobe's products for your work, then you will love Adobe Premiere Pro because it integrates with the other products seamlessly. It can work with other applications and services including Adobe Photoshop, After Effects, Adobe Audition, and Adobe Stock.
Available for: Windows, Mac
Features include:
Highly customizable and streamlined interface
Extensive tools like color matching, multi-camera rendering, and fast rendering speed
Professional level stabilization options
A collection of customizable presets and templates
Seamless integration with other Adobe services
VR auto-detection support
DaVinci Resolve
Developed by Blackmagic Design, DaVinci Resolve is one of the best professional video editing software for non-linear editing and color corrections. This program combines professional 8K editing, color correction, visual effects, and audio post-production in a single production tool, which is why it's the solid choice for many professional editors of films, television shows, and commercials.
It allows for both offline and online editing, and its high-performance playback engine saves time when editing, even for processor-intensive file formats like H.264 and RAW. Its complex features may be too extensive for some users, but it is perfect for more advanced projects.
Available for: Windows, Mac, Linux
Features include:
Advanced creative color improvement tools for veteran video editors and colorists
Multi-track timeline for quick navigation and high-precision editing
Intelligent auto-editing that syncs audio and video clips
Built-in tools for picture-in-picture effects, stabilization, retiming, dynamic zoom, text, and audio
High-quality motion estimation speed changes and frame rate conversions
Professional masking tools and face recognition options
HitFilm Express
If you don't have a lot of experience with video editing, HitFilm is a great choice to help produce Hollywood-style films. It is also an ideal tool for vloggers, YouTube users, TikTokers, influencers, and more. You may find the learning curve is worth it as it provides many free tutorials and built-in projects to help users to learn the program.
This program includes animation tools that let you create and edit audio and video transitions without the need to create composite shots. It also has cool 3D effects for films, music videos, and YouTube videos.  4K video editing, 360-degree editing, and a library of special effects are also available.
Available for: Windows, Mac
Features include:
Professional video editing with motion tracking, color pickers, and cropping tools
Composite shot enhancements to animate shots for surreal video effects
Auto-stabilizer to make shaky footage look smooth
Unlimited video and audio track creation
Ability to copy attributes and apply them to another or a whole project directly
Various transition options
Audio mixer for fine-tuning sound for professional-quality output
For Mobiles
Vimeo Create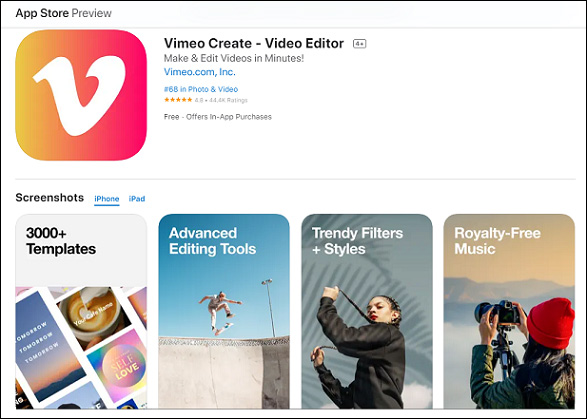 Vimeo Create is one of the best apps like WeVideo. It allows to create and customize videos for any occasion with its AI-powered video maker. With hundreds of ready-made video templates, you can create attractive videos easily.
To make a video, you just need to answer a few questions about your project, add your footage and logo and choose style customizations. Vimeo Create then automatically edits your video in minutes (though you can also choose your own styles or start from scratch). The app will suggest colors, themes, music, and fonts.
Available for: Android, iOS
Features include:
Different styled templates to choose from
Facial recognition, filters, effects, and auto-cropping
Professional auto-editing possibility
High-quality stock images with iStock integration
Library of commercially licensed music to choose from
Splice
Splice is also among the amazing apps like WeVideo. It is one of the most popular free video editing apps available for Android and iPhone users. It's simple to learn due to its intuitive interface.
With Splice, you can add slow-motion effects, trim clips, and overlay multiple clips in just a few taps. You can also add transitions and sounds from the large built-in library. You can also refine your clips by adjusting exposure, contrast, saturation, and more.
Available for: Android, iOS
Features include:
Playback speed control for fast or slow motion with speed ramping
Background removal with Chroma Key
Various transition styles and transition speed control
Title slides, text overlays, and custom outro are available
Royalty-free tracks from Artlist and Shutterstock libraries
Conclusion
In this post, we discussed the issue of whether is Wevideo free. We also shared some of the best alternatives to WeVideo for different skill levels. WeVideo app alternatives for mobile phones are also included.
Which one will you choose? Welcome to share your ideas in the comments below. Do not forget to contact us via [email protected] if you encounter any problems while using MiniTool MovieMaker.