Now, you can find your top songs, artists, and albums via Apple Music Replay. This post from MiniTool teaches you how to see Apple Music Replay to view your most played songs in 2022 on iPhone/iPad, Android, and web browsers.
Many music streaming services allow users to see your most played songs and favorite artists. For example, Spotify Wrapped lets users view their Spotify stats about their top artists and listening tastes over the past year.
As one of the most popular music apps, Apple Music also has a similar feature called Apple Music Replay. The following part tells you what Apple Music Replay is and how to find your Apple Music Replay to see your top artists on Apple Music.
Related: Apple Music VS Spotify: Which Music Streaming Service Is Better?
Try MiniTool MovieMaker to add your favorite music to your video.
What Is Apple Music Replay?
Apple Music released the Replay feature in 2019. Based on your music listening history, Apple Music can provide you with your favorite songs, albums, and artists throughout the year. These data are also called Apple Music stats. Each year, your Apple Music stats will be integrated into a playlist called a Replay.
A Replay playlist is automatically generated and it's updated weekly. The playlist includes the top 100 songs, the most listened-to artists, and the top 10 albums of the year.
Unlike Spotify Wrapped, you don't have to wait until the end of the year to check your Apple Music stats. You can see your Replay playlist all year round.
The prerequisite for an Apple Music Replay playlist is a subscription to Apple Music and that you've played enough music.
You can check your Apple Music stats via the Replay on the Apple Music app on your Android and iOS device and the Apple Music website.
Apple Music Replay 2022 is now available to all users. Follow the steps below to learn how to see your top artists on Apple Music.
How to See Apple Music Replay on Phone?
Apple Music is both available on iPhone/iPad and Android devices. Here's how to check Apple Music Replay on your device.
Step 1. Open the Apple Music app on your mobile device.
Step 2. Tap the Listen Now tab in the bottom left corner.
Step 3. Scroll down to the bottom of the Listen Now section and you'll see Replay: Your Top Songs by Year.
Step 4. Tap the Replay 2022 playlist to view your top songs in 2022.
Step 5. Click the Play or Shuffle button to listen to the playlist.
Step 6. To see the featured artists, go to the bottom of the Replay playlist and click See All to view them.
Also read: How to Use Apple Music Spatial Audio and Lossless Audio
How to Find Apple Music Replay Online?
On a computer, you can open the Apple Music Replay site from a browser to check your Apple Music stats so far this year.
Step 1. Navigate to the Apple Music Replay website.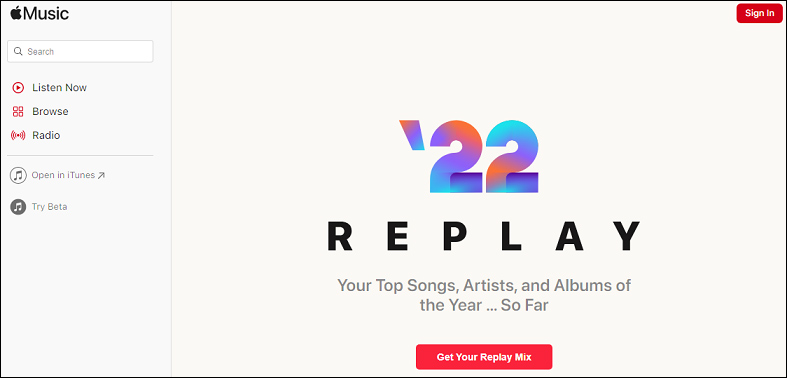 Step 2. Click the Sign In in the top right and sign in with the same Apple ID that you use with your Apple Music subscription.
Step 3. Click the Get Your Replay Mix to get the playlist.
You can add the Replay playlist to your library, and then you can share the Apple Music playlist like any other playlist.
Tips for Apple Music Replay Not Working
If your Apple Music Replay does not work, try the following troubleshooting steps.
#1. Make Sure Your Subscription Is Active.
Firstly, you should have an active subscription. If your subscription expires, you may not use this feature. 
#2. Enable Use Listening History Feature.
To get an Apple Music Replay playlist, you should enable the Use Listening History feature first. Open the Settings app, select Music, and switch Use Listening History on (green).
#3. Listen to More Songs from Apple Music.
If you only listen to several songs on Apple Music, you might not get the Replay playlist. 
#4. Check the Internet.
#5. Restart Apple Music App.
Conclusion
Apple Music Replays is a quick way to see your stats on this platform all around the year, including most played songs, albums, artists, and even how many artists you've listened to so far this year, and how much time you've spent listening to them.
Now, follow the above steps to see your Replay playlist of 2022 on Apple Music.