Spotify has become increasingly popular among users and it also has been considered as an alternative to Apple Music. There is no doubt that Apple Music and Spotify both are amazing music services. Do you know their differences? When you're asked Apple Music VS Spotify, which one do you prefer, what's your answer?
If you love listening to music, you must be familiar with Apple Music or Spotify. Both provide you with pleasant songs and podcasts. To help you figure out the differences between Spotify and Apple Music, this post will compare them with the following aspects: sound quality, price, music library and discovery, and supported platforms.
Sometimes, you may download a fantastic song, and then you expect to add this piece of music to your creative videos. What can help you do it? MiniTool MovieMaker, a professional video editor, can provide help for you.   
Apple Music VS Spotify
When you struggle to choose a suitable music streaming service, sound quality, price, music library, are all important factors that must be considered carefully. So, the following will give you the detailed information about these key factors.
Sound Quality
Sound quality comes to the factor that cannot be ignored. Apple Music VS Spotify sound quality, which one can be better? Spotify streams at 160 kbps by default. If you purchase a premium subscription, you can enjoy the streaming at 320 kbps. However, it doesn't support WAV files or uncompressed audio. On the contrary, Apple Music supports streaming at a bitrate of 256 kbps.
Apple Music vs Spotify sound quality, Spotify is the winner.
Related article: Top 8 Best Audio Enhancers to Improve Audio Quality
Price
As for the subscription fees, both give users a 90-day free trial, $ 9.99/month for individuals, $ 14.99 /month for a family plan, $ 4.99/month for students. The only difference is that Apple Music provides a $99 annual plan which can help you save some money. Spotify provides a free tier, but it will play ads after several songs. However, Apple Music doesn't offer a free tier. Apple Music vs Spotify price, they're neck and neck.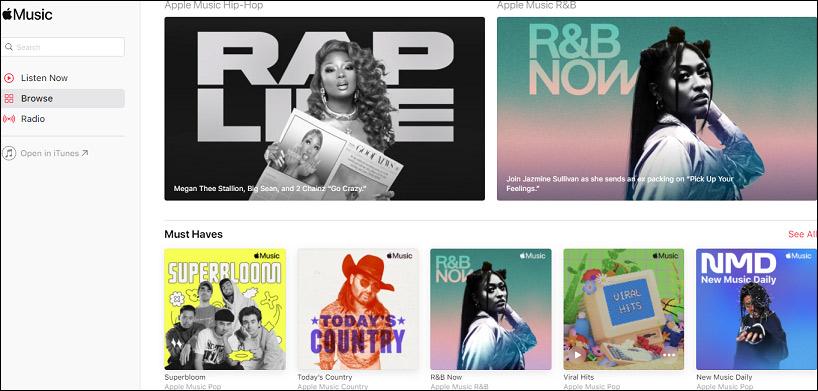 Music Library and Music Discovery
Spotify offers more than 50 million songs and it adds more than 20,000 new songs each day. How could you find the music you love? Spotify provides a lot of useful tools to find new songs to suit your taste, such as personalized playlist: Discover Weekly, Daily Mixes, and other featured series, etc.
As for Apple Music, it has about 60 million songs of different types. After creating an account, you're prompted to select some artists, and then the service will recommend other songs based on your tastes.
You may also like: How to Check Your Spotify Stats to See Your Top Artists/TracksSupported Platforms
Spotify app is compatible with iOS 12 or above, Android 4.1 or above, Mac OS X 10.10 or above, Windows 7 or above, game consoles, and smartwatches. And it supports the following web player: Chrome, Firefox, Edge, Opera, and Safari. Apple Music is available on iOS 8.4 or later, iPad 13.0 or later, Android 4.3 or later, and it can also work on Windows, Mac, Apple TV, and Amazon Echo devices, etc.
Also read: 3 Ways – How to Transfer Apple Music to Spotify
Bottom Line
After viewing this post, you've known the main differences between Apple Music and Spotify. If you're asked again Apple Music vs Spotify which music streaming service is better, what's your answer? And if you'd like to share other features of them, leave all your comments below.