Looking for a fun way to engage your students with math concepts? Just in time, in this article from
MiniTool MovieMaker
, you'll not only learn good ideas for teaching math with video, but you'll also get a handle on how to make math videos with ease.
Simple Strategies to Use Video to Engage Students with Math
Before knowing how to make tutorial videos for math, let's have a look at how you can utilize video to engage your students and cultivate mathematical thinking.
Whether you are teaching virtually or in person, video is an excellent way to keep math interesting and provide some real-world examples. There are several ideas including different math topics you would teach, so you can select the one that works best for you and your students:
Involve a familiar teacher in your program.
Empower learners to become teachers by making math videos.
Get creative over time.
Develop students' sense of participation when teaching geometry.
Create an Impactful Math Video on Windows PC or Online for Free
Now, it's time to follow our guides on how to make math videos on your Windows PC or online using two of the most popular and powerful video editing software on the market.
MiniTool MovieMaker
MiniTool MovieMaker is a free and easy-to-navigate video editor without watermark that can be used to generate influential math videos in minutes. It also comes with different types of customizable templates like Love, Travel, Festival, Family&Friends, etc.
One of the most important features of MiniTool MovieMaker is that there are four aspect ratios (9:16, 16:9, 4:3, and 1:1) to choose from. With this video editing application, you can import video, picture, and audio files in a variety of common formats, including MP4, MOV, AVI, FLV, JPG, PNG, GIF, MP3, FLAC, WAV, etc.
Besides, you can take advantage of it to refine your video project by making simple and complex edits, like adding transitions, filters, motion effects, text styles, or stickers to videos, splitting or trimming videos, cropping videos, changing video speed, flipping or rotating videos, reversing videos, fading in or out music, combining videos, and a ton more.
Follow these easy steps to learn how to make videos on your computer for math lessons using MiniTool MovieMaker:
Step 1: Download and install MiniTool MovieMaker on your Windows PC by clicking the download button below.
MiniTool MovieMakerClick to Download100%Clean & Safe
Step 2: Open MiniTool MovieMaker, close the Register window, and click the New Project button from the Promotion window to start creating your math video.
Step 3: Click the Import Media Files dotted box area to import previously prepared relevant materials from your local drive. Drag and drop the imported materials onto the timeline below and put them in the order you like.
Step 4: Go to the Transition, Effect, Text, Motion, or Elements tab at the top, find the desired video effects, and apply them to the corresponding materials in the timeline. Optionally, take your math video even further with editing tasks like trimming, cropping, rotating, reversing, and so on.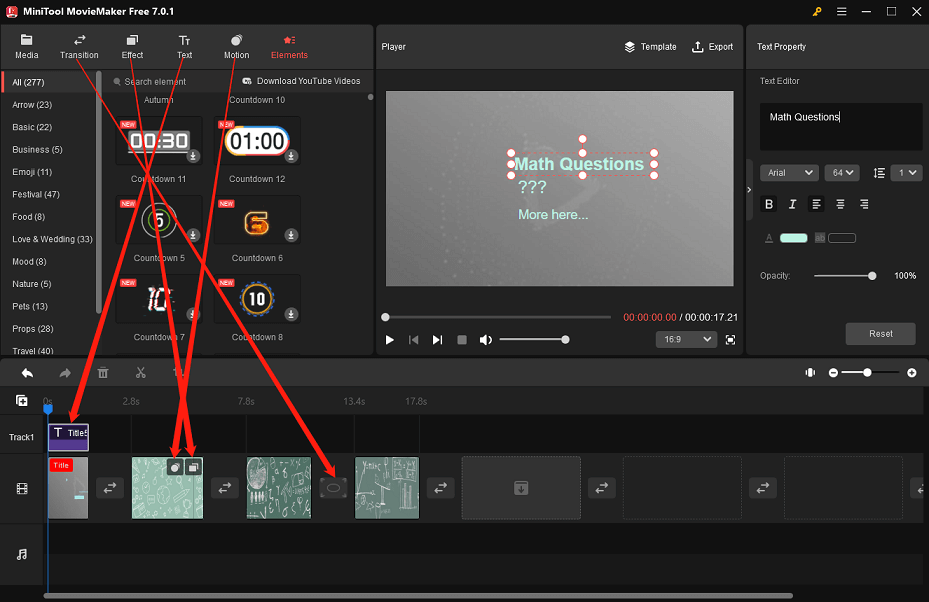 Step 5: Click the Export option in the upper right corner, name your math video, set the destination folder, change the output format, resolution, and frame rate, and then click the Export button to save the edited math video to your computer.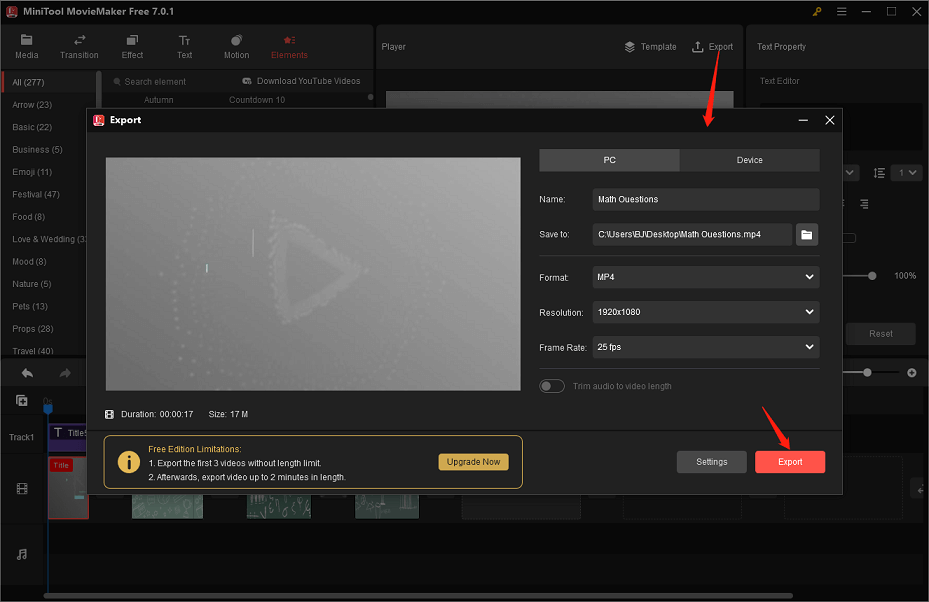 MiniTool MovieMaker is an easy yet powerful video maker that allows anyone to create engaging math videos for free, without any learning curve.Click to Tweet
FlexClip
FlexClip, as a math video maker online, is a shortcut to easily make a video related to mathematics and algorithm science. Whether you want a video to make learners engage with math or to share mathematical advances, major developments, and big breakthroughs in math, the tool can meet your needs by offering relevant templates, media assets, and easy-to-use online video editing tools.
With the help of FlexClip, users can carry out these operations: upload footage, images, or screen recording math modeling to produce a quick compilation, add a title to the math video, and make use of AI Image Generator, Text-to-Speech, AI Text to Video, and AI Script to accomplish a well-explained math video in no time.
Follow these easy steps to learn how to make math videos online using FlexClip:
Step 1: Visit the official website of FlexClip and click the Create by Templates button to enter the templates page.

Step 2: Type "math" into the search box at the top right of the page and press Enter. In the search results, place the mouse cursor over the template you want to edit and click the Customize button.

Step 3: You will then be taken to the editing interface of FlexClip. Close the Import Media small window and start making your math video directly using the selected template.
Step 4: Click each media clip on the timeline to customize the text, music, voiceover, and more.
Step 5: Click the Export at the top right, choose the export format and resolution, and then click the Export With Watermark or Remove Watermark button to download your math video.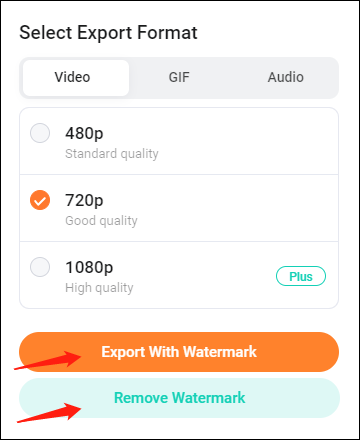 Note:
If you are using FlexClip to create math videos, you need to log in or register for an account.
Final Words
Using videos in math education is an amazing way to increase students' interest in math. Hopefully, the simple instructions on how to make math videos in this article will give you a unique video-making experience!
If you have any questions while using MiniTool MovieMaker, you can contact us at [email protected] for help.