Live Photos is an iPhone camera feature, and with it, your iPhone can record what happens 1.5 seconds before and after taking a photo. Apart from capturing live photos directly from the Camera app, many people wonder how to make a video a live photo? This post will give you 3 applications to help you convert video to live photos.
With Live Photos, you can take a 3-second moving image also with sound. But how to extract a live photo from your favorite videos? How to make a video a live photo? Fortunately, this post will offer 3 methods. Want to make videos from photos? Try MiniTool MovieMaker.
How to Make a Video a Live Photo on iPhone & iPad
1. intoLive (Compatibility: iOS 12.0 or later)
With intoLive, you can easily convert a video to a live photo, turn your GIFs and images into live photos, and even you can turn your burst into live photos. And it allows you to upload any GIF or video from your PC via iTunes file share or Wi-Fi. More importantly, it lets you edit live photos.
With its wallpaper mode, you can set the live photo as a wallpaper, and it supports 2/3/4 split-screen, but live photos can be set as live wallpaper on iPhone 6s and above. It has various background colors and 30 filters, and it supports video repletion for the live-photo conversion. Besides, it enables you to add stickers and text to photos, change playback speed, and rotate , trim, or flip images.
You can download and use it for free, but it offers in-app purchases. How to turn video into live photos? It's very easy. When you open intoLive, choose the target video, then edit it, then click the icon on the top right corner, tap the No repeat, and select the Save Live Photos button.
2. Lively Converter (Compatibility: iOS 10.0 or later)
It is an excellent live photo converter. It can be used free but also offers in-app purchases, offering 4 subscription plans from $2.99 to $12.99. How to turn video into live photos using Lively Converter? After you launch it, select the video icon, then choose the video you want to convert, preview it, and click the Save as Live Photo. Except for converting video to live photos, Lively Converter can transform live photos into photos, videos, and GIFs.
3. VideotoLive (Compatibility: iOS 11.2 or later)
If you want to convert video to live photos for your lock screen, this app should be a nice choice. It makes you create live photos from videos and images and share live photos. And it can convert live photos to videos and supports live photos or video to GIF.
Note: Only devices above the 6S support the live wallpaper feature.
The Best Way to Convert Images to a Video – MiniTool MovieMaker
MiniTool MoviueMaker is a free and simple video editor to create videos from pictures, video clips, and music. It offers many necessary tools to customize videos, so you can split and trim videos, slow down or speed up videos, add text, effects, transitions to videos, rotate or flip videos, and more.
Here's how to make a video from images with MiniTool MovieMaker:
Step 1. Download, install, and launch MiniTool MovieMaker.
MiniTool MovieMakerClick to Download100%Clean & Safe
Step 2. Close the pop-up window, click the Import Media Files to upload target pictures.
Step 3. Add these images to the timeline, and select the Zoom to Fit Timeline.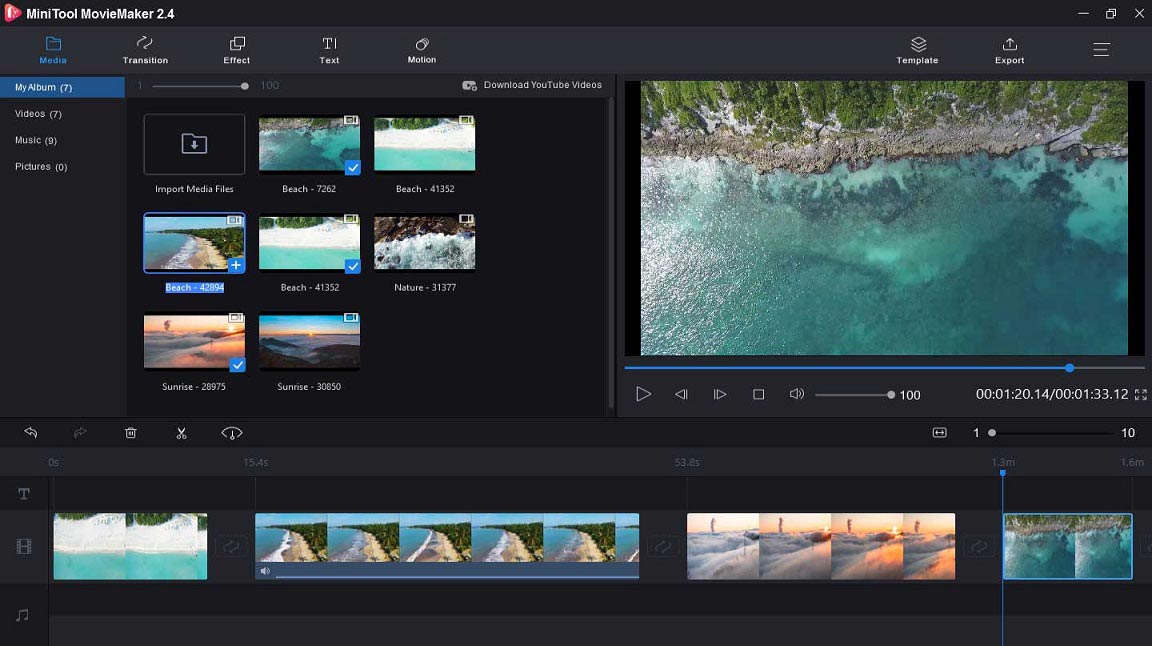 Step 4. Customize the video as you like.
Step 5. Export and save the video.
Bottom Line
With these 3 applications, you'll no longer worry about how to make a video a live photo. And if you'd like to share other ways, please leave them in the below comments area.