Something You Need to Know Before Making a Dance Video
TikTok is a great way to share your dancing skills. You can make money by posting your videos on TikTok. Here's what you need to know before you make a dance video.
The first thing you need to know is that the creators post their original dance videos to TikTok to get more traffic through remakes by other TikTokers. If you are an original content creator, you must take care that your dances should be easy to learn and complete in 15-20 seconds. So, a simple TikTok dance would be more popular.
Second, if you are an original content creator, once you have mastered some basics of TikTok videos, you can easily create TikTok dance videos. You can follow the official TikTok account to learn related skills and get exposure for your videos. Learning how to make TikTok dance videos has many benefits. Some videos get a lot of views every day. The platform is constantly flooded with new dance videos and you never know which one will be popular next, so create it now.
Third, if you want to remake a dance video on TikTok and post the video on TikTok, you can watch the original author's video a few more times and perform this latest popular dance in no time. It's easy to learn some basic steps, but it takes longer to learn more complex moves. If you can't learn certain moves, you can slow down the video to practice those movements.
Finally, you can post TikTok videos in any category, but it's a good idea to choose a category that is relevant to your topic. If you have a specific theme, you can give your video a distinctive title. Creators engage their audience in a variety of ways, but the goal is the same: to get pageviews. So, you need to make an informative video to be competitive. At the same time, choosing the right song to create a dance video is also important. If you don't know how to make a TikTok dance video with music, you can find the answer in this article:
How to Make a TikTok Dance Video on Computer?
If you don't think you can do it all at once, you can record a video with your device and transfer the video to your computer, then make a TikTok dance video on your computer. Next, we will show you how to make a TikTok dance video on your computer.
Firstly, you need to download the MiniTool MovieMaker.
1. After installing MiniTool MovieMaker, double-click this app to open the main interface of it.
2. Upload your dance video to the Media by clicking the Import Media Files icon.
3. Click the + button in the right corner of the target file to add it to the track.
4. Click the Split icon on the track toolbar to split or trim your video.
5. Slow down or speed up your video by clicking the Speed icon on the track toolbar.
6. Add transition, effect, text, motion, and elements by clicking the Transition, Effect, Text, Motion, and Elements option at the top of the interface respectively to enrich your dance video.
7. In the Video Property section at the right panel of the main interface, you can adjust the contrast, saturation, and brightness with the slider. Rotate your video and fade in or fade out your audio with a slider are also supported.
8. You can preview your video by clicking the Play icon in the Player section.
9. If you are satisfied with your video, you can click the Export option at the top right corner of the Player section to export your video.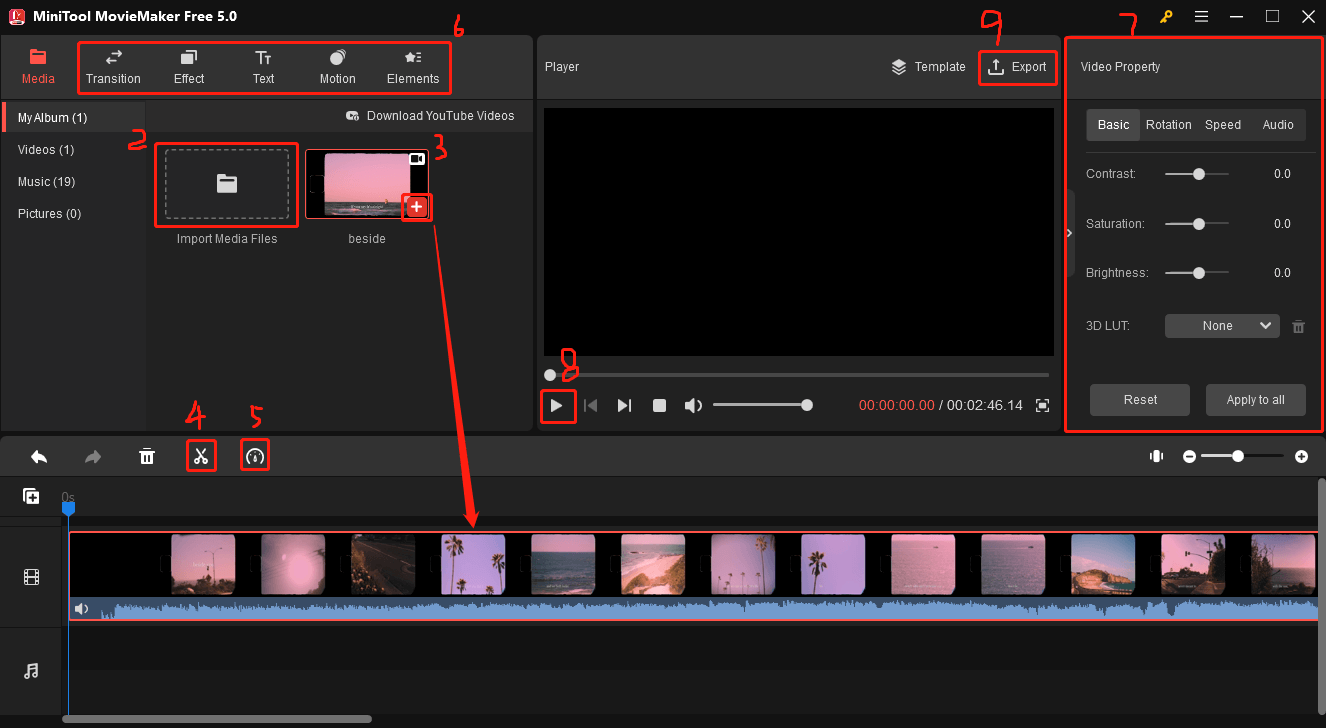 After clicking the Export option, an export window will pop up. You can choose resolution and export format for your video. Click the Settings button and come to the Settings page. After finishing your settings, click the OK button, then click the Export button to export your video.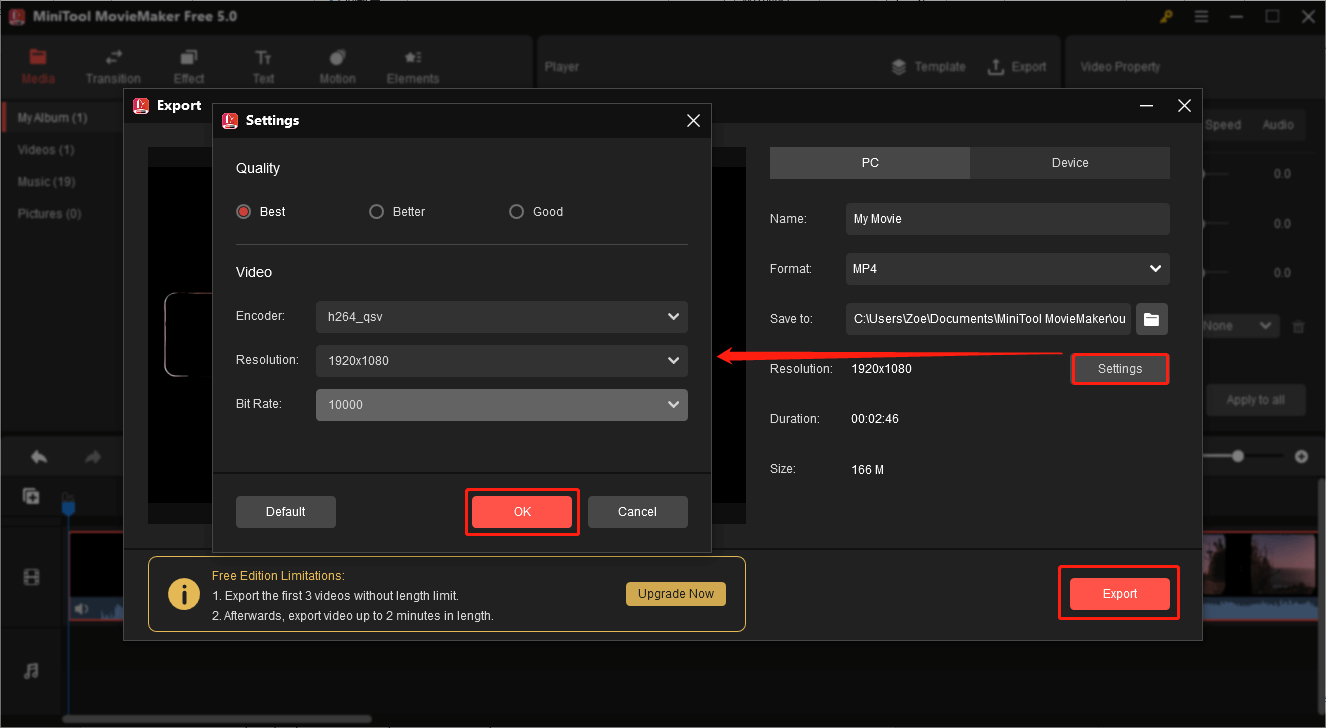 The MiniTool MovieMaker supports exporting in MP4, AVI, MOV, WMV, F4V, MKV, TS, 3GP, MPEG-2, WEBM, GIF, and MP3 formats to your PC.
MiniTool MovieMaker also allows you to export video to devices including iPhone, Apple TV, iPad, Smartphone, Nexus, Xbox One, Galaxy Note 9, PS4, and Sony TV.
How to Make a TikTok Dance Video on the App?
Before you start, you need to choose a simple dance that you like from a variety of dance videos. If the dance is too hard to learn the moves at a normal speed, you can memorize the moves by watching the slow-motion tutorial video a few times. If you're ready to record a video, you need to find a spacious space in your home to record.
Here's how to make a TikTok dance video on the app:
1. Tap the TikTok app on your phone to open its homepage.
2. Hit the + icon at the top of your screen.
3. Hit Add sound button at the top center of the screen to add music to your video. You can search for a specific song for your dance video in the search bar. Press the check mark to add it to your video.
4. Make a video with the TikTok camera. (Upload the video from your phone is also supported.)
If you record the video directly, hit the record button at the bottom of the screen. When you finish, hit the record button again. The default duration of the video is 15 seconds. You can switch the mode for longer videos. Using templates to make a video is a good choice.
If you want to upload the video from your phone, you just need to choose a video from your phone's library.
5. Add effects, filters, and stickers to your video.
Tap the Effects icon to pick your ideal effect.
Tap the Filters icon to choose the filter.
There are static and animated stickers for you to choose from.
6. Press the Next button. Write a caption and tag for your video.
7. Tap the Post button to post it on the TikTok. (You can tap the Drafts button to save your video and publish it later.)
For more skills on how to create a TikTok dance video, you can visit the TikTok website.
Easy Dance to Learn
a. Unlock It
The creator of this dance is @meganellis29 (TikTok user). If you're looking for dances that are easy to reproduce, it doesn't get any easier than this. It has only one movement. You can dance in front of the camera comfortably.
b. My Dirty Laundry
The creator of this dance is @Dance_dona (TikTok user). Although this dance tutorial is not slow, it is also easy for you to learn. It has only 6 moves and doesn't take long to learn.
c. Something New Dance
The creator of this dance is @ninojulia (TikTok user). This dance is very funny. It has 4 moves. If you are finding the TikTok dance for beginners, you can try this one. You can repeat the beginning part of the dance a few times. When you become more familiar with this dance, you can add additional moves at the end.
d. Say So
The creator of this dance is @saviragunawan (TikTok user). If you've mastered the TikTok beginner dance above and want to take on a little challenge, you can try this one! There are a lot of moves, but with enough practice, you might surprise yourself.
e. Flo Rida Low
If you watch TikTok a lot, you should have seen this dance before. It might seem a little difficult since it involves two or more people, but when you watch this clip carefully, you'll see that there are not a lot of moves and it's surprisingly simple. This is a fun dance to try with your kids, friends, and others.
Now, you must know how to make a dance video on tiktok, but how to make your TikTok dance video go viral? How long does it take for a TikTok to go viral? There are three suggestions and they may help you a lot.
Add a popular hashtag to your video.
Share your TikTok video to other social media platforms.
If you want to let your video go viral, you need to know something about how the TikTok algorithms works. The TikTok algorithm is a system that decides which video to display to the audience on their For You page (Personal preferences).
Some videos go viral very fast, while others don't display on the For You page for weeks. It must be the result of the TikTok algorithm. So, what you need to do is focus on your video content. Combine the advice above mentioned with excellent content that people are interested in and your video will show on the For You page one day.
Conclusion
Hope you can enjoy our tutorials on how to make a TikTok dance video on your computer or the app. We would appreciate it if you can benefit from those content for making stunning dance videos on TikTok. So, it's time to make a TikTok dance video with MiniTool MovieMaker.
If you have any questions or suggestions about this post, please let us know via [email protected] or make comments below.