Why Would You Mirror an Image?
Image mirroring is most frequently utilized in selfies. Have you ever been bothered by how to flip the selfie with the front camera after taking a shot? How the selfie can be returned to its original form?
An image can be replicated in reverse along either the vertical or horizontal axis by using the image mirroring technique. If the image is flipped vertically, it will resemble the reflection of an object in water, also referred to as the water reflection effect, whereas flipping the image horizontally will produce a specular reflection effect. In general, image flipping maintains the quality of the original picture because the internal pixel information will not be changed, except for the order in which the pixels are placed.
What Distinguishes a Camera Image from a Mirror Image?
In optics, the difference between a mirror image and a camera image usually refers to the difference between a "virtual" image and a "real" image. The focal point of the light differs in these images. A mirror image is an accurate depiction (virtual image) of an item when light hits a reflective surface in a straight line. A camera image (real image) is created when the rays of light intersect and appear on an object and fall on the sensor surface (film or digital).
Which Tool Is Best for Creating Mirror Images?
The image mirroring can be applied to accomplish your design requirements. In particular, if you're looking for something abstract, the photo flip tools listed below will show you how to make a mirror image of your photo.
MiniTool MovieMaker
MiniTool MovieMaker contains a variety of editing features. It allows you to import videos, pictures, and audio in various formats, add animated titles, subtitles and end credits to a video, and split video clips into various files or trim videos to save the necessary parts. It is also worth mentioning that you can rotate photos at any angle and flip them either horizontally or vertically using this tool. Here's how to get started:
MiniTool MovieMakerClick to Download100%Clean & Safe
Click the above button to get it!
#1. Import Your Photos
Step 1: Download and install MiniTool MovieMaker on your computer.
Step 2: Launch it and close the Project library window.
Step 3: Under the Media tab, click the Import Media Files option to upload your photos.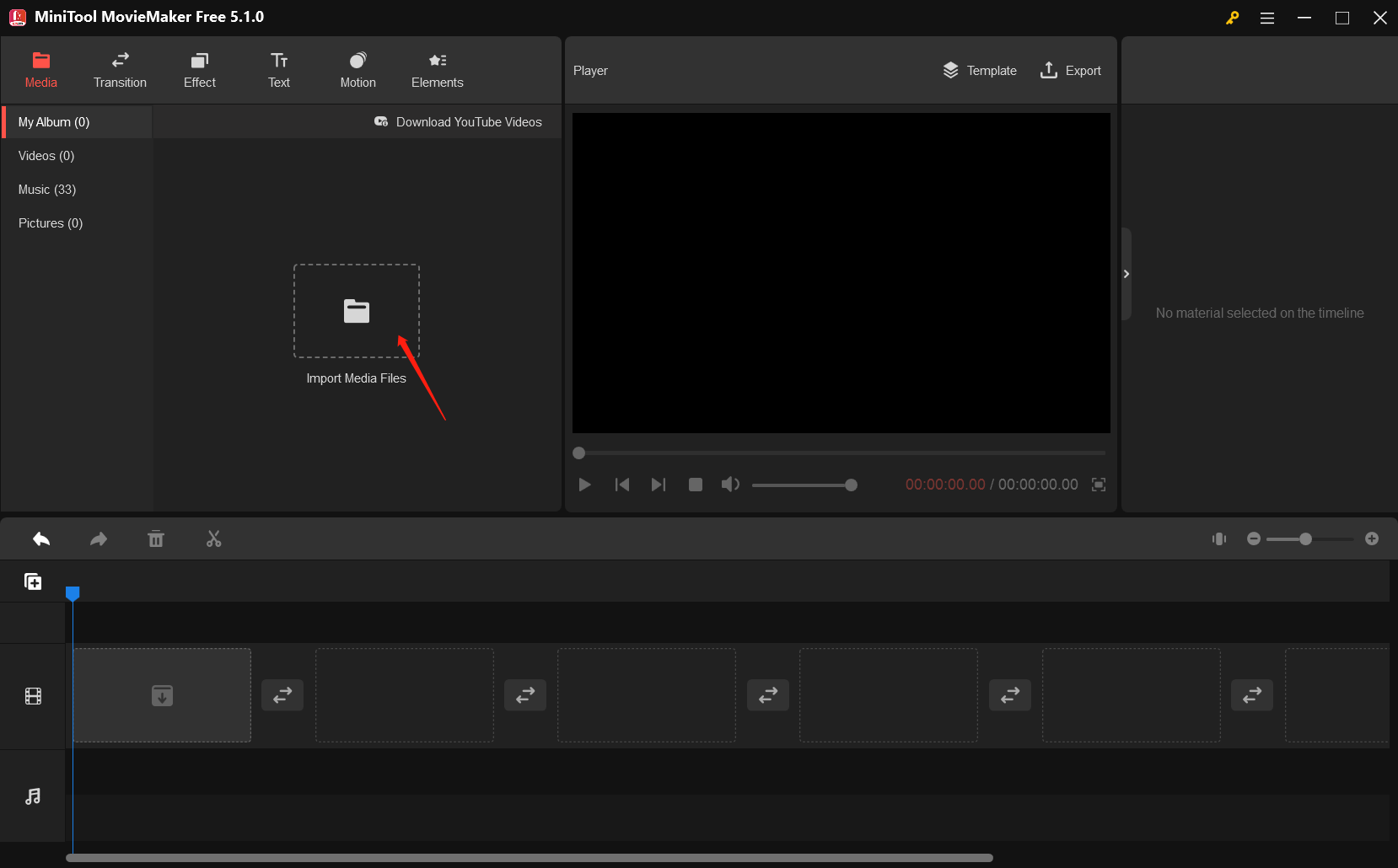 Step 4: Click the + icon on your photos or drag it to the below timeline.
#2. Flip Your Photos
Step 1: Click the photos in the timeline.
Step 2: Go to the upper-right Image Property section.
Step 3: Under the Rotation tab, click the Flip Horizontal / Flip Vertical icon or rotate it at any angle.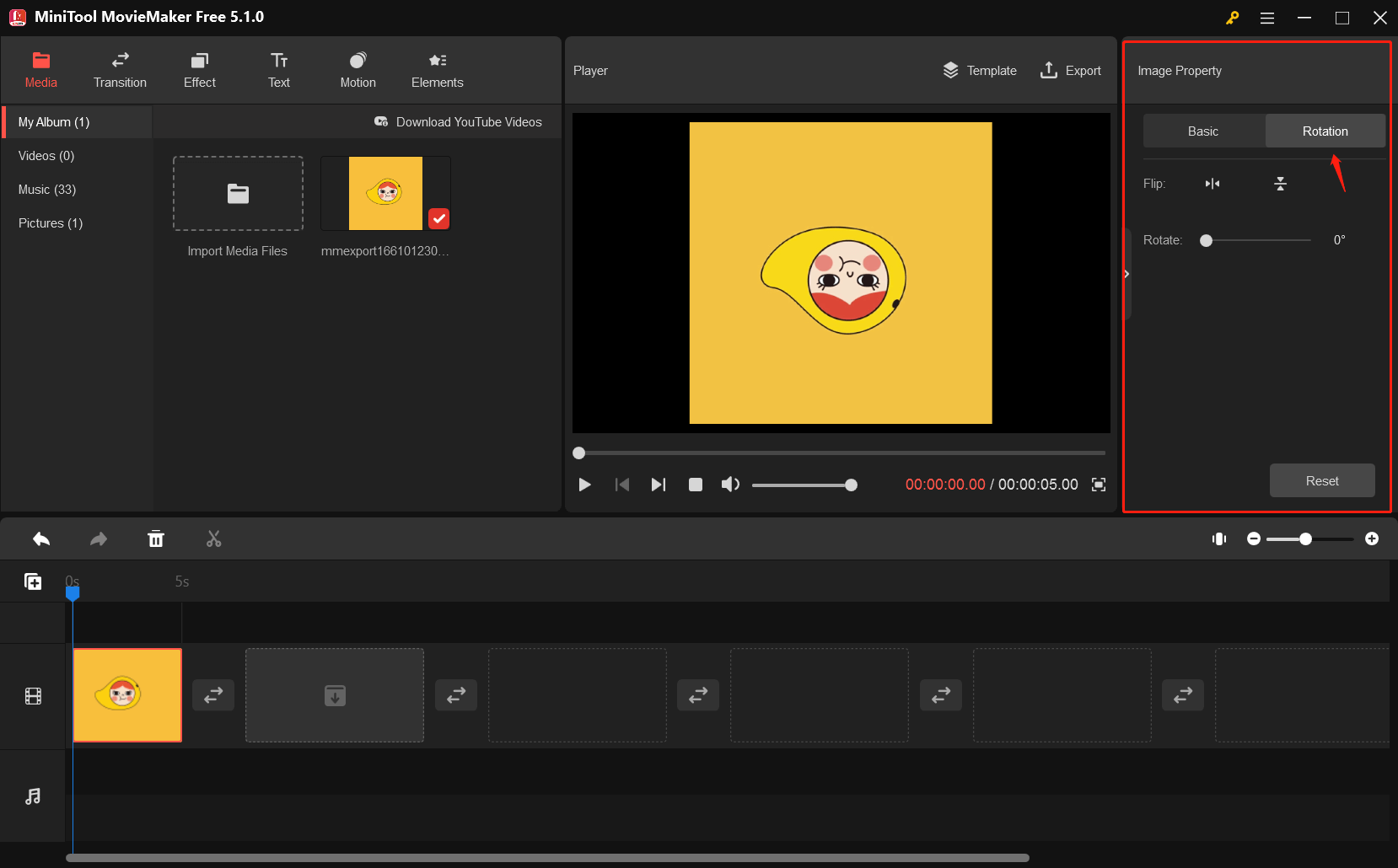 Step 4: Preview the photos in the Player section to enjoy the mirrored or rotated images.
#3. Export Your Photos
Step 1: Click the Export option in the toolbar.
Step 2: Customize the output settings in the PC or Device tab.
Step 3: Click the Export button to export your photos.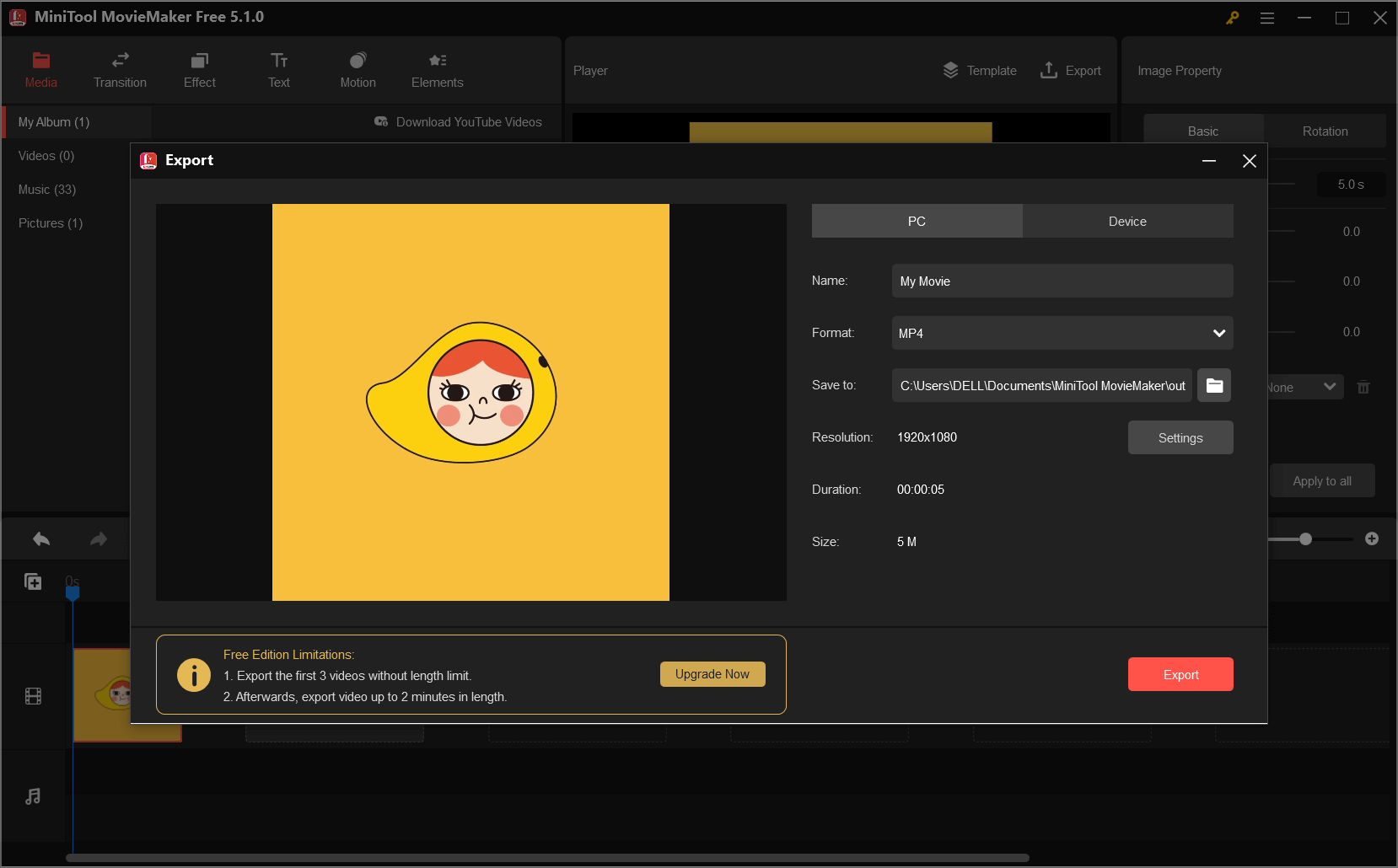 Step 4: Once the video export process is finished, you can click the Find Target button to view the exported images.
Moreover, MiniTool MovieMaker is a professional video editor that can reverse a video to make it appear as if it were a magic trick. How to flip a video into its reverse?
To play a video from the end to the start, you can follow the instructions given below:
Step 1: Launch MiniTool MovieMaker and close the Project library window.
Step 2: Click the Import Media Files option to upload your video and drag it to the timeline.
Step 3: Select the video in the timeline to highlight it. You have two solutions to reverse your video.
Solution 1: Click the Speed icon above the timeline and select Reverse. The video will immediately be reversed.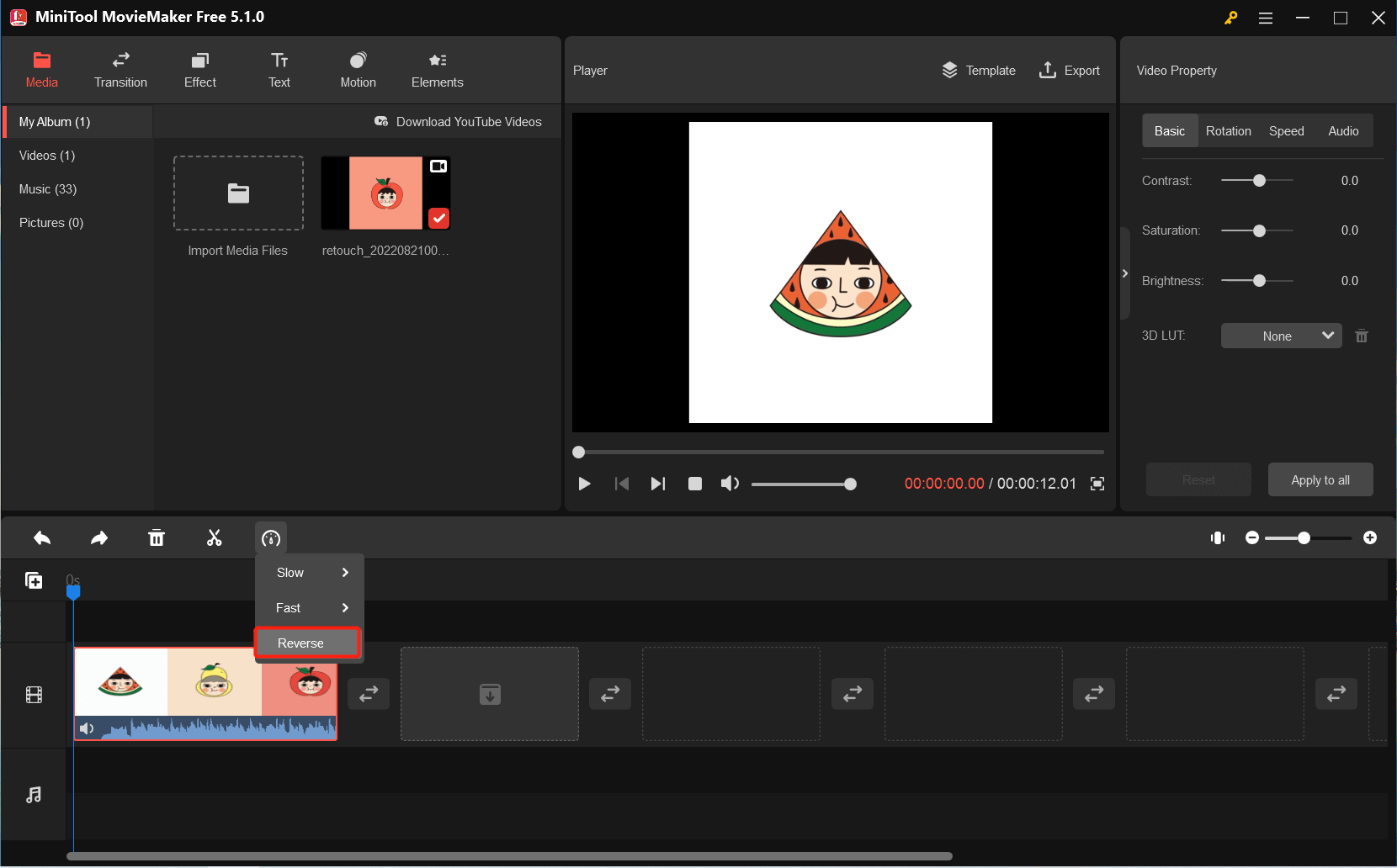 Solution 2: Go to the upper-right Video Property section and click the Speed tab. Then, check the Reverse speed option.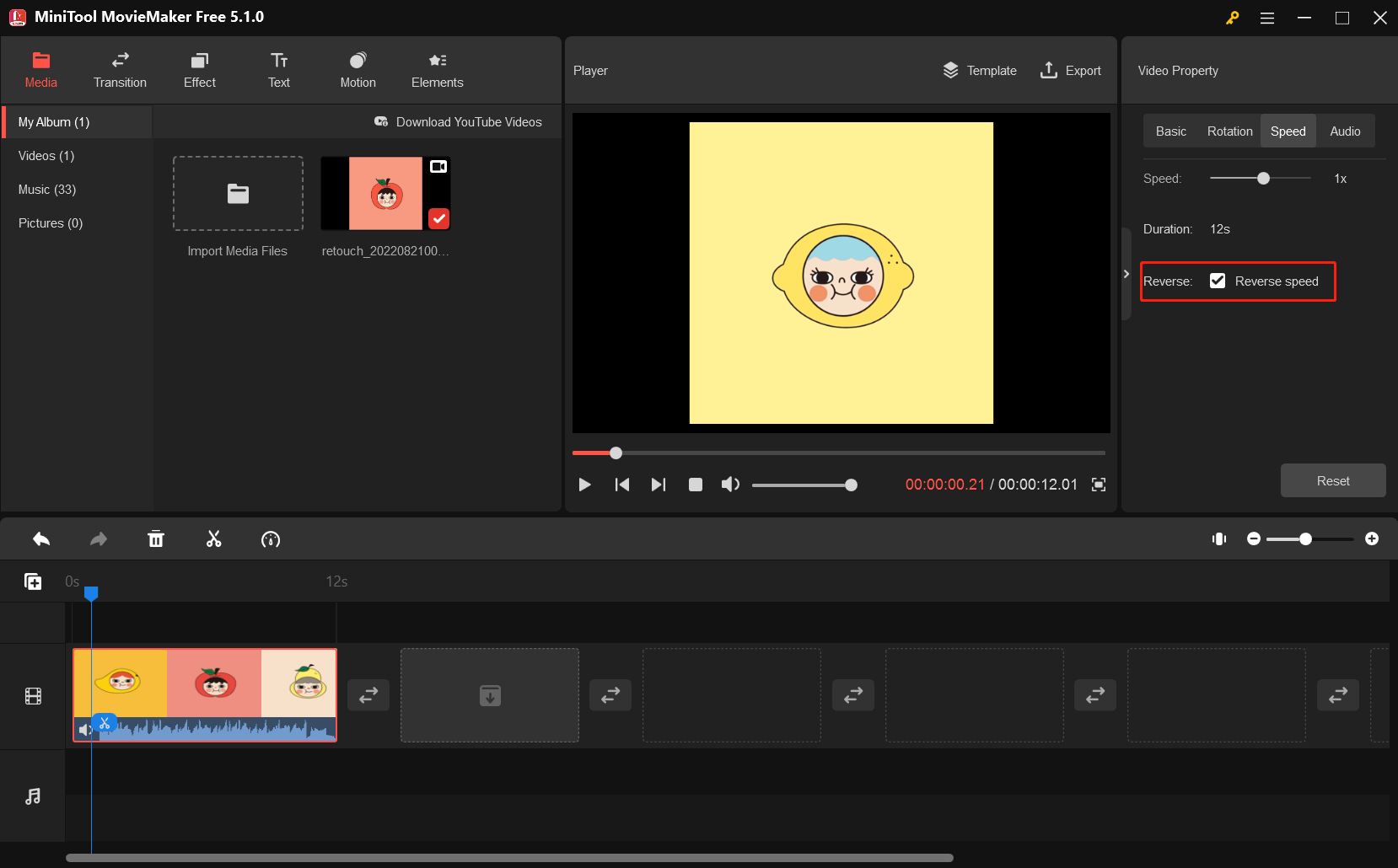 Step 4: Preview the reversed video in the Player section.
Step 5: Click the Export option and adjust the output settings.
Step 6: Click the Export button to export the reversed video.
Retoucher Online Image Flipper
Retoucher Online Image Flipper is a free service that allows users to flip images online either horizontally or vertically. The tool for image mirroring is completely free and safe to use. You don't have to sign up or create an account. Before you post mirror images on Facebook, Twitter, LinkedIn, YouTube, TikTok, and Google Ads, you can flip any photos vertically or horizontally online.
If you want to set custom flipping options, you can upload it to the web service and choose one of the mirroring settings. Also, you can mirror a ready image that keeps the quality of your original photos on your computer or smartphone.
How to Create a Mirror Image of a Photo with Retoucher Online Image Flipper
Step 1: Go to the homepage of Retoucher Online Image Flipper.
Step 2: Click the Upload Image button displayed on the left flipping area.
Step 3: Select the picture that you want to flip from your PC.
Step 4: Click the Flip Horizontal icon or Flip Vertical icon displayed on the right flipping area.
Step 5: Click on Download to save the flipped image.
JPEG Lossless Rotator
JPEG Lossless Rotator is a very useful tool for storing digital photos in the correct orientation. Some images need to be rotated to appear correctly on the screen because the camera or phone may have been in a different position when the image was taken. In order to keep the quality of the photos, JPEG Lossless Rotator applies a specific lossless block transformation rather than recording them. In addition, JPEG Lossless Rotator offers a straightforward, multilingual interface that even beginners can also use.
Features Related to How to Make a Mirror Image of a Photo:
Automatic rotation of the image.
Bulk image rotation.
Display of EXIF data and adjustment of orientation tags.
Image flipping, renaming, and deleting.
Option for a portable application.
Option for a command-line interface.
Support for HiDPI and dark mode.
Shell integration (only available in the installer version) enables you to rotate JPEG images by right-clicking on a file or folder.
Aiseesoft Video Editor
Aiseesoft Video Editor aims to help you to make a photo mirror image and edit the video in different ways. With its editing features, you can simply create a high-quality video. It also includes other editing features such as cutting, cropping and rotating.
Key Characteristics
Control the volume and frame rate of the video: You are permitted to adjust the video volume and vary the video speed to create slow-motion or fast-forward videos.
Enhance the contrast and brightness: You can quickly shift the difference between a video's darkest and lightest sections by changing the brightness of the video file.
Video frame cropping: Video can be cropped in a 16:9, 4:3, or other aspect ratios. You can view your video on any screen or platform, including a television, computer, smartphone, or tablet.
Clip video into several pieces: You can clip and trim video files to remove unnecessary video segments and cut videos to the most important parts.
Audio and video conversion: You can convert video/audio to a range of common formats such as MP4, M4V, AVI, FLV, MP3, FLAC, AIFF, and OGG.
YouCam Perfect
The YouCam Perfect mirror editing tool gives you some mirroring options to highlight your image. Please keep reading to learn how to make a mirror image of a photo by using the following easy steps.
Step 1: Download the app from the official website of YouCam Perfect.
Step 2: Upload the picture you want to flip.
Step 3: In the Tool options, select the Mirror tool.
Step 4: Here, you can choose to mirror photo effects, like vertical flip, horizontal flip and double flip.
Step 5: Save the flipped video to your device.
Mirror Effect for You to Choose:
Here, you're flipping the image from top to bottom, which is a great technique for landscape photography. It appears as though your shot is reflecting in the water as a result of this mirroring effect.
If you are shooting people who are holding a large leaf or bouquet, you can choose the mirroring left to right or mirroring right to left in the YouCam Perfect app. You may also use bold and bright filters to give each side of the mirror image a different look and feel.
You can mirror your original photo horizontally and vertically at each point. Also, you can split the photos into quarters and flip them in various directions.
Recast Studio
Recast Studio is designed to save time for producers so they can focus on important tasks like producing high-quality content. It is primarily concerned with professional-quality videos to help users learn how to make a mirror image of a photo with Recast Studio.
Recast Studio is a cloud-based online video maker that allows users to create dynamic social videos from text, audio, and video.
Recast Studio provides options for adding captions to videos automatically and adding and animating pictures.
Recast Studio online video editor covers basic editing features which include trimming, cropping, cutting, rotating, and flipping videos.
BeFunky
You can simply make fun effects like horizontal and vertical flips with BeFunky's quick and easy Collage Maker. In case you need some extra mirror images, the following examples may spark your imagination.
Mirrored Landscapes
Landscapes are great mirror reflections because of their typical land, sea, and sky layout. The lake seems reflective and mirror-like while horizontally flipping the image.
Mirrored Portraits
Do you ever wish the two of you were together? Mirrored portrait photos look great due to their symmetrical background. You can use the same lines and colors to produce a realistic flip effect.
Mirrored Geometry
Using bold lines and geometric shapes, you can design some beautiful things, for example, a complicated group of towers.
PicMonkey
PicMonkey is an online photo editor that you can work directly in the browser. It is a photo editing tool to design social posts and mirror images and you can also design banners, store icons, and thumbnails with PicMonkey's easy-to-use collage maker.
The PicMonkey Tool Allows You to:
Easily enhance photos using photo editor effects such as Sepia, B&W, and Ombre.
Embedding overlays and graphic stickers.
With configurable shadows and spacing, you can add text to photographs and build the perfect look.
Use Cutout to automatically (or manually) erase backgrounds.
Draw on anything, erase it, and change the transparency, even graphic stickers.
Customize photo design withinnovative, distinctive graphic stickers.
Crop and resize images with pre-made sizes for Facebook, Twitter, Instagram, Etsy, and Pinterest.
Conclusion
All of those are the eight photo-flipping tools. They are all easy to use and have comparable editing features. They can be applied to your computers or browser for basic video and image editing operations.
If you're planning to design a mirror image that can make your visitors look twice, MiniTool MovieMaker is an easy-to-use flipper that helps you learn how to make a mirror image of a photo. Make your mirror image today to discover how great it is!
If you have any questions when using MiniTool MovieMaker, please contact us at [email protected].