Sometimes, images may be taken in a wrong orientation. At this time, the image rotator can give a hand. An image rotator is a useful tool to help users make image rotation with a certain degree or with any angle, which enables users to get a better visual experience. And if you want to make a video with theses optimized images, you can try MiniTool MovieMaker.
1. Kapwing
Kapwing is a free image rotator that is available to rotate any image online in simple steps. It allows users to rotate 90 degrees and adjust the desired rotation by pressing the – or + button. Besides, it's also a collage maker.
Main features:
It supports many photo formats like JPG, PNG, GIF, etc.
It can add text and filters to photo.
It can crop images, resize pictures, and blur images.
It enables users to adjust the brightness, contrast, saturation, and opacity of images.
You may also like: How to Blur a Picture - 3 Effective Methods
2. Photoshop
Photoshop is a professional photo editor with considerable techniques and is also considered one of the best free image rotators, permitting users to do image rotation with180°, 90° CW, 90° CCW. It also can flip the image horizontally or vertically.
Main features:
It can save photos in many formats, such as PNG, JPEG, TIFF, etc.
It's able to improve brightness and color.
It lets users add creative effects to pictures.
It can straighten and crop photos.
Related article: 8 Best Photoshop Alternatives You Must Know
3. Pixlr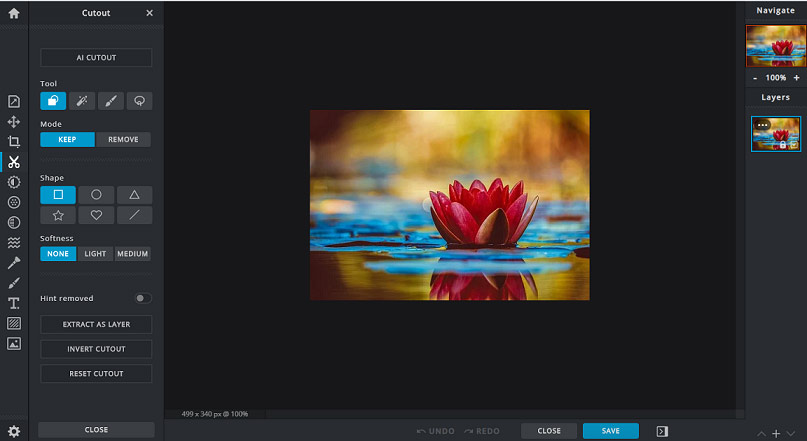 Pixlr works as an online photo editor and is also a free photo editor for Android and iOS. Undoubtedly, it's an image rotation software online, helping users make image rotation on the right or right and flip images.
Main features:
It can add overlay, border, and stickers to images.
It offers 12 image effects.
It allows users to remove backgrounds.
4. Fotojet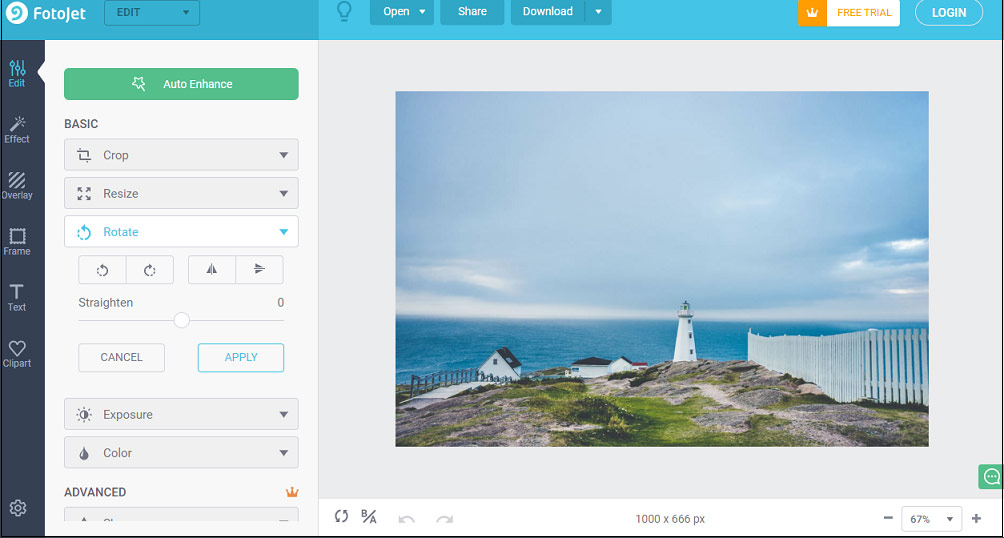 Fotojet is an image rotation software online to rotate pictures right or left. Besides, it's a smart photo enhancer to enhance lights and colors.
Main features:
It can add titles and subtitles to photos.
It offers comprehensive free overlays and photo frames.
It permits users to retouch pictures with diverse effects.
5. Img2go.com
It's a free image rotator packed with more photo editing choices. It is available to rotate photos to the right or left, 90 degrees, make the custom rotation, and flip them horizontally or vertically.
Main features:
It supports image formats including GIF, JPG, PNG, WBMP, BMP, and so on.
It can compress, resize, and crop pictures.
It can add filters, shapes, and frames to image.
Also read: Top 9 Best Picture Resizers of 2022 (100% Free)
6. Adobe Spark
Abode Spark is another free image rotator to assist users in rotating pictures in minutes and has no skills required. And it's able to make image rotation again and again until the desired rotation is achieved.
Main features:
It offers many text templates and filters.
It can resize, crop, and flip pictures.
It's capable of changing background colors.
Bottom Line
People enjoy sharing images on social media. And if the pictures are in the wrong orientation, you're supposed to rotate them to the correct orientation to make your images more attractive and perfect. This post introduces 6 image rotators to help you do image rotation easily. You can choose one image rotator and have a try.