If you want to get the background music from a FLV video, or want to extract audio for practice from an English FLV movie, what would you do? The answer is to convert FLV to MP3 with a FLV video converter. MiniTool Movie Maker released by MiniTool is your best choice.
Everyone knows that there are pictures and sounds in the video, while the audio only has sound. Sometimes you may want to make your favorite MV videos, online music videos, movie classic lines, etc. into cellphone ringtones or upload them to your MP3 device for listening.
However, most videos on the web are in FLV file format, which means you need to convert the video to audio. So how do you convert FLV to MP3? This article recommends 5 effective tools to convert FLV to MP3 format.
FLV vs MP3
FLV
FLV is an abbreviation for Flash Video. It's used to deliver digital video content (e.g., TV shows, movies, etc.) over the Internet using Adobe Flash Player version 6 and newer. The FLV format can be easily imported into Flash at an extremely fast speed, and can be used to protect copyright. The FLV video format is not only low-volume, but also suitable for network development. Flash Video has long been the standard video format used by nearly all embedded videos on the internet.
Pros:
The file size is small.
It is easy to transfer and share.
Cons:
The video quality is not good.
It is not supported by many players.
Related article: 
MP3
MP3 is an audio compression technology, the full name of which is Motion Picture Experts Group Audio Layer III (MP3). It is designed to dramatically reduce the amount of audio data. Using MPEG Audio Layer 3 technology, the music is compressed to a smaller file with a compression ratio of 1:10 or even 1:12. This then enables you to get hundreds of songs on to a CD and it also has opened up a new market over the internet – the download market as download times have been significantly reduced.
Pros:
The audio file in MP3 format has a smaller storage capacity than other audio format files.
MP3 format compression music sampling frequency is various, you can use 64Kbps or lower sampling frequency to save space, or use 320Kbps standard to achieve very high sound quality.
Cons:
MP3 format audio coding has a high compression ratio, while basically keeping the low audio part undistorted, but sacrificing the quality of the 12KHz to 16KHz high audio part.
You might be interested in: FLAC to MP3
Why Convert FLV to MP3
The MP3 format compresses audio files into a manageable size without dramatically altering the quality in a way most of us would notice. Therefore, audio files are able to be downloaded faster and more music can fit onto a device, CD, or computer. FLV to MP3 is one of the most common conversions because the MP3 format is the most versatile and is capable of being played back on a variety of devices. By converting FLV to MP3, people can get the background music of the FLV video or extract audio for practice from an English FLV movie.
5 Best FLV to MP3 Converters
How to convert FLV to MP3? Whether it is your audio file or your video file, you can convert any file into the desired format with the help of a successful video converter. The following will introduce 5 best video converters that are capable of converting FLV to MP3 audio formats. MiniTool Movie Maker, released by MiniTool, should be your first choice.
#MiniTool Movie Maker (Desktop)
It is a free FLV to MP3 converter without ads, which supports you to import various file types: video (MKV, RMVB, 3GP, MOV, FLV, MP4, MPG, VOB, WMV), photo (JPG, JPEG, BMP, ICO, PNG, GIF), and audio (WAV, MP3, FLAC, M4R).
MiniTool MovieMakerClick to Download100%Clean & Safe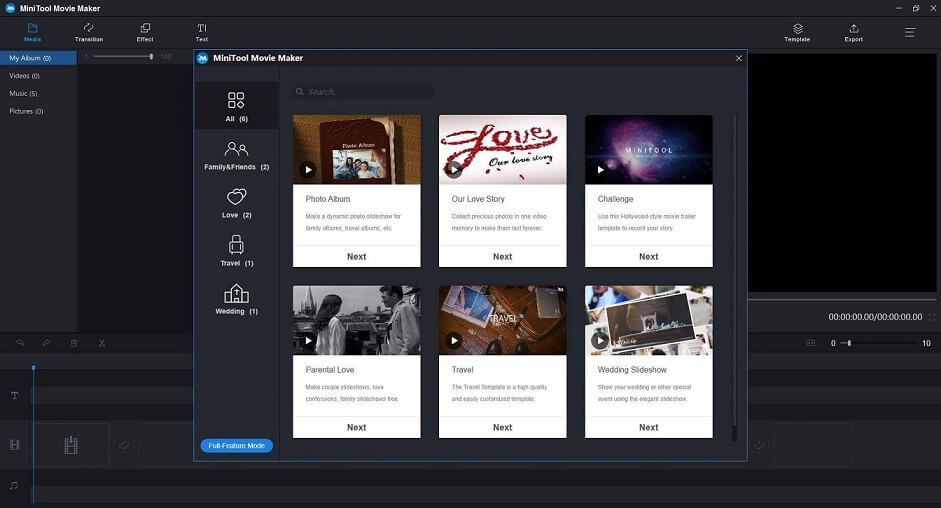 In addition to changing video format, this free video converter also includes many other excellent features.
Offer different types of templates, which makes it easier to create a cool video.
Support to combine videos into one.
Offer a simple and intuitive timeline.
Support plenty of popular transitions and effects.
Add text (titles, captions, and credits) into video.
Split/trim/rotate video and change the brightness, contrast, and saturation of video.
Export video in common internet video formats including MP4, AVI, MOV, WMV, F4V, MKV, TS, 3GP, MPEG2, WEBM, GIF, MP3, etc.
Change the video resolution to reduce video file size.
Save video on different devices.
#Video Converter Ultimate (Desktop)
Aiseesoft Video Converter Ultimate is the best FLV to MP3 conversion software that helps you convert any FLV video to MP3 audio easily with high quality and fast conversion speed. Free download this FLV to MP3 converter to have a try.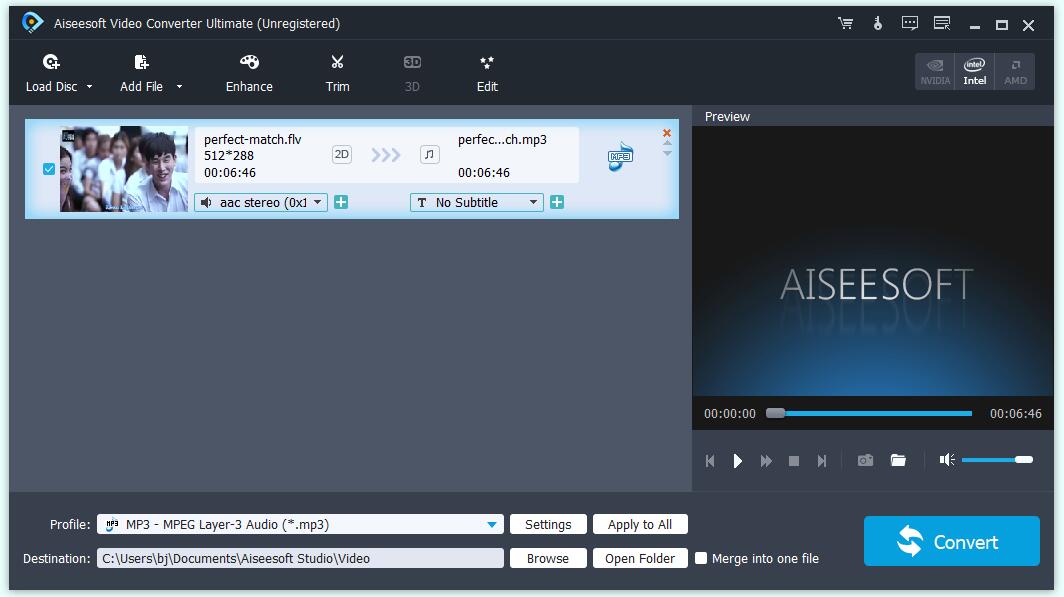 #ZAMZAR (Online)
ZAMZAR is an online file converter that allows users to convert files without having to download software tools and supports more than 1,200 different conversion types. Once the conversion is complete, users can immediately download the file from a web browser or choose to receive an email with a link to download the converted file. However, the download link is only valid for 24 hours, you have to save the converted file within one day.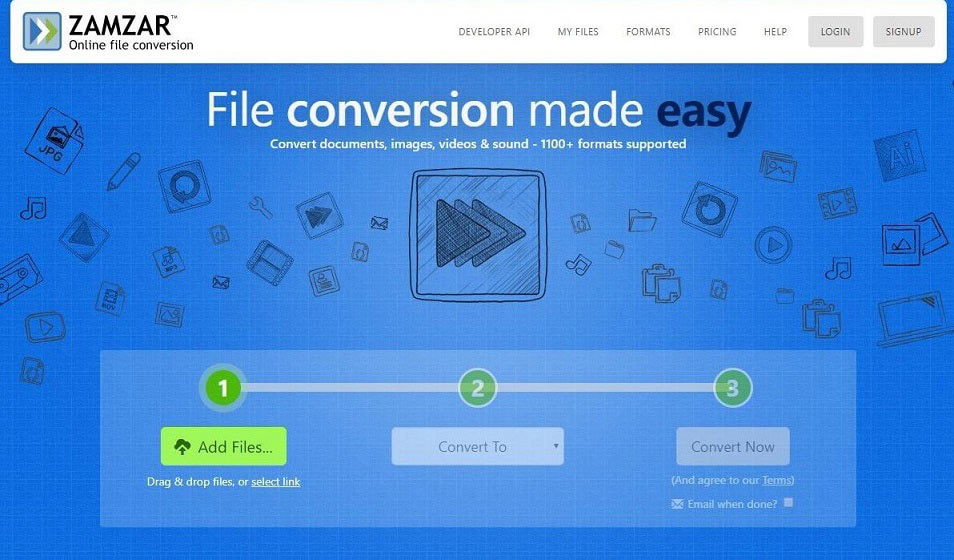 #Online Convert (Online)
Online Convert is a free online media conversion web application that allows you to convert almost any audio, video, image, document, eBook and archieve files to various formats without the need to install any software on your computer. More importantly, its service is completely free.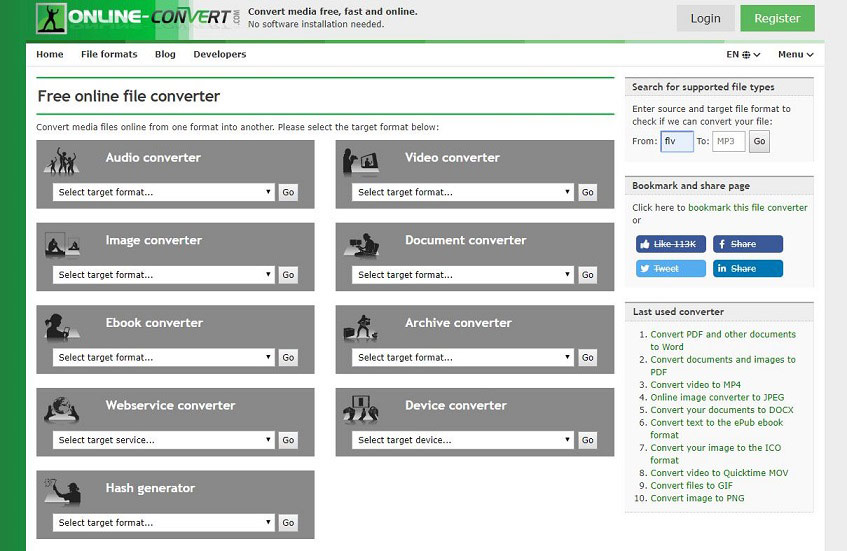 #Convertio (Online)
Convertio is a software that converts files online from one format to another. The software allows you to upload files to other applications such as Google Drive and Dropbox. You can start a conversion and leave the app, then wait until your files are successfully uploaded to your cloud storage.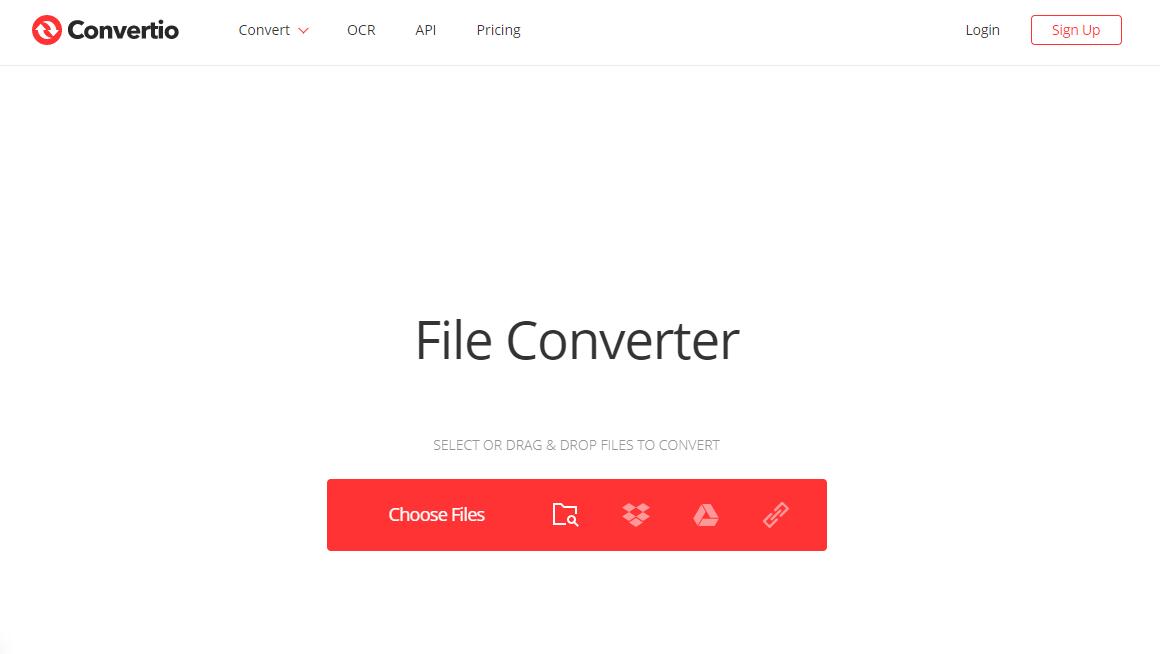 Recommended post: 5 Best Free MP3 Cutters to Split and Trim MP3 Easily
Comparisons Between Desktop and Online Converters
When you want to extract the audio from a video in FLV format, a converter is what you exactly need. The above have discussed 2 desktop converters and 3 online converters. So desktop converter and online converter, which one is better?
Desktop Converter
Pros:
After you get it set up, it's on your computer and you don't need to have internet access in order to use it.
The desktop converters are more secure because you don't have to give up control of the document you want to convert.
It might support to convert the multiple files in one go.
Cons:
It is mandatory to download the software.
The software you download might have a bad interaction with other programs on your computer or bring some viruses to your computer.
Online Converter
Pros:
It's much easier since you don't need to download and install any software.
It usually supports more file formats.
Cons:
You can only use the online converter when you have internet access.
The internet speed will influence the conversion speed.
There may be a limit on the number of conversions per day.
Many ads pop up on the website.
In conclusion, desktop converters are far better than online converters. With desktop converters, you can convert files at anytime and anywhere and you can also edit files as you like before converting.
How to Convert FLV to MP3
The above has discussed a few easy-to-use video converters. Any one of them can meet your file conversion requirements, but if you want the software to perform many other operations besides simple conversion, then MiniTool Movie Maker is the best choice you can try. This simple and free FLV to MP3 converter can help you quickly convert FLV to MP3 as long as you follow the guidance below.
Step 1. Download, install, and launch MiniTool Movie Maker on your PC.
MiniTool MovieMakerClick to Download100%Clean & Safe
Step 2. Close the movie templates window or tap on Full-Feature Mode to enter its main interface.
Step 3. Select Import Media Files to import the FLV file to this program.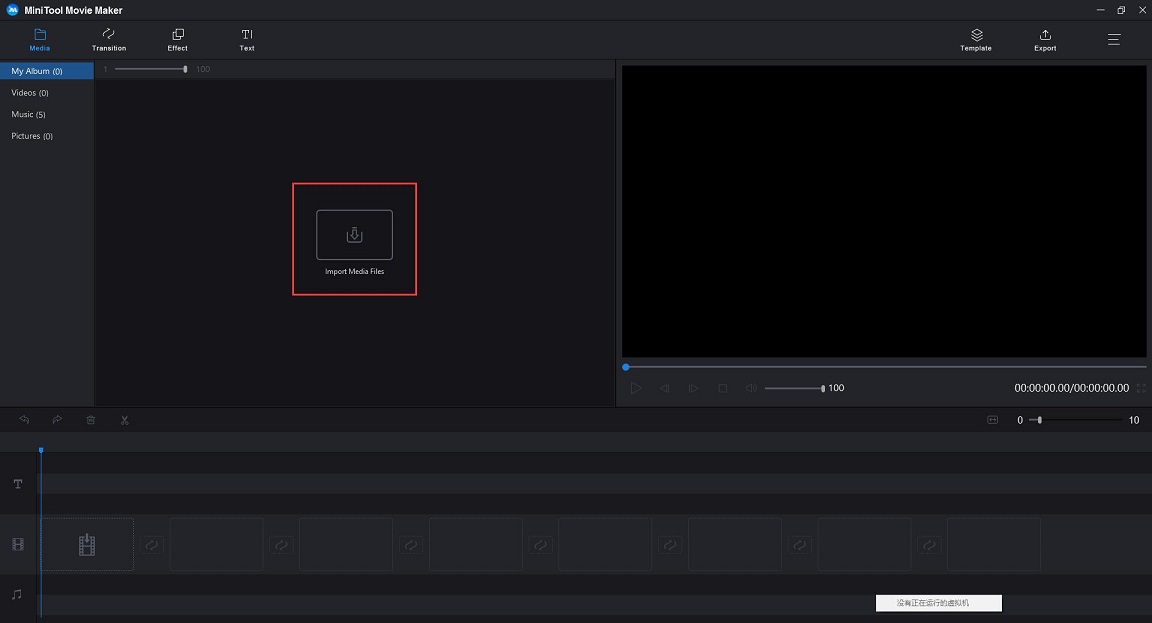 Step 4. Click + to add the FLV file to the timeline or drag and drop it to the timeline.
Step 5. Now, edit the video as you like. For instance, you can fade in or fade out audio.
Step 6. Click the Export button in the toolbar, and the export window will pop up.
Step 7. In this window, please select MP3 as the output format. Optionally, you can type a name for the audio file, specify the store location, and select a suitable resolution. Then click the Export button again.
Then, MiniTool Movie Maker begins converting FLV to MP3. In fact, MiniTool Movie Maker not only supports to convert FLV to MP3, but MP4 to MP3, MKV to MP4 and so on.
Pros:
There are no ads or bundle software during the installation process.
It has a simple and user-friendly interface, extremely easy to use for beginners.
It allows you to edit the FLV file before converting it.
It provides high-speed conversions.
It has no limit on the number of conversions and downloads.
There is no watermark on the converted files.
Con: It only supports Windows 10/8/7.
Related article: MOV to MP3
Bonus Tip – Download FLV Files
Five useful converters are introduced above, but there is a serious problem. Some online FLV converters (Zamzar, OnlineVideoConverter) don't support to convert the online FLV file to MP3 via a website link, which means you need to download the online FLV file to your PC first and then add it to the program. So, how to download the online FLV file you want to convert? 3 different approaches are as follows:
You might be interested in: 2 Ways to Download Flash Videos Successfully
FLV Downloader Desktop – FLV.com FLV Downloader
FLV.com FLV Downloader is a free application that helps you save online videos from over 50 video sites (YouTube, Vimeo, RedTube) to your Windows PC or mobile device. This FLV downloader app also includes a built-in FLV converter so you can download and convert videos to other popular formats such as FLV to WMV, enabling them to be played on Windows Media Player. Apart from the best FLV Downloader, FLV.com also provides a great FLV player.
FLV Downloader Plugins – Flash Video Downloader
Flash Video Downloader is one of the best FLV downloader plugins for Chrome that a person can use to download video files for free. It supports several video formats including FLV and its features are very reliable and efficient. With the help of this chrome FLV downloader, a person can watch and review the content of a video while its downloading process is still ongoing.
FLV Downloaders Online – CloudConvert
CloudConvert is a decent FLV online downloader that facilitates downloading FLV YouTube videos. The best feature of the downloader is the support to select files from Google Drive, Dropbox, OneDrive and Box. Moreover, this FLV downloader works as a great converter and supports file conversion in over 200 formats.
This post discussed 5 best converters and the detailed steps to convert FLV to MP3. After comparison, I prefer MiniTool Movie Maker.                
Bottom Line
Now, it's your turn. Try extracting audio from FLV clips, movies and live shows in high-quality MP3. If you have any questions or suggestions about it, please let us know via [email protected] or share them in the comments section below.
FLV to MP3 FAQ
How can I convert FLV to MP3?
Launch MiniTool Movie Maker.
Click Import Media Files to import the FLV file.
Drag and drop it to the timeline.
Click Export at the top right.
Select MP3 as the output format and click Export.
What is the best YouTube to MP3 converter?
MiniTool uTube Downloader
YTD Video Downloader
4K Downloader
Any Video Converter
Online Video Converter
Can VLC convert to MP3?
Open VLC player and navigate to Media.
Select Convert/Save.
Click Add….
Navigate to the file you want to convert and press Open.
Press Convert/Save.
Select a correct profile, click Browse to choose a destination folder.
Click Start.
How do I convert SoundCloud to MP3?
Open SoundCloud Downloader on your browser.
Paste the SoundCloud URL in the box and press Download.
Download the MP3 file to your computer.