DNG file format or Digital Negative is Adobe open raw image format that is used for digital photography. If you are looking for some other software including additional features to view DNG files, then this post will help you. Here are the 4 best DNG viewers. Just keep on reading!
In this post, you will learn about some of the best DNG viewers. They are not just DNG viewer software but offer additional useful features.
If you also need a free video editor to make short movies from images, you can try MiniTool MovieMaker.
MiniTool MovieMakerClick to Download100%Clean & Safe
Faststone Image Viewer
Faststone Image Viewer is also one of the best DNG viewer software with great performance. If you want to view the DNG images in full-screen mode, then it is a great option for you. Amazingly, this free DNG viewer is a combination of an image browser, image editor, and image converter.
It also provides options for editing the DNG images. You can crop, resize, enhance brightness, change colors, adjust contrast, view histogram, play slideshow, add music in the slideshow, save images in other formats, and more.
Besides, you can convert the DNG to other formats such as JPG, BMP, GIF, PNG, TGA, TIFF, and even to PDF.
Fotor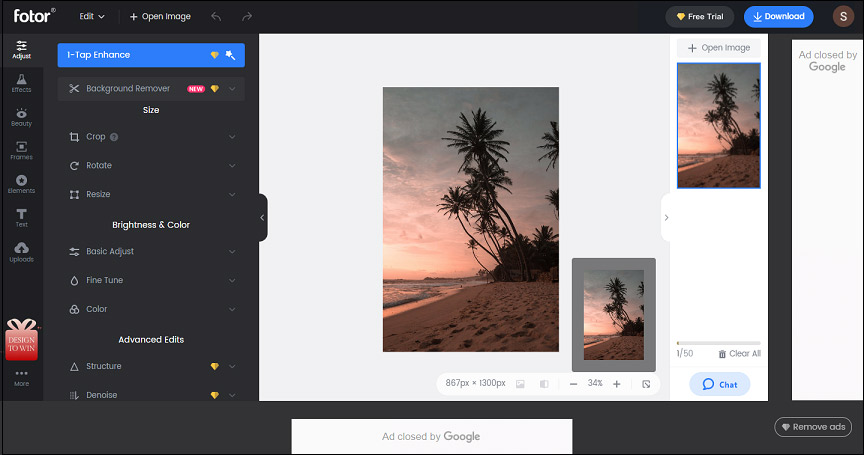 Fotor is also among the best DNG viewers that you can use to view and edit DNG photos. It provides different tools that can be used to deal with the DNG image. With it, you can crop, rotate, resize, straighten, add special effects, add beautiful filters, add text, and do much more on your DNG files.
More importantly, its photo processing engine makes it easy to process dozens of photos quickly to save you time and effort. The new batch processing can help you for adjusting exposure, brightness, contrast, white balance, and saturation, sharpen or blur, add a vignette and borders, as well as batch resizing, renaming, and file conversion.
After editing, you can export the result DNG photos in various image formats like JPEG, PNG, BMP, and TIFF.
IrfanView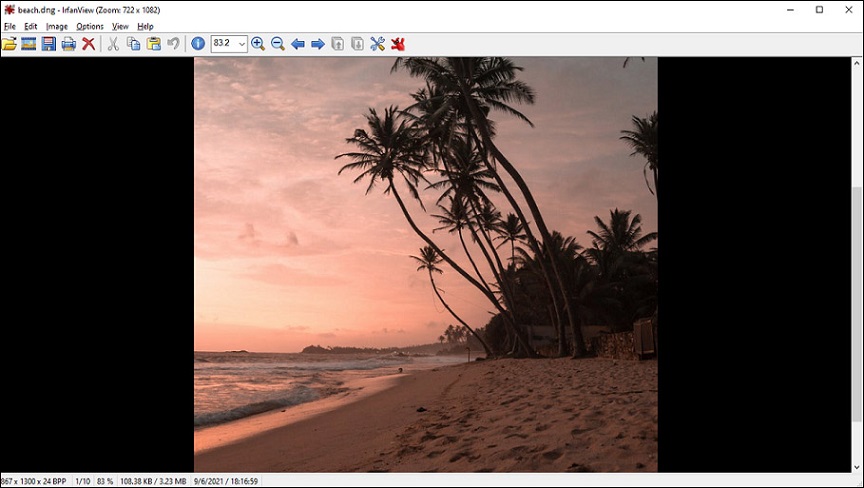 IrfanView is also a great DNG file viewer and free to use. This free DNG viewer is quite lightweight and intuitive with just a 3MB footprint and with no bloatware embedded.
It can be used as a DNG file viewer, editor, and converter. It also supports many other image formats including JPEG, PNG, GIF, BMP, TIFF, RAW, and many more.
As a DNG photo editor, it provides basic editing tools such as rotating, resizing, cropping, flipping, and more. It also has some advanced editing tools like color replacement, color correction, special effects, and more.
Furthermore, it also lets you share your images via email. You can insert a watermark and add text to your photos. It also supports batch conversion and playing slideshows.
Picasa
Picasa is a free and popular DNG viewer software. With it, you can easily open and view any DNG image. Not only that, it can be used as an image browser and image editor for DNG files.
It is also a powerful editor that allows editing the DNG images including cropping, rotating, resizing, flipping, adding text, applying filters or color effects, adjusting brightness or contrast, and making collages with DNG photos.
Apart from support for viewing DNG files, it supports other popular image formats such as JPEG, PNG, GIF, BMP, TIFF, and many more.
Conclusion
The 4 best DNG viewers mentioned above are all easy to use. They not only support DNG viewing but also provide additional features. If you just need a DNG viewer, just pick and try one of them!