The album cover is an important part of any album because it is the first thing every new user looks at. The first impression always influences the further perception. In this post, we will recommend the X best apps to make album covers. Just read this post to find your favorite one!
By the way, if you want to add your recorded music to a video or make a music video, you can try MiniTool MovieMaker, which is a free and simple to use movie maker.
MiniTool MovieMakerClick to Download100%Clean & Safe
The album cover is an illustration of the front of the compilation. This is the first visible part of the album. So, it has to be fascinating. If you are looking for the simple tools to design the album covers, you've come to the right place. This post will introduce some terrific apps to make album covers.
Album Cover Creator (Android)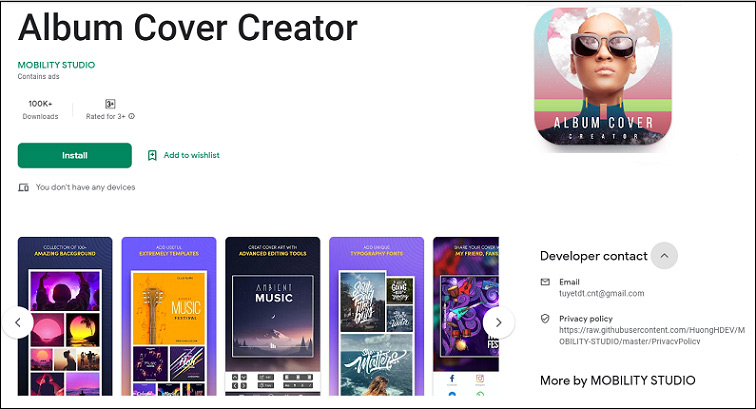 Album Cover Creator is one of the best apps to make album covers. With it, you can design amazing album art for your music albums or CD covers. It comes with a wide selection of beautiful backgrounds for your creation. You can also use your own photo and use its advanced and stylish filters for the cover photo design.
To make your album cover more attractive, you can use the design elements and stickers that fit your album art theme. You can also add different fonts to match cover art and overlays to spice up your album covers.
Cover Photo Maker – Banners & Thumbnails Designer(Android)
Cover Photo Maker is also one of the best apps used to make album covers. To make an attractive album cover, you can either upload your own photo, choose one of the thousands of stock images, or go with a solid color. Just choose a theme that fits your brand.
To customize your album covers, you can select a ratio you want for different social media platforms. There are many presets that almost fit every need and options for custom covers. The eye-catching images and stickers are also available. In a word, it is a great tool that helps you create covers for a music album, videos, photos, playlists, and so on.
Want to know how to add the album to mp3? Read this post to get more information Solved – How to Add Album Art to MP3.
Spotiplus – Cover Maker (Android, iOS)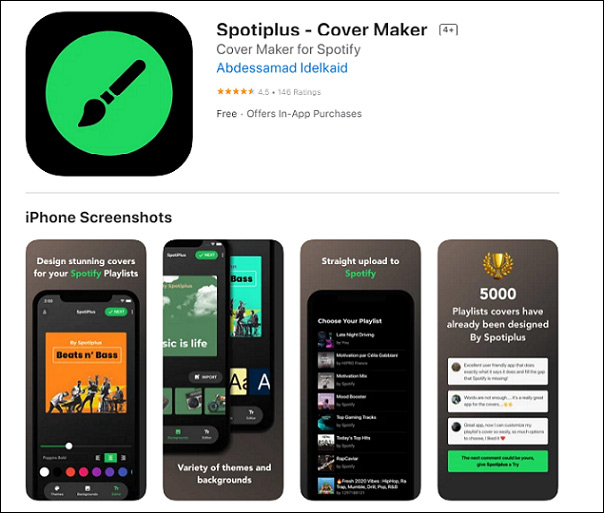 With SpotiPlus, you can design good-looking cover art for your albums, Spotify playlists, tracks, podcasts in just a few minutes. If you're lacking the inspiration to make better album covers, you can use its 100% free templates to start and customize to match your album cover style.
You can also choose from a variety of built-in styles and customizable fonts, colors, and alignment. After creating, you can export the cover art straight to Spotify or download as JPEG to publish it later.
Coverlay – Album Art Generator (iOS)
Coverlay is another great app for creating creative content including album covers. With this app, musicians and artists can easily create album art for their next release without all the unnecessary work like contacting a designer or using complicated photo editor programs.
To make or design the album cover, you can use your own images, graphics, or drawings. Then just type in the name of your song and artist. Select your mood (color) in the customizer panel. You can hide or show text or the parental advisory sticker. Then new cover perfect for your song is generated.
If you want to make stickers by yourself, this post is for you: 5 Best Sticker Maker Apps That Help You Create Lovely Stickers.
Conclusion
In this post, we've learned the 4 awesome apps to make album covers. Which one do you like most? If we missed some great tools to make album covers, please let us know in the comments section!
You may also like: