Album art is a highlighted part when streaming music. If you have music with missing album arts, you can use the album art downloaders. What is the best album art downloader? This post offers 5 options for you to find the answer.
This post covers the 5 best album art downloaders. You will find a collection of albums of almost all music genres and artists. Just keep on reading and find the missing album art for your music collections!
If you want to make music videos with a free video editor, you can try MiniTool MovieMaker.
Album Art Downloader (Windows)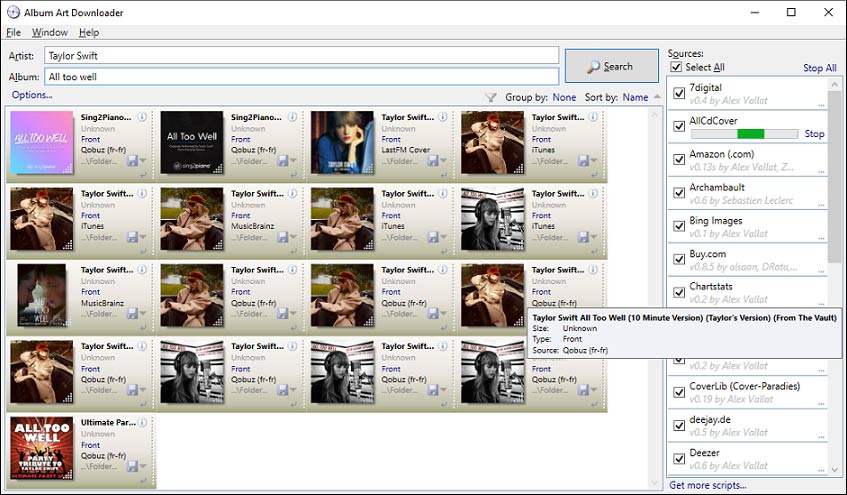 Album Art Downloader is one of the best free album art downloader software designed to help users find and download the album art for music collections. It is a useful tool for organizing your music collection and making the music album art correct and complete.
With it, you will find an impressive array of sources to find the album art quickly, especially for rare albums. It will even help you match covers to albums you don't know the name of. You can download the album artworks and save them to the music folder with little effort.
Bliss (Windows, Mac, Linux)
Bliss is a simple, fast, and accurate album art downloader program. It will find and download the album art automatically. When you add an album to your music library, it automatically assesses the album based on your rules. If the album is incorrect, it will decide a fix and applies it automatically.
Aside from finding and applying the album art to your music files, it also uses tags and metadata from your files to sort, organize, and optimize your music collection for easier browsing and listening from the music library.
Album Art Exchange (Online)
Album Art Exchange is one of the best album art downloader sites devoted to high-quality album art covers. It boasts near a half-million amazing album artworks contributed by members all over the world.
To download the album art, you just need to search for the specific album or artist name.  Each result album will display the image size, dimensions, and user rating, so you can pick the best one according to your needs.
You may also like: Top 6 Best Free Streaming Services You Need to Know
Discogs (Online)

As a great album art downloader website, Discogs is also one of the largest online resources for music data. It provides a rich database that collects information about album art cover images, artists, music albums, record companies, and much more.
Since it's such a large collection of music, it makes it easy to download the album art you are just looking for. After you select an album, you just need to click on the album image you want to save and you can upload it to your music library manually.
You can find album art not only for digital music releases but also for older mediums like vinyl records and CDs. For digital music, you can also fine-tune your search with a handy filtering option that can select certain audio formats like AAC and MP3.
MusicBrainz (Online)
Last but not least, MusicBrainz is also among the best album art downloaders. It offers a large collection of album arts for you to browse and download.
In addition to album art downloading, it is just like an open music encyclopedia that collects much information about the album. It allows you to see all albums released by the artist, music labels, background information, the band's internet presence, music sorted by tags and categories, and much more.
Conclusion
With the album art downloaders, you can find and download the missing album art covers easily. Just check each of them to look for your favorite artist or album and download cool album art to complete your music collection!