Some people may like listening to vocal-only songs without instrumentals. This post collects 7 best acapella extractors that you can use to make acapellas from any song. (Try MiniTool MovieMaker to add extracted acapella music to your video.)
What Is Acapella? According to Wikipedia, A cappella means singing without instrumental accompaniment. How do you separate vocals from music? You can't miss the following acapella extractors!
#1. Acapella Extractor
Website: https://www.acapella-extractor.com/
Acapella Extractor can make acapellas from MP3 or WAV audio files online for free. As a free online acapella maker, Acapella Extractor has some limits. The maximum file size for uploads is 80 MB and the length of songs should be no more than 10 minutes. It only lets you isolate vocals from music twice per day. No sign-up is required!
If you want to make an acapella from a video free online, you can use MiniTool MovieMaker to extract the audio track from the video and upload the audio file to Acapella Extractor.
MiniTool MovieMakerClick to Download100%Clean & Safe
#2. LALAL.AI
Website: https://www.lalal.ai/
LALAL.AI is one of the best acapella extractors based on AI-powered technology. It can extract vocal, instrumental, drums, bass, piano, guitar, and synthesizer track precisely and quickly without losing quality.
The free version allows you to upload an audio file less than 50 MB and the duration of the uploaded file is limited to 10 minutes. While the paid version lets you make acapella from a song or video that is no more than 2GB, no longer than 90/300 minutes.
#3. Edit Your Audio
Website: https://www.edityouraudio.com/acapella-generator
Edit Your Audio is another great choice for vocal extraction. It can remove instrumentals from any audio file like MP3, WMA, FLAC, WAV, or AIFF. You can also use it to separate instrumentals and vocals from YouTube videos. The Maximum upload file size limit is 30 MB.
It's fast and lets you can preview the result. But you need to sign up to download the vocals.
This Acapella generator also can be used as a vocal remover, karaoke maker, and instrumental maker.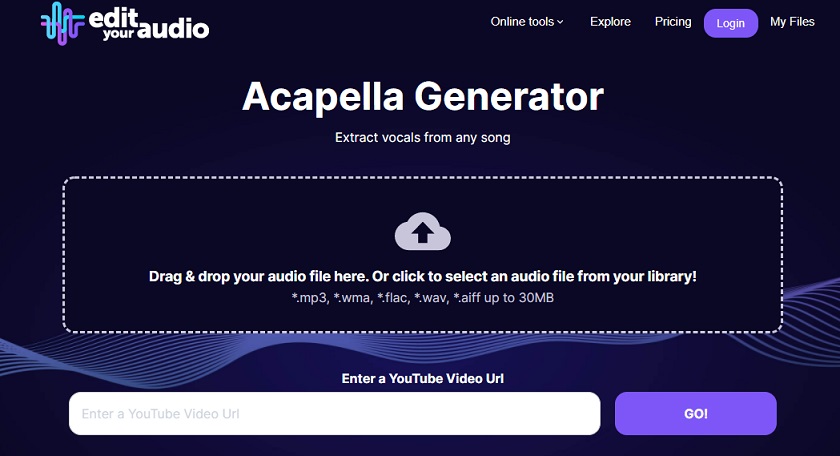 #4. Splitter
Website: https://splitter.ai/
Splitter is a free online acapella extractor to separate vocals, drums, piano, bass, etc. It accepts audio files up to 50 MB. The extracted vocals are clear without background instrumentals.
After uploading your song, click My uploads and you can directly download vocals or instrumentals of the song.
#5. Voice Separator
Website: https://www.conversion-tool.com/voiceseparator/
You can use Voice Separator to isolate vocals from music and extract instruments such as piano, drums, bass from a song. With it, you can create acapella and karaoke music.
This online acapella extractor supports importing music from your device, OneDrive, Dropbox, and other websites like Instagram, SoundCloud, Tumblr, etc.
#6. Vocali.se
Website: https://vocali.se/en
Another best acapella extractor is Vocali.se. You can create an acapella or karaoke version of a song by separating vocals and instrumentals from it.
It's free and works in web browsers, with no software installation!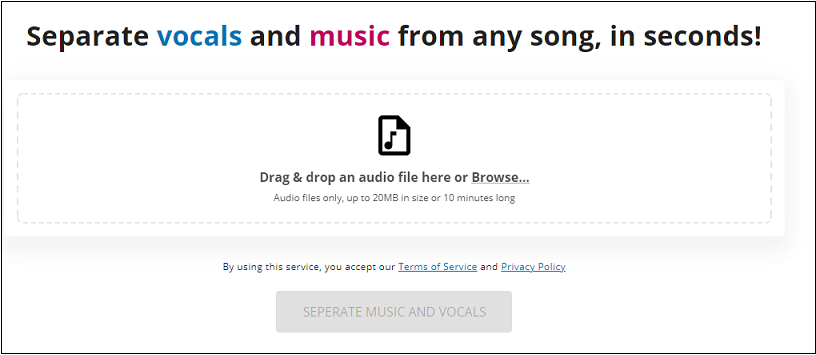 #7. Moises
Website: https://moises.ai/
Moises is an acapella maker app for Android and iOS. It can remove instrumentals or vocals from music and enables you to control and change the pitch of your music.
Conclusion
The above acapella extractors are easy to use. If you want to share other free acapella makers with us, leave a comment below!
Also read: