I believe most of you are very curious about how to make a movie. Making a movie is a very challenging job. Not only do you need to spend your time and money, but you also need to invest a lot of energy in all stages of movie production.
Read this article to learn about movie-related knowledge and how to make a movie.
If you want an app for editing movies, MiniTool MovieMaker is recommended to you.
Definition of Movie
A movie is a work of visual art, which is characterized by motion or moving pictures. Movies are used to simulate the experience of conveying thoughts, stories, perceptions, feelings, beauty, or atmosphere through the use of dynamic images. These images are usually accompanied by sound and fewer other sensory stimuli.
The term "movie" is an abbreviation for cinematography and is often used to refer to movie production and the movie industry, as well as the resulting art forms.
The movie is an art that mankind knows its exact time and growth process. It is a rapidly developing and influential media since the 20th century. It is a creative industry that integrates politics, economy, and culture. It can accurately restore the real world and show the virtual world, giving people a sense of reality.
The History of Movie
The history of movies spans more than one hundred years from the end of the 19th century to the beginning of the 21st century.
As a moving image, the movie has gradually developed from gathering crowds to hunting for novels and becoming one of the important tools of mass media, communication, and entertainment in the 21st century. Movies have also had a huge impact in the fields of art, technology, and politics.
Silent Period
The early movies were silent. In the earliest days, there was a commentator to narrate the story and make up the dialogue among the characters during the movie.
Within a few years, all the movies that were broadcast were attached with subtitles, so that when the actor spoke, he/she could express what he/she said.
Afterwards, the cinema invited musicians to accompany the movie during the screening. It's the accompaniment music conformed to the plot atmosphere of the movie.
Sound Period
Sound Movie Comes Out
With the advancement of technology, producers could create soundtracks that were synchronized with the screen of the movie, bringing the movie into a sound period.
The recording of the soundtrack could be separated from the filming. However, many parts of live-action movie soundtrack recording were carried out at the same time as the shooting screen.
After the invention of the sound movie, the silent movie and the musicians in the cinema quickly disappeared.
Movie Colorization
The last important step in movie development was that color movies were introduced to the market around 1930, and the world's first recognized color movie was Vivacious World.
The replacement of black-and-white movies by color movies was a gradual change. With the improvement of color technology, more and more color movies have basically been eliminated.
Computer Special Effects
In the early stage of movie production, special effects lenses for movies required various technologies to cooperate. But nowadays, computers have been widely used in movie production.
Some actors in the camera only need to sit on special chairs and do some expressions and actions. The background and plot appearing on the screen are unimaginable.
Because the computer is used to edit the video instead of the cumbersome steps, the quality of the final copy is not the same as that of the previous products.
How to Make a Movie?
Do you know how long does it take to make a movie? Movies with different costs require different shooting times, but generally speaking, the time to shoot a movie is basically within half a year to a year.
Write Your Script
Before you start writing a script, you should spend some time reading other movie scripts and learn from those good scripts.
To complete a script, you have to come up with attractive visual ideas and movie roles at first. Second, you need to develop your initial idea into a character arc and a story arc. Thirdly, you can find a writer to write the script with you to make your ideas come true. Last but not least, you should use genre metaphors in your movie.
It is worth noting that the beginning and end of your movie script must be able to attract the audience's attention and arouse their strong resonance. At the same time, you should also pay attention to the time allocation of each scene and segment of the movie.
Obtain the Essential Equipment
A video camera is an indispensable tool for filming. You can choose to rent a camera or use a smartphone to shoot.
You need to choose the right lens. Different projects require different focal lengths and sceneries. You can experience the quality of different lenses from some anamorphic lens tests provided on the Internet or from other people's movie lenses.
The lighting of a movie is crucial to its final photographic effect. It can even be said that only one piece of photographic equipment is enough, but the matching lighting must be sufficient. Light sources include desk lamps, natural light, artificial stand lamps, etc.
Supporting equipment is also necessary, including tripods, stabilizers, hydraulic level devices and so on. The tripod is the most important tool for stabilizing the camera equipment. The stabilizer mainly shoots sports shots. The hydraulic level device can help you more accurately identify the horizontal balance of the camera.
Sound quality is the second factor that affects the audience's evaluation of the movie. Therefore, you need microphones, including pointing shotgun microphones and wireless lavalier microphones.
You also need a recorder or mixer to manage various audio channels and ensure local XLR input and high-quality signal lines to guarantee the normal recording of audio.
The camera slide rail can help you complete the traditional track follow function, push and pull lens function and some smaller rocker functions. For example, by locking the oblique side of the track, you can complete the lifting shooting.
Consider Your Budget
Your budget includes movie actors, staff, filming equipment, filming locations, filming permits, movie post-production and so on.
Know what you need to spend in each part in advance to prevent exceeding your limited budget during the movie production process.
Find the Working Team and Actors
An outstanding movie cannot do without the team behind it. The work team of a movie needs excellent directors, responsible producers, professional photographers, lighting engineers, sound producers, makeup artists and costume mixologists.
Actors are another important factor in movies, and their acting skills and popularity directly affect the box office of the movie. You can contact local acting and film schools, find experienced directors and acquaintances or hold casting events for casting actors.
The most basic requirement for choosing an actor is that the actor should be very interested in your movie and full of enthusiasm. And more importantly, the roles they play should be convincing.
Plan the Shooting Time and Project
Make a shooting plan in advance, including your shooting list, shooting time, scene arrangement, schedule, any other necessary information and emergency plan required during the shooting.
Find the Shooting Location
When choosing a shooting location, you need to consider a variety of factors.
First of all, you need to consider both indoor and outdoor locations in the process of finding the location, including the possibility of setting up the scene and shooting indoors. This directly determines the cost you need to invest in it.
Secondly, if you want to shoot in offices, apartments, warehouses, shops, restaurants and some public places, you need to obtain the corresponding permission.
What cannot be ignored is that when looking for a shooting location, you should also pay attention to the location and the different factors that affect its use, including light, noise and other factors.
Take Your Movie Seriously
Before shooting a movie, you need to check and confirm your equipment. You need to make sure that your actors are familiar with their lines, movie plot and scene.
When shooting, you need to take the main shots of the entire scene, close-up shots of the actors and backup shots.
In addition, you should make sure that all your work for the day is backed up on several different hard drives after you finish shooting.
Editing Your Movie
Editing is one of the most important parts of making a movie. You have to start with the rough cut and try different cuts and different scene sequences.
After organizing the sequence of the entire movie, fragment, you can add movie subtitles, sound effects, music and color correction.
After you finish editing the entire movie, you should show it to others and listen to their opinions. Take some good suggestions from them, revising and improving your movie many times.
Best Software for Editing Movie
Do you want to know how to make a movie on the computer? Here are a few popular and well-received movie editing apps.
MiniTool MovieMaker
Maybe you are curious about how to make a movie with pictures. MiniTool MovieMaker not only allows you to make a movie with pictures but also can help you complete the editing of the movie. It is a free, no-ads, np-watermark and no-plug-ins movie editing app for Windows.
To edit your movie, you only need to import the videos, music and pictures you need in the media library and drag them to the timeline.
You can add transition effects, filters, subtitles, text, moving actions and templates to your movie. Additionally, you can also adjust the screen's saturation, contrast, brightness, movie duration and playback speed.
Moreover, MiniTool MovieMaker released version 3.0 and add some new functions that are more convenient to edit. These new features include one-click application of transitions, effects and motion to all clips, one-click editing of the colors of images and videos, editing of audio in each video clip and undo or redo of image and video editing.
You can export your edited movie in a variety of formats and resolutions.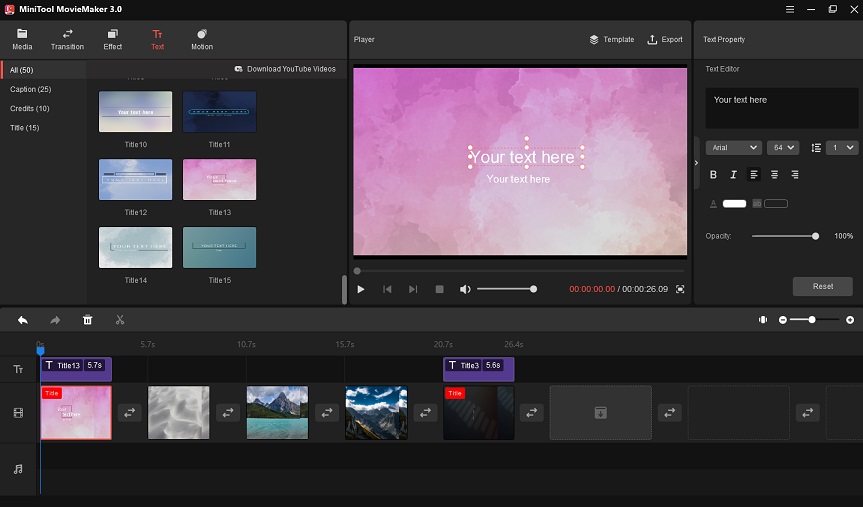 iMovie
iMovie is a well-known movie editing software for iOS and macOS.
With iMovie, you can easily edit your movie and then add text, music and effects. Moreover, it provides you with a personalized subtitle card, you can choose the subtitles you like and adjust them arbitrarily. In addition, you can choose background colors, gradients and patterns, adjust the title and background duration and even add graphics or logos to make your mark.
It also provides you with a lot of interesting materials and templates for Hollywood-style movies.
The most outstanding thing about iMovie is that it can create effects such as green screen, picture-in-picture or split screen and play them immediately. At the same time, you can export your edited movie with 4K HD resolution.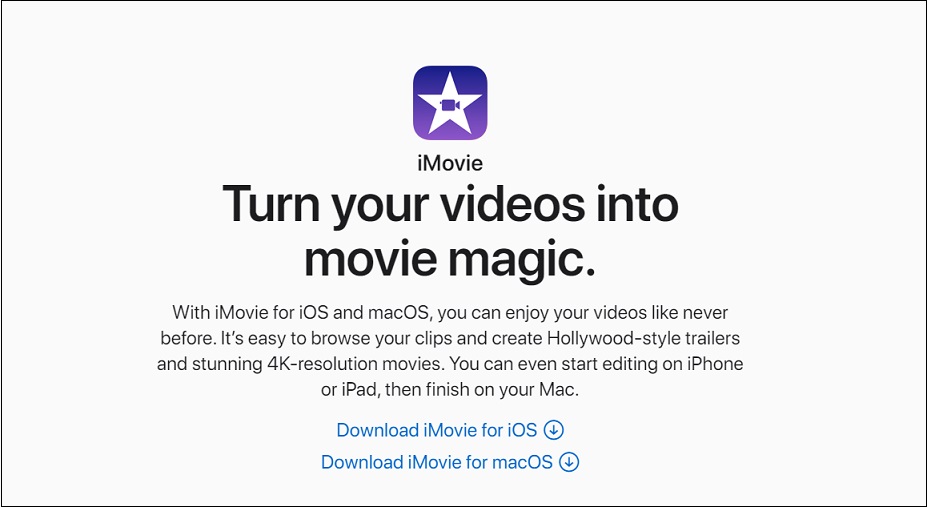 This article gives you a step-by-step guide on how to make a movie and introduces two good movie editing apps.Click to Tweet
Bottom Line
Although the progress of making a movie seems long and arduous when you really master the essentials of how to make a movie and put them into practice. I believe what you get in the end is incredible.
If you have any questions or want to share other movie editing apps, you can contact us via [email protected] or leave your recommendations in the below comments area.