Almost all Windows users use Windows Media Player as their default music player for playing audio and video files. However, do you know how to change the skin on Windows Media player or how to add skins to Windows Media Player?
Here, we've collected several free themes in the market, and you can download one and set it to your media player.
Top 10 Windows Media Player Skins
#1. Satin
Satin is designed for Windows Media Player 10. Its major color is black, but the features and buttons are easily accessible.
#2. Stalker
THQ, a leading worldwide developer and publisher of interactive entertainment software, create the S.T.A.L.K.E.R. – Shadow of Chernobyl Windows Media Player skin. Stalker theme offers the X – factor: sound effect.
#3. Skinister media center
Skinister media center aims to provide a better user experience. Thus, Windows Media Player users can easily use this theme.
#4. BlueEye
BuleEye theme contains some special features including equalizer, playlist, video mode, etc. This skin is designed for Windows Media Player 9.
#5. Lost Planet
Lost Planet, an interesting skin for Windows Media Player 11, contains animations, dual shutters and sound effects and other very rare features.
#6. iTunesSnow
iTunesSnow theme offers 3 colors including blue, black and graphite, and this theme is designed for Windows Media Player XP.
# 7. iMac G4 Styled
If you love the iTunesSnow theme, you might like the iMac G4 styled theme that is compatible with Windows Media Player 10.
#8. WmpTunes
WmpTunes skin is inspired by the iTunes. It not only has attractive design but also offers skinned equalizer, auto hiding volume control and other interesting features.
# 9. Orion
Orion is a perfect choice for Windows Media Player 10 users who are looking for an interesting theme with many features. This skin offers a customized equalizer, animation, and many other interesting features.
#10. Transformers
Transformers skin contains animated trays, interesting sound effects, and other features. This skin is designed for Windows Media Player 10.
How to Change the Skin of Windows Media Player
If you like the above Windows Media Player skins, you can download them and add them to the Windows Media Player. Here are the steps on how to change the Windows Media player skin.
Step 1. Download the Window Media Player skin you like.
Step 2: Open Windows Media Player, and switch to the switch to library mode for applying the skin/theme.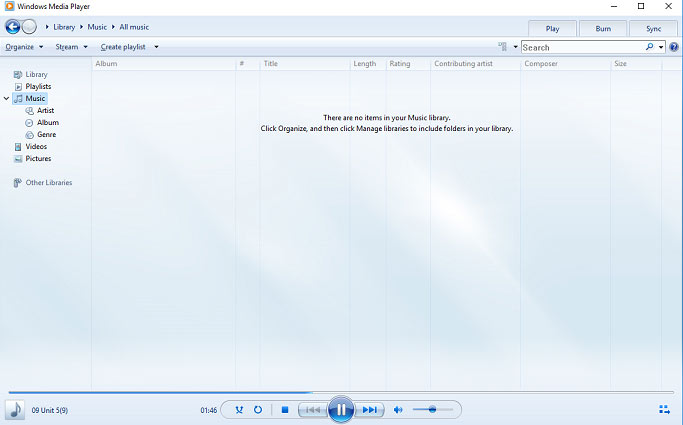 Step 3: Click View > skin chooser, then choose the downloaded skin/theme that you want to apply from the left pane.
Step 4. Click on the apply skin button after choosing the suitable skin, and switch to the player mode to return to the playing mode.
Bonus Tip – Rotate Video in Windows Media Player
After changing the skin of Windows Media player, you can play your video or audio files effectively. While playing videos, you will find you can rotate video in Windows Media player. Let's learn how to rotate video.