Who sings this song? How to identify this song? In this case, we will show you 4 effective methods to identify a song and give you 9 best song identifiers to help you out! If you want to know the name of the unknown song, don't miss this post!
There are some times when you walk on the street or have dinner in a restaurant and heard of some beautiful music that you're eager to know who sings this song. How do you find out what song is playing? Don't worry, this post will tell you 4 methods to find out the song name and its artist.
If you want to identify a song in a video, you may need to extract music from the video first. To rip music from the video, try the best MP3 extractor – MiniTool MovieMaker.
Now, let's dive into this post to learn how to identify a song in 4 methods.
Part 1. How to Find out Who Sings This Song
Part 1 offers 4 methods to help you find out who sings this song and what the name of this song is.
Method 1. Identify a Song in Video
When you are watching videos on video streaming services, you feel the background music is beautiful and want to know its name. In this time, you may need music recognition services to identify the song. Here recommend AHA Music and Audio.tag.
AHA Music
AHA Music is a music identifier that can recognize the song that you're looking for. It's a web-based app and you don't have to install any software on your computer, which lets you identify a song playing near you or recognize a song by singing or humming.
This web app also offers a browser extension for both Google Chrome and Microsoft Edge, so you can easily identify a song in a video while watching them on YouTube or other streaming services.
Here's how:
Option 1
Install the AHA Music extension from the Chrome web store.
Play the video and click on the AHA Music icon to recognize the music.
If it shows the result, click on it and choose a website to enjoy the music that you're looking for.
Option 2
Open the AHA Music website.
Open a new tab to play the video.
Then switch to the AHA Music tab and click the Record button.
After 10 seconds, the song title and its artist will show below the Record button.
If you want to find more information about this song, you can tap on Click here to view detail.
See also: How to Find the Name of A Movie You Can't Remember? 4 Proven Ways
AudioTag.info
AudioTag.info is a free online music recognition service, holding over 2 million tracks. Based on an audio recognition engine, it can identify unknown music easily and quickly.
You can upload the entire song or even a 15-45 seconds audio fragment to AudioTag.info and it will offer you all the information about this song, such as song title, artist, album and so on.
Besides, this song finder can identify music in any file formats including MP3, WAV, OGG, FLAC, ADPCM, AMR, MP4, FLV and many more. Also, this awesome song finder can identify audio directly from YouTube and other streaming video services by entering the video link.
Here's how:
Go to the AudioTag.info website.
Upload the audio fragment by clicking the Select or drop file. Or you can enter the URL of the YouTube video and set the start time of the unknown music.
Then the robot will analyze the unknown piece of music and show the result.
You may also like: How to Download SoundCloud Songs in Different Ways.
Method 2. Identify a Song by Humming
If you just remember the tune of the song, this method may work for you. Midomi is a powerful online song finder that can find song by melody. You need to hum for at least 10 seconds to get a better result.
Here's how:
Go to the Midomi website.
Click on the Record button to start humming.
After finishing the humming, you can press the Record button again to upload the humming and analyze it.
Later, you will get all the information about the song.
Method 3. Identify a Song by Lyrics
If you don't know how to sings this song but remember the lyrics of the song. You can use Google Search to identify a song by lyrics. Google Search is the most used web search engine in the world.
Open Google Chrome, enter the lyrics in the search box and hit the Enter key. Then you will find the song in the search results.
Method 4. Ask Alexa
Alexa is an intelligent personal assistant that you can control it using voice commands. It's capable of music playback, offering news, voice interaction, etc. More importantly, you can just ask Alexa to find the song playing around you.
Here's a video guide:
Part 2. Top 9 Song Finders You Should Know
Here's a list of the top 9 song finders.
Shazam
SoundHound
BeatFind Music Recognition
Musixmatch
Soly
Midomi
Find Music by Lyrics
Genius
Music ID
1. Shazam
Shazam is one of the best music search apps. It holds millions of songs. With Shazam, you can find the name of the song and artist in seconds. Once it discovers the song, all of the detailed information is listed here: song name, artist, and album.
If you like this song, this song finder lets you listen and add it to your Spotify playlist. It works on Android, iOS, watchOS and macOS.
Related article: Top 4 Spotify Downloader to Download Spotify Songs.
2. SoundHound
Similar to Shazam, SoundHound can tell you what song is playing in a few seconds. Other than that, SoundHound also can find song by melody. After that, this app will save the discoveries in your personal history.
Additionally, the voice control feature is awesome. Just say "Hey SoundHound…", then it will help you discover, search, play the song using your voice.
This song identifier is available for Android and iOS.
Recommend article: 7 Best Free Music Sharing Sites to Promote Your Music.
3. BeatFind Music Recognition
BeatFind Music Recognition is another song finder that helps you identify who sings this song and what song is playing. Once it identifies the song, you are able to preview the song you recognized and listen to it on Spotify or Deezer. Also, the identified song would be saved on the history page.
If you love this song, you can share it to Facebook, Twitter, WhatsApp and other social platforms.
Besides, it features flashlight party mode which syncs light with music beats.
4. Musixmatch
Musixmatch is the world's largest song lyrics platform, which holds 14 million lyrics. Used by millions of people, it supports many music streaming services such as Spotify, Deezer, Google Play Music, YouTube, etc.
This song finder allows you to find song by lyrics and artist. It lets you share your favorite lyrics with translations. What's more, it can be used as a music player to scan all the songs on your device and find the lyrics.
Related article: MP3 Juices and Other 18 Free Music Download Sites.
5. Soly
Soly can find a song by partial lyrics or sound to help you figure out "What song is this" and "Who sings this song". Like other music identifiers, it has a music history search and enables you to play a song on YouTube.
More than that, song lyrics are allowed to download.
6. Midomi
Midomi is a nice song identifier that lets you recognize a song by humming the tune. Or you can choose to find music by artist and album. Sadly, some music videos are not available to watch.
7. Find Music by Lyrics
If you only remember partial lyrics of a song, Find Music by Lyrics is a good choice. With its simple interface, this song lyric finder can find song by lyric phrase quickly.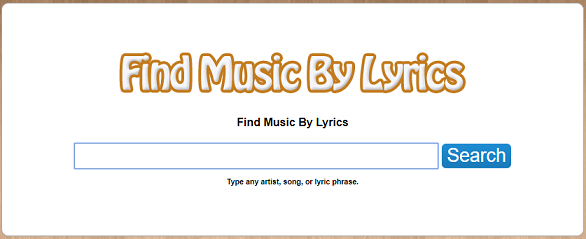 8. Genius
Genius is a huge collection of song lyrics. Just enter the lyric phrase and you will find the song you're looking for. What's more, this song finder lets you not only play the first 30 seconds of the song but also find lyrics for a song playing around you.
9. Music ID
The last recommended song finder is Music ID. It can identify music playing around you quickly and offers movie and TV information, and biographical data about the artist.
Part 3. How to Separate MP3 from Video
You want to identify music in a video, but the music recognition service requires you to upload an audio file. To solve this problem, you must try the best anything to MP3 converter – MiniTool MovieMaker. It can convert any popular video format to MP3.
Below are the detailed steps on how to separate MP3 from video.
Step 1. Free download and install MiniTool MovieMaker on the computer.
MiniTool MovieMakerClick to Download100%Clean & Safe
Step 2. Launch it and close the pop-ups.
Step 3. After getting the main interface, tap Import Media Files to import the target video file.
Step 4. Drag and drop the video file to the timeline or click the + icon to add it to the timeline.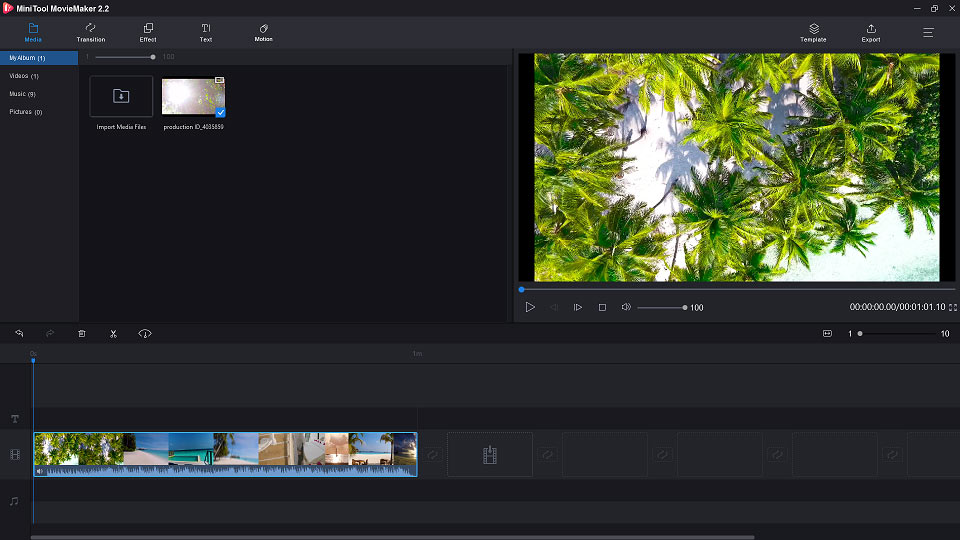 Step 5. Move the playhead to where you want to cut, then click the scissor icon on the playhead.
Step 6. After that, click on Export and set the MP3 format as the output format, change the file name and choose a folder to save the output file.
Step 7. Finally, convert video to MP3 by pressing the Export button.
Conclusion
This post not only teaches you how to find a song in 4 ways and provide you with 9 best song finders. Wanna know who sings this song? Now, it's your turn. If this post is helpful to you, don't forget to share it with your friends!
If you have any questions or suggestions about this post, please share them in the comments area or contact us via [email protected].
Who Sings This Song FAQ
How to identify a song by humming?
Open the Midomi website and start humming after clicking the Record button.
Click the Record button again to stop recording and analyze the humming.
Then it will find the song by humming.
How to figure out who sings this song?
You can install the Shazam app on your phone and launch it.
Then play the unknown music and go back to the Shazam app.
Tap on the Shazam logo in the middle of the screen to capture the music.
After a few seconds, you will find out who sings this song.
Can Alexa identify songs?
Yes, Alexa can identify music for you. When you want to identify a song playing around you, just ask Alexa what song is this and it will tell you the song title and its artist.
Can Siri find songs like Shazam?
Of course, you can use Siri to recognize a song. Just say "Hi Siri, what is currently playing" when playing the unknown music.