SoundCloud is one of the most popular music streaming websites that you can enjoy the latest music for free. Sometimes, you may want to listen to SoundCloud songs offline, so how to download SoundCloud songs? Here are the 4 best methods to help you download music from SoundCloud.
SoundCloud, as a music streaming website, lets you upload up to 3 hours of audio and download songs directly from the website, but not all songs are downloadable. If you want to download music from SoundCloud without limitations, continue to read this post.
If you want to make a music video, try MiniTool MovieMaker.
Download Songs Directly from SoundCloud
Some SoundCloud artists make their tracks downloadable, so you can get music directly from SoundCloud. Here's how to download SoundCloud songs.
Step 1. Open the SoundCloud website and sign in to SoundCloud or create a new account.
Step 2. Find the track you want to download from SoundCloud and open it.
Step 3. Then click the Free Download button beneath the waveform. If there is no download button appears, you can tap on the More button to choose the Download file option from the drop-down list.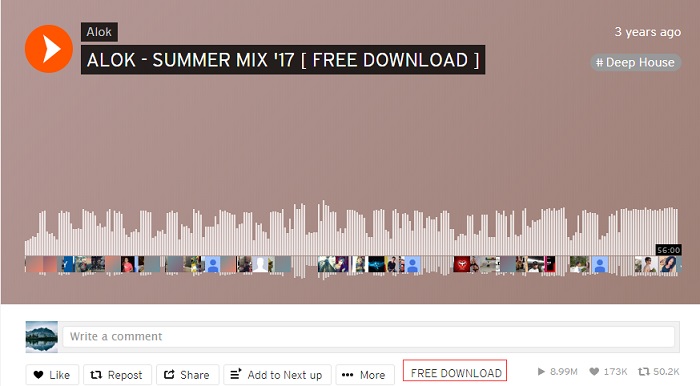 Step 4. Afterward, it brings you to another website where you can download the original track. Before downloading, some websites requires you to log in with your social media accounts like Facebook.
Download SoundCloud Songs to Mobile Device
If you'd like to download SoundCloud songs to mobile devices for offline listening, you can subscribe to SoundCloud Go+. With SoundCloud Go +, you can get access to all the content on SoundCloud and listen to them offline on the mobile device with no ads.
SoundCloud Go + costs $9.99 per month.
Also read: 7 Best Sites to Download Hindi Songs 2020 [Still Working]
Download SoundCloud Songs with SoundCloud Downloader
If the track can't be downloaded, you can try SoundCloud downloaders to download it from SoundCloud. Here recommend 2 best SoundCloud downloaders.
Klickaud
Klickaud is an online converter that can convert SoundCloud to MP3 for free. It also offers other services like Facebook video downloader, Vimeo video downloader and so on. Remember, this converter does not let you download any copyrighted contents.

Here's how to download songs from SoundCloud.
Step 1. Copy the desired SoundCloud song link in the address bar.
Step 2. Go to the Klickaud website and paste the URL of the song in the search bar.
Step 3. Click on CONVERT to analyze the URL.
Step 4. After a while, it takes you to the download page. Here you can choose DOWNLOAD THE or DOWNLOAD 320 KBPS to save the track.
Also read: Top 5 Bandcamp Downloaders in 2020 (100% Work)
ScloudDownloader
ScloudDownloader is a web-based app that can download songs from SoundCloud in high quality. It also can download and convert SoundCloud songs to MP3 in 128 kbps or 320 kbps.
Takes the following steps to convert SoundCloud to MP3.
Step 1. Open the ScloudDownloader website and paste the URL of the target song.
Step 2. Click on Download to start the converting process.
Step 3. When the conversion is done, you can save the SoundCloud song to your device.
You may also like: Mixcloud Downloader
Download SoundCloud Playlist with SoundCloud Playlist Downloader
If you desire to download the whole SoundCloud playlist, using a SoundCloud playlist downloader is the best choice because there is no direct way to download a SoundCloud playlist.
Here's how:
Step 1. Get the SoundCloud playlist link and open the MP3Sound.Cloud website.
Step 2. Then paste the link and hit the Download button.
Step 3. After that, you can preview these tracks and download them one by one.
Conclusion
That's all about how to download SoundCloud songs. It's so easy, right? If this post is helpful to you, don't forget to share it with your friends.