#1. Masterpiece Generator
Website: https://www.song-lyrics-generator.org.uk/
Masterpiece Generator is one of the best free online song lyrics generators. If you have no idea where to start or what to write, Masterpiece Generator is a great place to go. It can generate song lyrics based on different genres like rap, metal, country, ballad, love song, etc. You can also generate a song in the style of a specific artist such as Adele, Drake, Tylor Swift, One Direction, The Beatles, etc.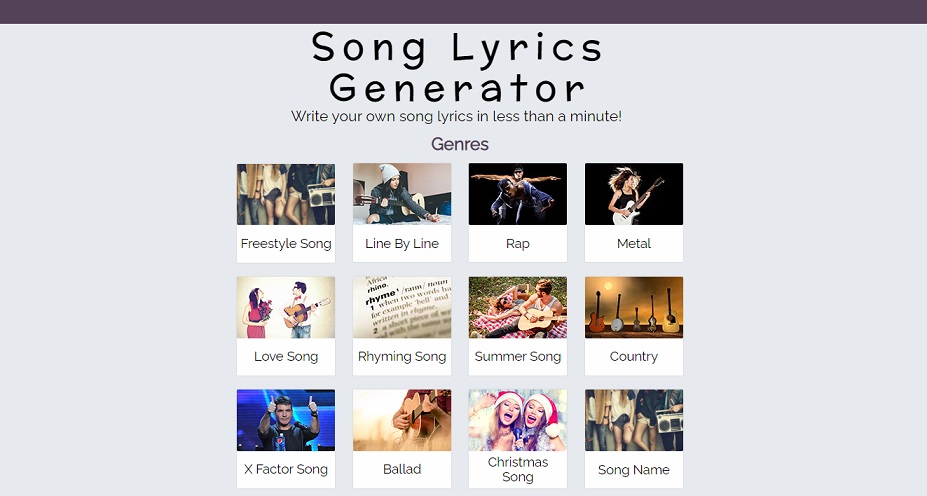 Want to make a lyrics video? Try MiniTool MovieMaker!
MiniTool MovieMakerClick to Download100%Clean & Safe
#2. Deep Beat
Website: https://deepbeat.org/
Deep Beat is an online random song lyrics generator. It's free and simple to use. Just click Suggest Line or Suggest Rhyming Line and it will generate lyrics for you. Choose the line you like and go on. After that, save the song lyrics.
Also read: How to Add Lyrics to MP3 Songs
#3. The Song Lyrics Generator
Website: http://songlyricsgenerator.com/
As its name suggests, The Song Lyrics Generator is designed for songwriting. To get the song lyrics, you need to choose a genre and answer a few questions. It's web-based with no need to sign up.
#4. BoredHumans
Website: https://boredhumans.com/lyrics_generator.php
BoredHumans can write song lyrics that are unique based on AI. Go to this website and click Generate Lyrics. Then this tool will create the lyrics of a song in seconds. BoredHumans also offers you some handy tools like Poetry Generator, Meme Generator, Movie Montage Maker, Story Generator, AI Paintings, and many more.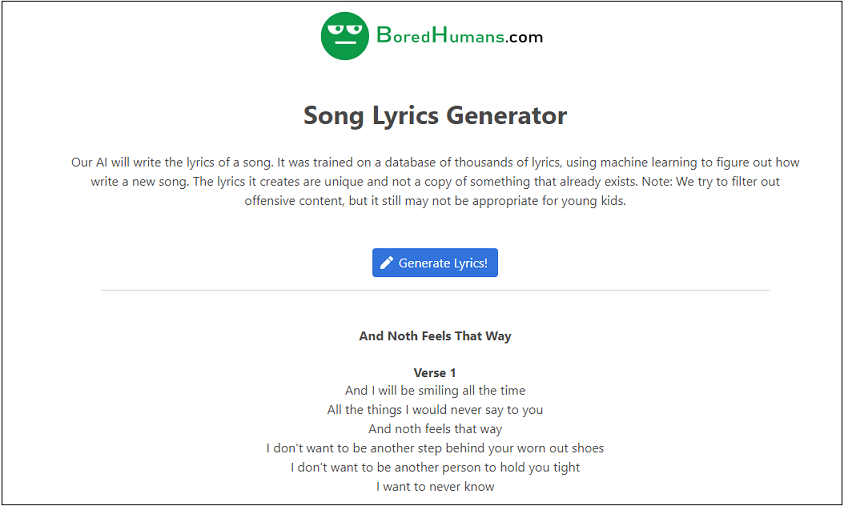 #5. These Lyrics Do Not Exist
Website: https://theselyricsdonotexist.com/
This is a web-based song lyrics generator that can create original lyrics that do not exist. You can use it to generate lyrics by song topics, genres, moods, and emojis. It allows you to download the generated lyrics in .txt.
#6. Anticulture Lyrics Generator
Website: https://www.anticulture.net/
It's a place where you can generate random lyrics, French rap lyrics, random music, and texts. It's free and no sign-up is required.
#7. Rytr AI Songwriter
Website: https://rytr.me/use-cases/song-lyrics
Rytr AI Songwriter can generate lyrics in more than 10 languages and supports 20+ use cases. It requires you to create a Rytr account. Free users are limited and can only generate 5,000 characters per month.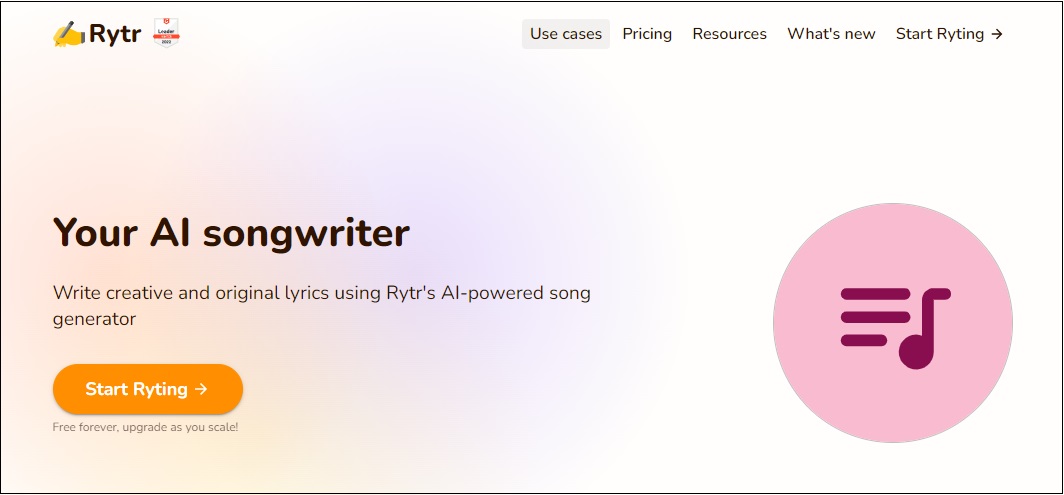 #8. Keywords to Lyrics
Website: https://lyrics.mathigatti.com/
Keywords to Lyrics is another song lyrics generator. You can generate lyrics using keywords and phrases and use the generated lyrics for personal or commercial purposes. But you need to give credit to Keywords to Lyrics.
#9. Rappad
Website: https://www.rappad.co/songs-about/
Enter the topic of the song in the box and click Write me a song to start generating lyrics. Besides, there is a variety of topics available for you to choose from.
#10. Lyrics
Website: https://www.lyrics.com/song-lyrics-generator
Lyrics hosts a large collection of song lyrics and music videos. It also has a song lyrics generator that creates cool lyrics based on the keyword and genre you choose.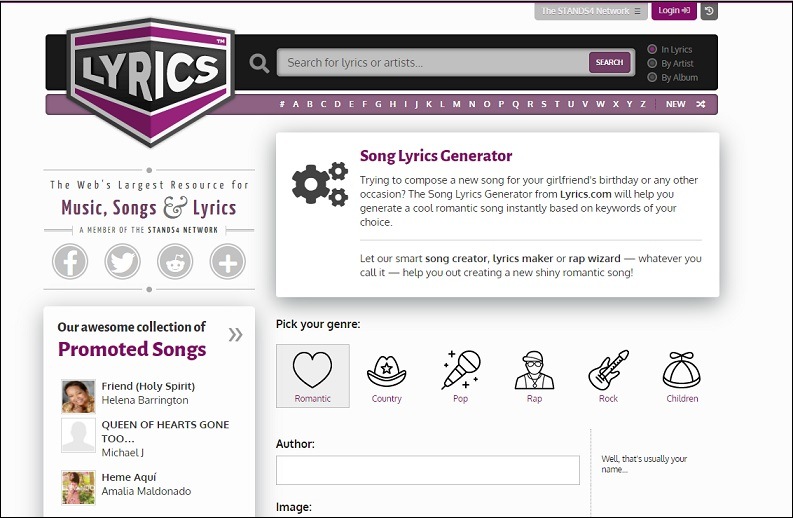 Conclusion
Do you know any other song lyrics generators? Share them in the comments section!