If you're an artist and looking for a way to promote your music, here are 7 best free music sharing sites to help you share your music. These music websites also offers countless free music for their listeners. Now, read this post and have a try!
7 Best Free Music Sharing Sites
#1. SoundCloud
SoundCloud is one of the largest music sharing sites for sharing and discovering music, which attracts over 175 million monthly users around the world. It allows artists to upload tracks and connect with fans by messages and comments. After uploading their tracks to SoundCloud, artists are able to embed the tracks in Twitter posts to attract more listeners.
This music sharing website supports AIFF, WAV, FLAC, OGG, MP3, ACC, AMR, ALAC and WMA. If you need to convert your music to MP3 format, try MiniTool software – MiniTool MovieMaker.
#2. Jamendo
As a music sharing website, Jamendo offers over 500,000 tracks and all of them can be streamed for free. For artists, Jamendo is the best place to make money by licensing their music for commercial use.
Once artists' tracks are used in movies, TV and other online commercials, they can receive up to 65% of each sale.
Also read: How to Fix Apple Music & Apple Music Family Sharing Not Working
#3. Bandcamp
Bandcamp allows artists to sell their albums and set the price they want. Fans are capable of downloading and streaming their purchases unlimitedly. Artists can get 85% of sales. If their sales surpass $5,000, artists can get 90% of sales.
Additionally, the real-time statistics tool can help artists better track their music performance.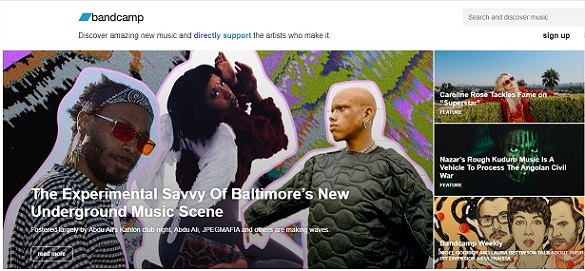 #4. Spotify
Over 271 million monthly active users, Spotify is definitely one of the best music file sharing sites for artists. Since Spotify has such a huge fan base, it seems easier for new artists to promote their music.
Besides, it's also a good choice for famous artists. As you can see, there are plenty of top artists on Spotify, such as Justin Bieber, Billie Eilish, Camila Cabello, Maroon 5, Shawn Mendes and Ariana Grande.
#5. Vimeo
As is known to all, Vimeo is the most popular video streaming service. However, this website holds around 450,000 music videos and attracts 2.6 million users. Artists can upload their music videos, Live Music videos to Vimeo to grow their audience.
With the built-in video analytics, artists can track their music video's performance on Vimeo and other social platforms.

Related article: Top 6 Best Free Streaming Services You Need to Know.
#6. Audiomack
Audiomack is a music streaming platform that allows users to stream, explore and download music for free. For artists, they can upload their music unlimitedly. Like other music sharing sites, Audiomack features advanced stats which can help artists get an overview of their music performance.
#7. Tidal
Launched in 2014, Tidal holds more than 60 million tracks and 240,000 music videos. This superb music sharing site offers lossless audio and high fidelity sound quality. Users can listen all of their favorite music without ads. Here you can find many popular artists published their works, such as Rihanna, Nicki Minaj, Madonna, etc.
Conclusion
Do you ready to upload your music to the above mentioned music sharing sites? Choose the website you like and do it now!