As the 2nd largest search engine in the world, YouTube is a widely used channel to promote and entertain. Millions of people visit YouTube every day. Video marketing has become a necessity. It is time for you to increase your YouTube Traffic to earn money.
YouTube, the second largest search engine after Google, is extremely important for society. According to YouTube, more than 500 million hours of videos are watched on YouTube each day, and a staggering 60 hours of video are uploaded every minute. YouTube is an undeniably powerful force for social media marketing. But, in order to make money on YouTube, you need to increase YouTube traffic.
Now, I guess you might be wondering:
"How do I get more traffic to my YouTube Video?"
What should you do if you don't know how to increase YouTube views? Don't worry! This post lists 8 effective tactics to help you get more traffic on YouTube video.
8 Effective Ways to Increase More Traffic to YouTube Channel
Create Outstanding Video Content
Optimize Your Video
Encourage Viewers to Subscribe
Create Descriptive Video Playlist
Use End Screen and Cards
Promote Video on Other Social Platforms
Take Advantage of YouTube Analytics
Nature Your Community
Fix 1. Create Outstanding Video Content
The content in your video is the most important factor in deciding just how many traffic it gets. Unfortunately, many users ignore it on social media.
If you want to drive more traffic to your YouTube, you have to create great content. People like to share good videos.
Here, if you don't know how to create outstanding videos, you can try using MiniTool Movie Maker. This free and simple video editing tool can help you effectively and quickly create a movie because of its excellent features and simple interfaces. For instance, with the help of this free video editing software, I created a Thanksgiving video to express my thanks.
Fix 2. Optimize Your Video
After creating and uploading compelling video content, it is time to optimize your YouTube video to get rank higher in terms of SEO.
As we know, millions of users search for YouTube content daily. How your videos rank can make a huge impact on how many views you receive. However, how to improve rankings to increase YouTube traffic?
There are 4 things you must take care of if you want to optimize your video to drive traffic to YouTube:
Title
Description
Tags
Thumbnail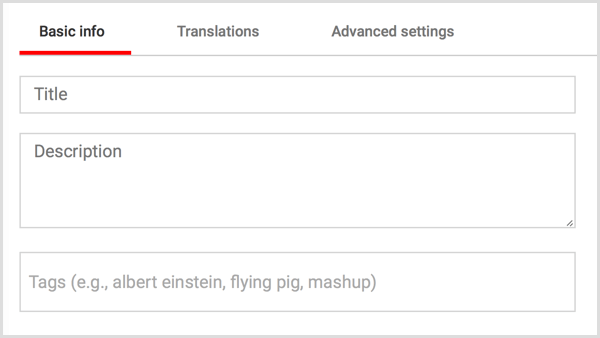 Use Descriptive and Keyword-Rich Titles
YouTube title is the most important piece of information in your entire content and plays a big part in the ranking factors for search. It is recommended to spend as much time you spend creating the video on devising your headline.
YouTube title should be descriptive, intriguing and compelling.
The title of your video should be at least 5 words long.
YouTube title should be short (no more than 66 characters).
Make sure title contains good keywords to reach the right audiences.
To find keywords for your YouTube videos, you can directly use the YouTube Autocomplete. If you search for something on YouTube, YouTube suggests certain keywords for you. For instance, you type productivity tips into YouTube, you can see that it suggests 4-7 other keywords related to that term: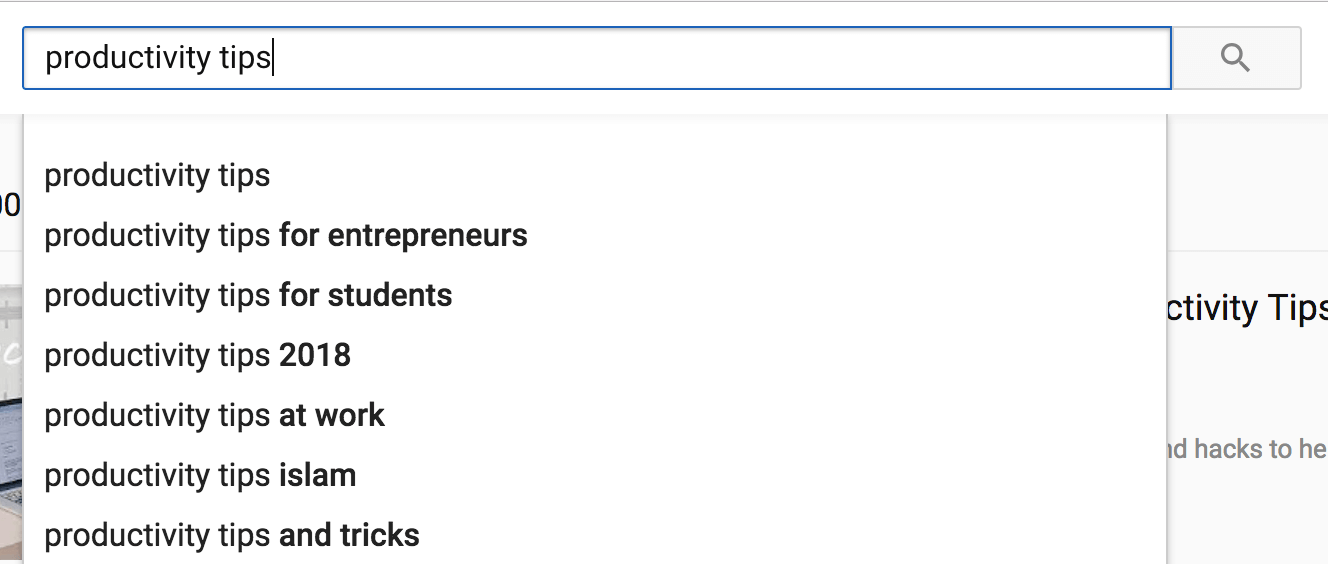 Here, if you want to scale the YouTube autocomplete process, check out KeywordTool.io.

This tool helps you find the most searched keyword combinations on YouTube based on a keyword you entered. For instance, you still type productivity tips, and then you will get the following result.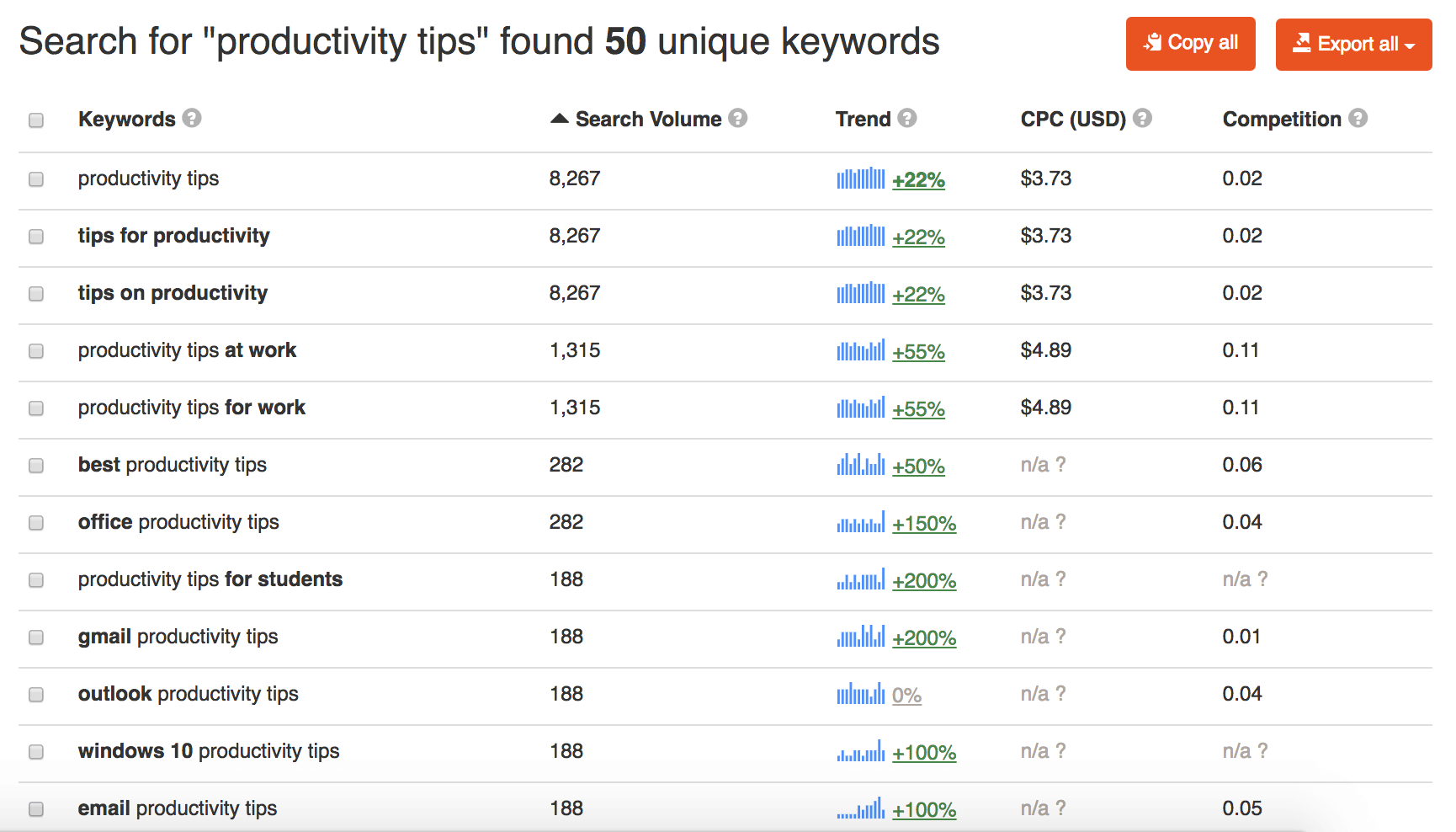 Of course, you can use some other typical SEO methods like keyword planner to conduct keyword research.
Have Quality and Keyword-Rich Descriptions
Video description helps YouTube and Google understand what exactly your video is about. Video description will help increase the click-through-rate as users will know what to expect in your video. Video descriptions are another valuable resource for increasing YouTube Traffic.
Follow the below basic guidelines for the description:
Include your keyword 2-4 times.
Include your keyword in the first 25 words.
Make the description at least 250 words.
Load up Your Video Tags with Rich Keywords
YouTube video tags are words and phrases used to give YouTube context about a video. It is recommended to find keywords that will drive traffic to YouTube video.
YouTube will rank your video for the right terms in its search engine as well as in the "recommended videos" sidebar and on the homepage once YouTube knows the content of your video via tags. Simply put, adding more tags into your video helps your video rank well.
Watching the top-ranking YouTube videos that directly compete with your video is a good way to get video tags. Both vidIQ and TubeBuddy can help you effectively and quickly find the tags competitors are using to get their videos to rank high.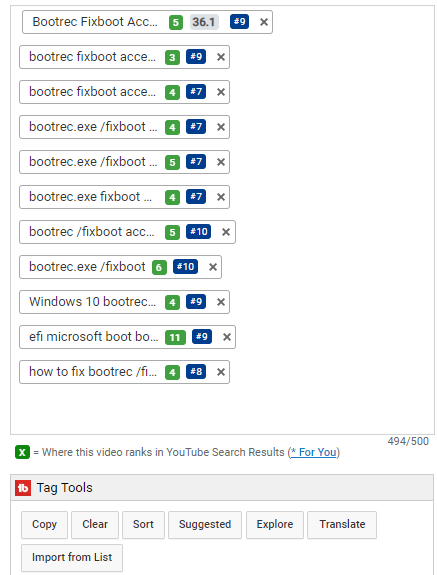 Create Compelling Thumbnails
Your thumbnail image is a video's preview image. If you want to increase YouTube traffic, you had better create and upload your own custom thumbnail image instead of using the default image YouTube randomly chooses a frame from your video.
Thumbnails can catch the attention of people browsing YouTube. Make sure your thumbnail image is eye-catching, compelling, congruent with your brand, and accurately represents the video's content.
Hi! You will get new skills on how to optimize YouTube videos to get more traffic, and views. Click to Tweet
Fix 3. Encourage Viewers to Subscribe
Your best new customers are your old customers! Have you ever heard of this saying?
Encouraging your current viewers to subscribe can drive more traffic to YouTube because gaining subscribers will increase the number of views on each new video that you release.
Ask viewers to subscribe to your YouTube channel at the end of each video and prompt viewers to turn on the notification bell after they've clicked subscribe.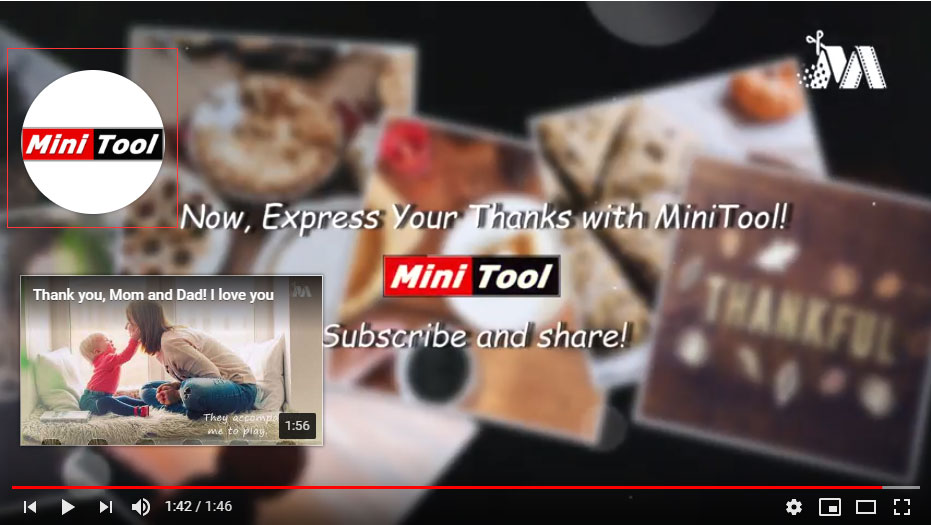 Fix 4. Create Descriptive Video Playlist
Creating playlists of YouTube videos is another way to drive traffic to YouTube. According to YouTube survey, top-performing brands on YouTube build and promote twice as many playlists as the bottom 25%. Start with your most popular or recent videos to get your fans interested, and then let them sift through new and old materials.
Thoughtfully organized, descriptive playlists not only organize the content of your channel for viewers but also keep them watching videos as auto-play, leading long watching sessions. This shows users are engaged and could impact your YouTube search rankings.
Playlists can provide another searchable item for your channel, adding to your discoverability. Besides, playlists will expose viewers to your other content, including videos that might not be as popular on their own.
To create a YouTube playlist, you only need to navigate to each video you'd like to add and click the '+' icon underneath the video.
Fix 5. Use End Screen and Cards
Both end screen and cards can help you increase YouTube traffic.
End Screen
End screens give you a chance to show your relevant information regarding your channel, other playlists, recommended videos, and your verified website at the end of the video! Here's the example: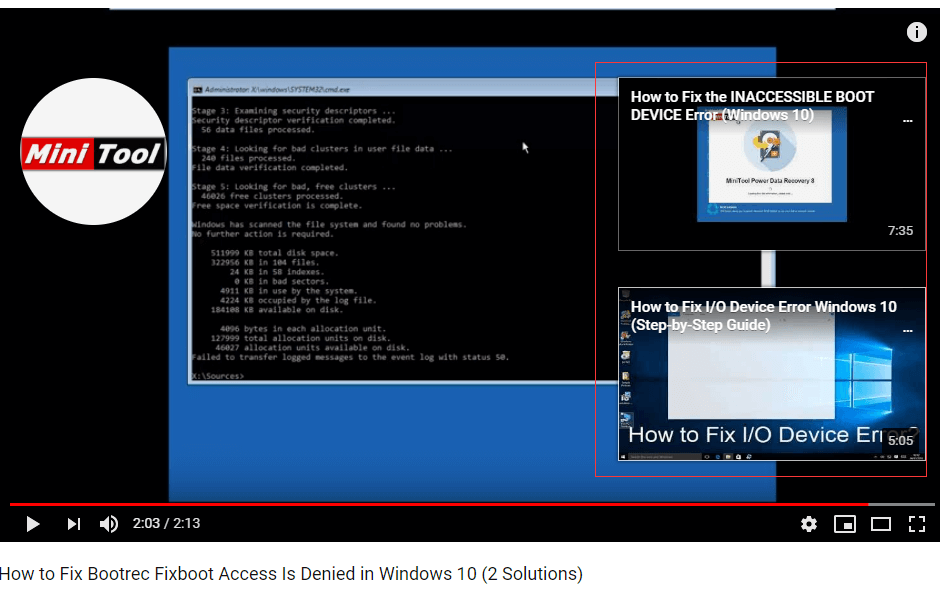 If you insert videos at the end of every video you have made, you end up with a huge network of inter-linking videos that boost their rankings and traffic.
Cards
YouTube allows you to add a variety of cards at the end of videos to promote other content within your video.
Video and playlist cards help promote a video or a playlist.
Channel card prompts another channel.
Poll card encourages viewers to participate in a poll.
Link card links viewers to external websites, crowdfunding projects, or merchandise for sale.
The above 4 cards not only can help you increase YouTube traffic but also can take viewers to another video, channel, or site.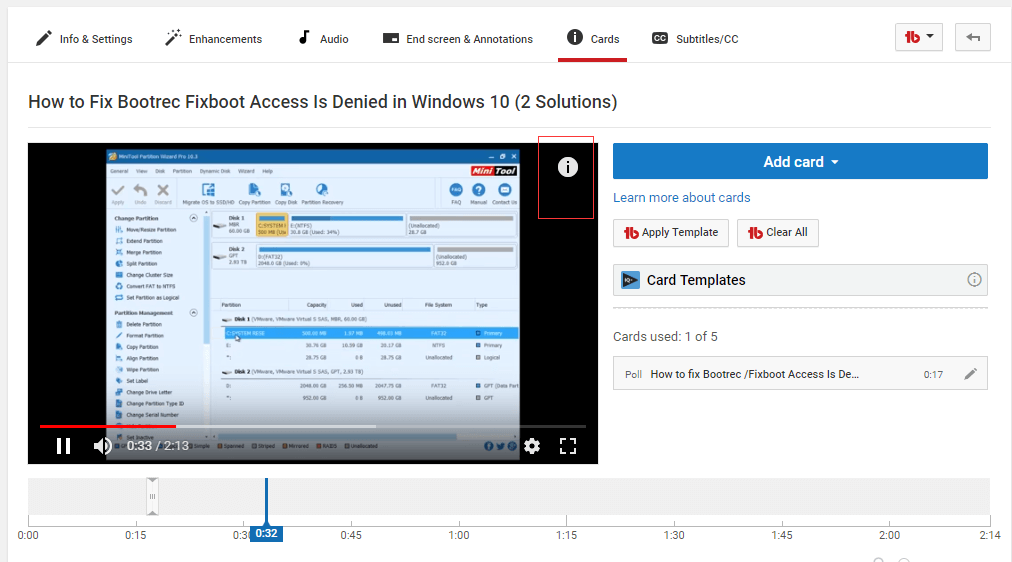 If you want to add end screens and cards to your videos, you can go to the Creator Studio, click Video Manager, and then click Videos. After that, find the video you want to edit and click Edit. Finally, you can add end screen as well as cards to your video to get more views on Youtube.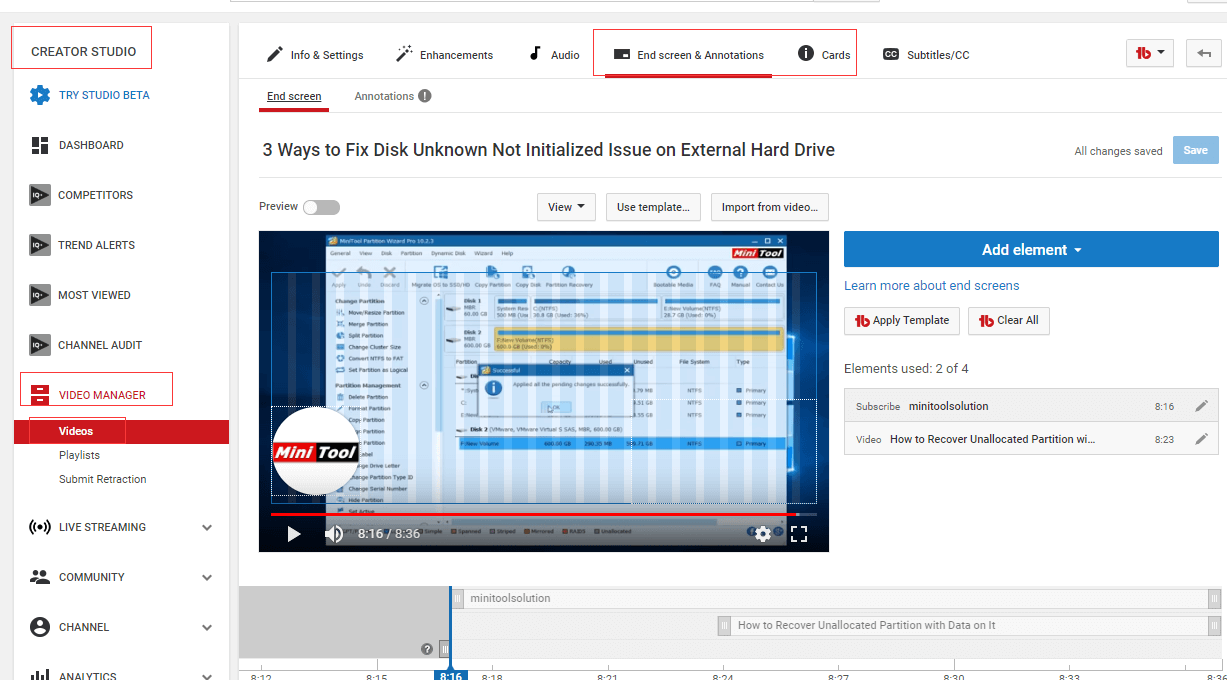 Fix 6. Promote Video on Other Social Platforms
To increase YouTube traffic, you can share your YouTube link on other platforms like Tumblr to funnel them toward your video or put it in the description of your profiles to drive traffic to YouTube.
Besides, you can embed your YouTube videos in relevant blog posts and pages on your website. Here's an example: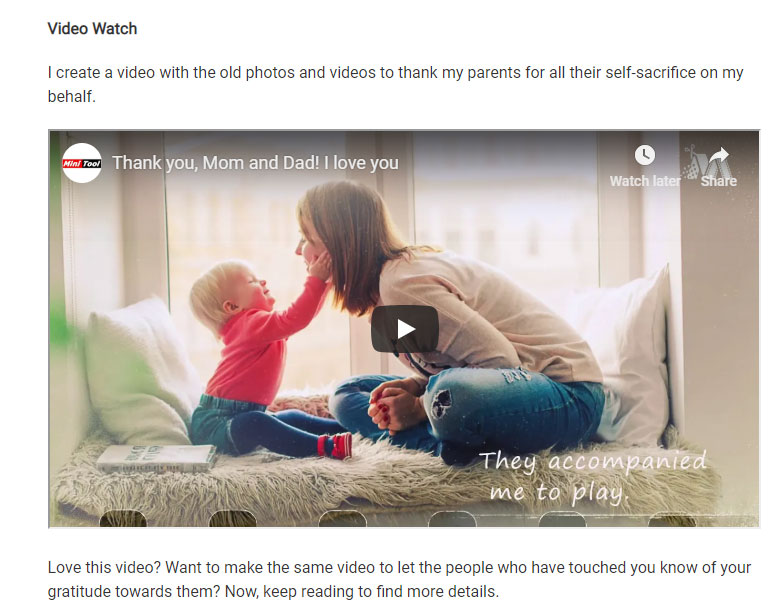 If there are lots of authority websites directing links to your YouTube videos, more and more people will visit your website. Then, they will see more of your videos, which drives more traffic to your videos.
Fix 7. Take Advantage of YouTube Analytics
YouTube offers a variety of analytic tools to provide you with invaluable information including watch time, audience retention, demographics, traffic sources, devices, and more. This information helps you understand who your audience are as well as their habits. Then, you can create a video which is most appealing to your core audience.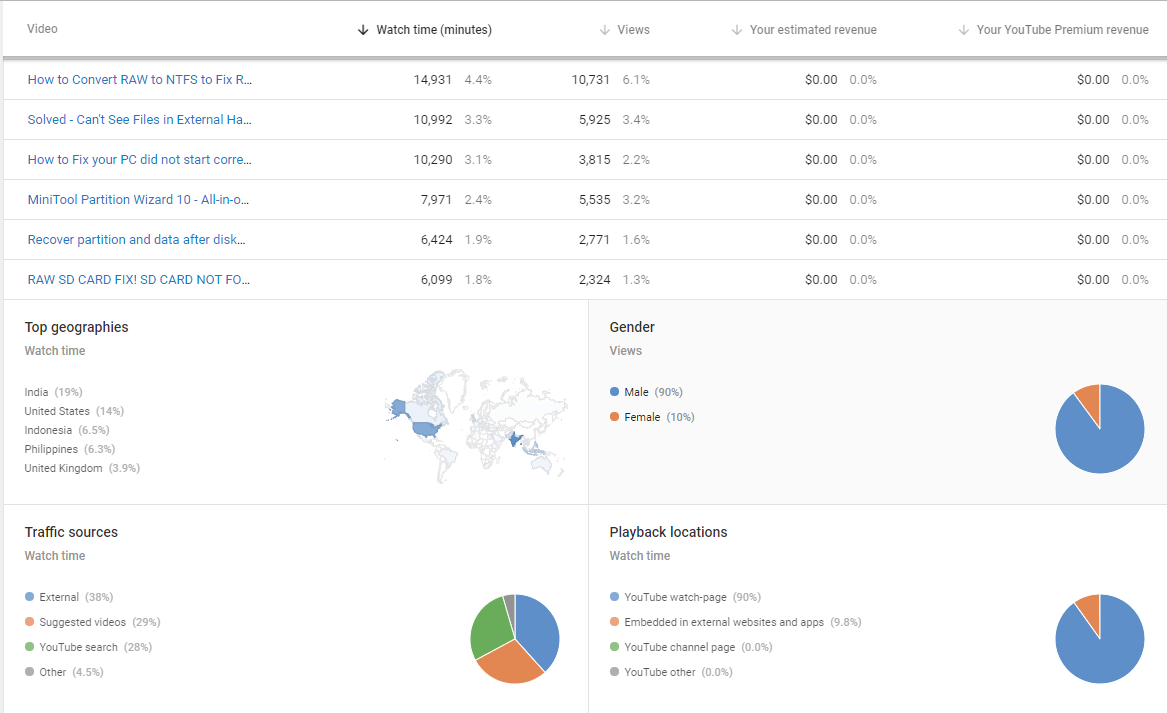 Now, we take watch time, for example, to show how it can increase YouTube Traffic.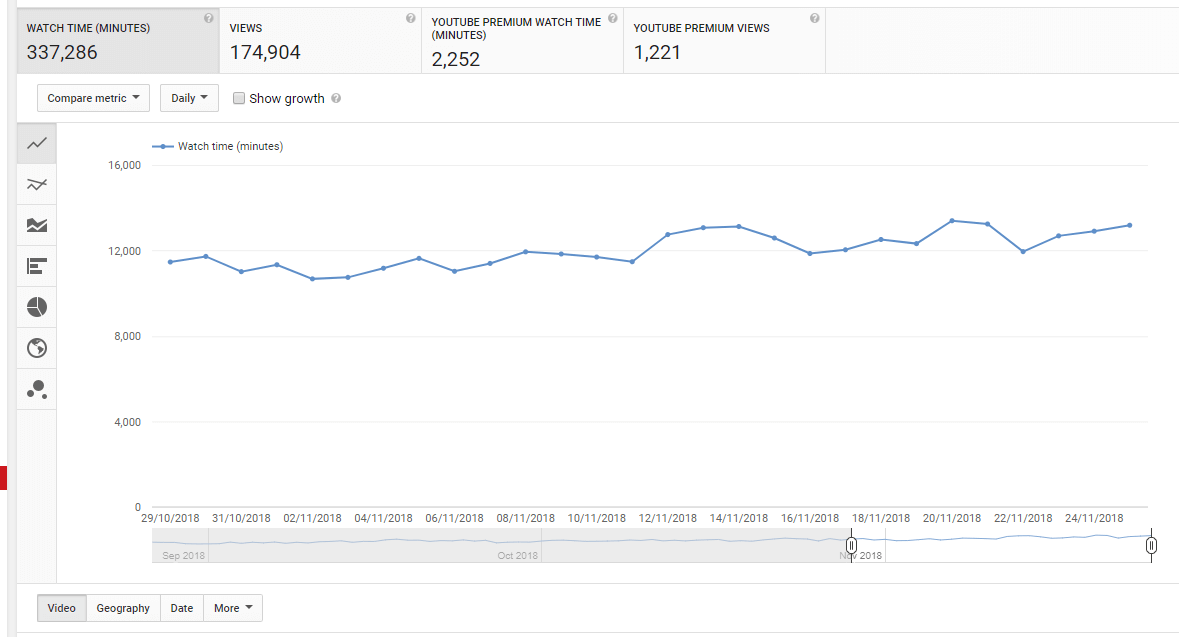 Watch Time is how much time people spend actually watching your videos. In fact, each video uploaded, as well as every channel on YouTube, is ranked by watch time. If people spend more time watching your videos, YouTube will favor your videos and channel, which drives more traffic to your videos.
Fix 8. Nature Your Community
YouTube isn't just a video search engine, but is a social network. If you want to increase YouTube traffic, you need to use it as social networks. In other words, you have to pay attention to comments.
Engage with your audience. Read all comments as well as those posted on your videos and channel.
Reply to positive comments with reinforcement, answer any questions viewers may have.
Delete or report any spam comments or harassment.
Monitoring and replying to comments will establish you as an authority on the content of the video, and help you build an online sense of community with your audience while increasing your presence.
Besides, you can involve viewers directly. For instance, you can send a gift to viewers who share your video on Facebook and leave a comment.
There are 8 ways to help you increase YouTube traffic. I want to share these tips with all of you. Click to Tweet
Your Turn
Now, you get 8 highly effective ways to increase YouTube traffic. Which one of these tactics are you going to use first to get more YouTube views? Leave a comment below and let us know!
Besides, if you have any other tactics to drive traffic to YouTube, please share them with us by leaving a comment. We promise we will update this page in time.
Drive Traffic to YouTube Channel FAQ
How can I increase traffic to my YouTube video?
Uploading outstanding video content to YouTube.
Adding end screen and cards to your videos.
Creating video playlist.
Encouraging viewers to subscribe your channel.
Promoting your videos on Facebook, Twitter or other social platforms.
How do Views increase on YouTube?
Create videos with quality content
Nail the first 15 seconds
Choose titles & thumbnails that accurately reflect your content
Keep a close eye on your audience retention
Create content based on long-tail YouTube keywords
Create video playlists
Use cards and end screens
Build your subscriber base
How can I promote my YouTube video without paying?
Optimize channel description
Perfect video titles
Write excellent video descriptions
Create eye-catching thumbnails
Create YouTube playlists
Embed YouTube videos
How do I optimize a YouTube video for search?
YouTube video title
YouTube video description
YouTube video tags
YouTube video thumbnails
Cards and end screens