Tidal is a popular music streaming service. This post from MiniTool MovieMaker mainly tells you how to download Tidal app to enjoy music on your devices and how to download Tidal music.
Tidal is a top music streaming service that offers a library of different genres of music, podcasts, and videos. This app is available for Windows, macOS, Android, and iOS. Check the following instructions to download Tidal on your device.
Tidal Download for Windows & Mac
You have two options to download Tidal app for Windows PCs, from the official website or Microsoft Store.
Download Tidal for Windows PCs:
Option 1: From Tidal's official website
You can download Tidal for Windows 7+ PCs from the website.
Go to the Tidal official website and scroll down to the bottom, and click Download TIDAL.
From the download page, click the Download button under Windows to get the setup file.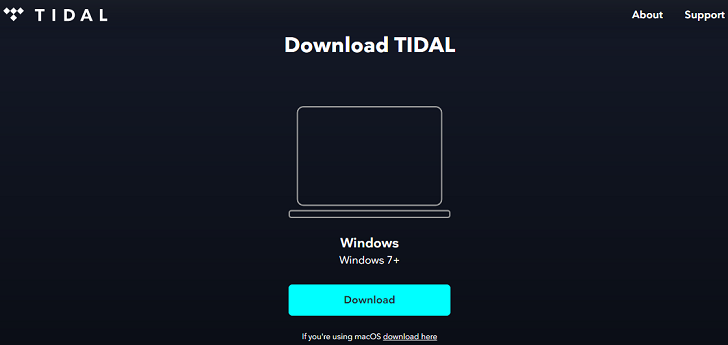 Double-click the setup file and follow the onscreen prompts to finish the installation.
Tidal will automatically open after the installation. Sign up or log in with your account to use Tidal.
Option 2: From the Microsoft Store
You can download Tidal app for Windows 10 and higher from the Microsoft Store.
Find Tidal from the Microsoft Store official website. (https://apps.microsoft.com/store/detail/tidal-music-streaming/9NNCB5BS59PH)
Click Get in Store App > Open Microsoft Store > Click Open to launch the Tidal desktop app.
To uninstall the Tidal for Windows app, open the Settings app, click Apps > Apps & features, scroll down to Tidal, click it and choose Uninstall, and click Uninstall to confirm.
Download Tidal for Mac Computers
You can only download Tidal app for your Mac from the official website. Go to the Tidal website, find and click Download TIDAL at the bottom.
Next, you'll see the sentence that says If you're using macOS download here under the Windows Download button. Click download here and then choose the right version, and click Download.
Tidal Download for Android & iOS Devices
To download Tidal app for your Android and iOS devices, just go to the Google Play or App Store, then search for Tidal, tap Install and follow the instructions to install the Tidal mobile app.
How to Use Tidal Web Player
Like other music streaming services, Tidal also offers a web player. You can click here to open Tidal Web Player. Then, choose some of your favorite artists, and click Continue. Next, log in with your account.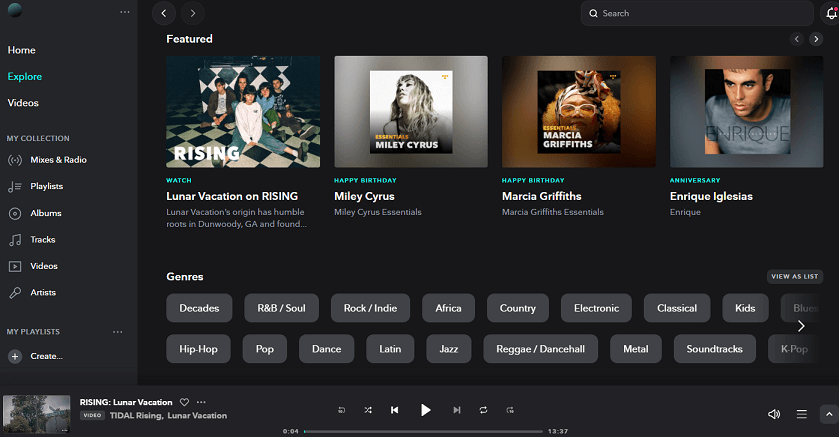 Now, you can explore Tidal to find your favorite content to enjoy.
Tidal delivers music with a lossless audio experience and high-fidelity sound quality. But now lossless audio streaming with the web player is available in Chrome and Firefox.
How to Download Music from Tidal
Sometimes, you need to download Tidal music for offline listening. How to download music from Tidal?
You can directly download some songs from the Tidal app for Android and iOS. Open the Tidal app, search for a song, click the album or playlist, tap the Download button, add some songs to My Collection, go to Tracks, and click the Download button.
To add your favorite music to the video, try MiniTool MovieMaker. It supports many audio formats and allows for fading in and out of music and adjusting volume.
To convert the format of your songs, MiniTool Video Converter is recommended here, a free audio and video converter.
You may also like:
Conclusion
Tidal is a subscription-based music app but you can download it for free for your Windows, Mac, Android, and iOS devices, and the sound quality will depend on your pricing plan.
Some songs are available to download from the Tidal app and we don't recommend downloading Tidal music with any other third-party sites or apps.