Project Rush, an all-new, all-in-one video app, makes editing and sharing online videos fast and easy. This new video editing software is scheduled to be released later this year as part of its Creative Cloud offering. Waiting for his moment to arrive, you can try using the best free video editing software – Windows Movie Maker.
On June 19, 2018, Adobe video family give us a sneak preview of a brand-new product: Project Rush. It is an all-in-one, cross-platform and non-linear editor (NLE) with an emphasis on ease of use.  
Adobe team honed in on three core goals during development:
A "welcoming" and "intuitive" interface.
Integrating Adobe technologies like Adobe Sensei, its artificial intelligence platform.
A suite of powerful publishing tools.
Now, keep reading to know more details about the all-new as well as all-in-one video app.
What's New in Adobe Project Rush
All-in-one Video Editing Software
Have you ever thought about creating your own wonderful videos? But, some professional video editing tools including Adobe Premiere, Audition, and After Effects can be frustrating. Ordinary users may need to spend months or even years to master these expensive but powerful tools.
To address the needs of newbies who edit video, Adobe is working on a new video editing software called Project Rush that brings three tools – Premiere Pro, Audition and After Effects – together in one place.
The built-in camera functionality of Project Rush helps you take pro-quality video on your mobile devices.
You can go from shoot to showtime in record time. The all-in-one Adobe video editor offers simple tools for color, audio, motion graphics, and more, thus you can easily edit your video. And finally, directly share it from the app to your favorite social channels.
Adobe puts forward: "A new user, from the first time he/she launches [Project Rush], can get a high-quality video in three minutes or less."
Cross-platform Video Editing Software
Project Rush, all-in-one video editing software, works on your phone, tablet, and desktop.
With this new all-in-one yet cross-platform video editing software, you are able to edit your video wherever you want without losing creative flexibility because your work automatically syncs to the Cloud.
Rush is perfectly capable of working offline (either on a computer or a mobile device) and syncing to the Cloud when appropriate so you always have access to your latest versions.
For instance, you edited video in your computer this morning. Now, you can move to an iPad or laptop for further editing while on the go. Actually, the original files would remain on your PC. But, proxies will be automatically generated, so you can easily further edit your video while on the go. You not only can export video from mobile device but also can export the originals from computer.
"It's an identical product with the same features on iOS, Android, Windows, and Mac. You can jump back and forth and it automatically synchronizes," said Steve Forde, general manager of emerging products at Adobe.
Welcoming & Intuitive Interface
The main interface of the all-in-one as well as cross-platform Adobe video editor contains 3 parts.
The preview window, along with playback controls like play, pause, fast forward, and rewind, takes up the top third of the screen.
The timeline is in the middle.
The carousel of menus is at the bottom. Here, you can find transition aspect ratio adjustment, audio, transformations, title cards, animations, color grading, and Motion Graphics templates.
Project Rush on mobile is optimized for touchscreens. You can tap and drag the end of a video clip, audio clip, or effects track to adjust its length, and select the center to move it forward or backward in the timeline.
The Project Rush clients for PCs are cut from the same cloth as the mobile apps, except that they take advantage of the added screen real estate. In other words, the toolbar is tucked away unobtrusively in the right-hand corner, and there's an expanded preview window.
Making Great Video
Adobe has historically focused upon the creation of multimedia and creativity software products. Now, they have taken everything they have learned and reimagined it in Project Rush. The first all-in-one and cross-device video editing software can help you create and share online content easier than ever.
With Project Rush, you can change the color, size, font, and more to make unique and great video. For instance, this all-in-one video editing software includes color correction that's powered by Premiere Pro, like filters and more advanced color editing.
As we know, how quickly bad sound can mess up even the most perfect video! However, it will be a challenge to work with audio.
Project Rush helps auto-detect the audio in your videos by leveraging the power of Premiere Audition. As a result, as long as you duck with one click, the all-in-one video editing software offers easy ways to improve sound quality and reduce background noise.
Tons of Flexibility with Titles
Have you ever complained about those tired, old, and inflexible title templates?
With Project Rush, you are able to access a constant stream of new, free Motion Graphics templates because of its integrated Adobe Stock. And, all of these Motion Graphics templates were designed and animated especially for creators by Premiere Pro and After Effects artists. Sometimes, you are able to customize them to your heart's desire.
Keeping the Focus on Social
Project Rush borrows everything from the professional programs including Adobe Premiere, After Effects and Audition. By using this all-new and all-in-one video editing software, you can easily and quickly edit the color of your videos, improve the sound quality, build a title sequence, and add some stock footage.
When you're done editing, you can publish it to whatever platform (YouTube, Facebook, Facebook Stories, Instagram, Vimeo, Twitter or Snapchat) you'd like without having to leave the non-linear editor.
Every social platform is important, and each of them has its own advantages and disadvantages. You need to spend much time making a unique version for each platform if you want to publish the same video to multiple platforms. 
Feeding Your Channels a Steady Stream of Awesome
Adobe's goal is to simplify video making for content creators like YouTubers, thus they can upload videos weekly or even daily. Project Rush even supports native YouTube features like video scheduling and thumbnail selection.
Built on the Premiere Pro Engine
In order to provide a professional look and feel, Rush borrows Motion Graphics templates from Premiere Pro. Rush is built on the same engine as Premiere Pro and After Effects. Therefore, Adobe actually has that engine running on smartphones.
Project Rush can import all of the same formats (anything from your iPhone video to 4K RED footage) because it is built on the Premiere Pro engine. Besides, you can use the same presets as Premiere Pro, and even use your existing LUTs with it, which are especially helpful for those who shoot in D-Log or other formats that are designed for post-processing.
Project Rush is a new way to create and share online video. Click to Tweet
How to Get Project Rush
Reading here, I guess that you're as excited about Project Rush as we are! You can't wait to enjoy the all-in-one video editing software. However, the truth is that this Adobe video editor is scheduled to be released later this year as part of its Creative Cloud offering.
For now, Adobe is only providing demos of Project Rush. The beta is currently available for Mac, Windows, and iOS. Adobe says an Android beta is coming soon. You are able to visit its official website to apply for a chance to join the beta.
Now, can we find another excellent video editing software before the Project Rush (Beta) is coming?
Of course, we can!
Here, before you get the Project Rush, you can try another free yet powerful video editing software – Windows Movie Maker to make an outstanding video.
Project Rush Alternative – Windows Movie Maker
Windows Movie Maker, a free and professional video editing software released by Microsoft, offers the ability to create and edit videos as well as to publish them on OneDrive, Facebook, Vimeo, YouTube, and Flickr.
However, Movie Maker was officially discontinued on January 10, 2017. Fortunately, MiniTool® Software Ltd., a professional software development company, has saved the links to the archived files for you, and all you have to do is to click the following button to get the free video editing software.
MiniTool MovieMakerClick to Download100%Clean & Safe
After downloading, you can install it on your PC, and then use it to create your outstanding video.
The steps are:
Step 1. Open Windows Movie Maker, and add videos and images.
Click the Add videos and photos button under the Home tab.
Select the files you wish to import and then click the Open button.
Drag the files to rearrange them in a different order within a project.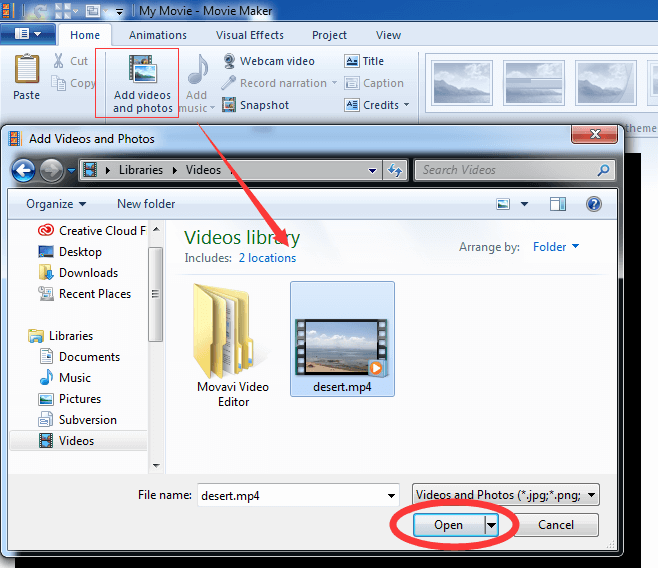 If you want to know more details, you can read this post: How to Add Pictures and Videos to Windows Movie Maker.
Here, you can add audio to your movie, following the same method.
Step 2. Trim and split videos.
Split video
Splitting can cut a clip into smaller sections without losing any frames in the process.
Two ways to split a video.
Choose the video point where you want to split, right-click the video clip, and click Split button.
Select the video point you will split, and then click the Split button under Video Tools.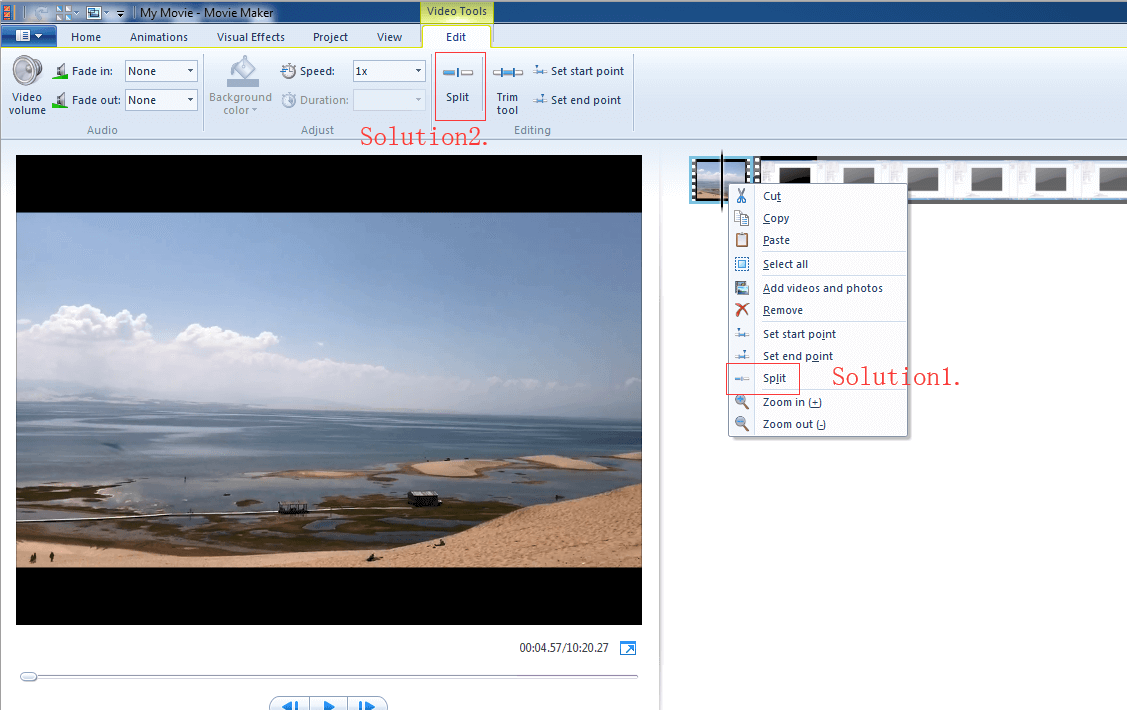 Trim video
Trimming removes unwanted frames from the start or end of a clip.
Navigate to the point where you wish a clip to begin.
Click the Video Tools Edit tab and click Set start point.

Navigate to the point where you wish a clip to end, and then click Set end point.
For more details, you can read this post: How to Split and Trim Video in Windows Movie Maker (with Pictures).
Step 3. Add transitions, visual effects, text and other effects to your movie.
Here, to make your outstanding movie, you can add some special effects to it. Here, we will take transitions and text for example.
A transition can help your video move smoothly from one scene to the next. However, how to add a transition between clips?
Select the clip to which you wish to add a transition. A blue highlight square will appear around it.
Click the Animations tab.
Click the Transition that you want to add to the selected clip. Movie Maker will add the transition between the beginning of the selected clip and the end of the previous clip.

Adding text to your video is a perfect way to make the people understand a particular scene of the story. Now, you can try the following steps to add text:
Navigate to the place in your project where you want to add the title.
Click the Title, Captions or Credits button under the Home tab.
Enter the title text.
Choose fonts and styles under the Text Tools Format tab.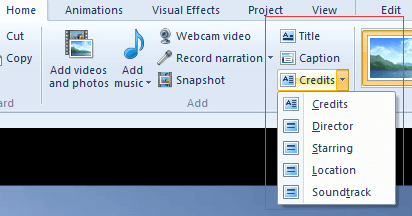 Step 4. Save/share your outstanding movie
With Windows Movie Maker, you can do the following things:
Directly publish your movie on OneDrive, Facebook, Vimeo, YouTube, and Flickr.
Save video to your PC with almost all popular video formats, like MP4, AVI, and more.
Export your video to mobile devices like iPhone, iPad, Samsung, and more.
Burn your videos to DVD with high quality.
Here, I guess you might be interested in this post:4 Steps to Easily Make A YouTube Video with Pictures.
Project Rush alternative, Windows Movie Maker, can help you create a wonderful video right now.Click to Tweet
Bottom Line
Reading here, you can apply now for a chance to join the Project Rush beta.
However, if you want to create outstanding online video now, you can try using Windows Movie Maker.
If you have any questions or problems while creating videos with the best video editing software, please let us know by leaving a comment in the following area or sending email to [email protected].
Adobe Movie Maker FAQ
Which Adobe program is best for making videos?
Windows Movie Maker
MiniTool Movie Maker
VSDC Free Video Editor
OpenShot
Shortcut
Lightworks
DaVinci Resolve
VideoPad Video Editor
What do YouTubers use to edit videos?
Adobe Premiere Pro CC
Adobe Premiere Rush
Corel VideoStudio Ultimate
CyberLink PowerDirector
Shortcut
MiniTool Movie Maker
MiniTool Movie Maker
iMovie
How do you edit videos for free?
MiniTool Movie Maker, a free, no ads, and no bundle
video editing software without watermark
, lets you easily edit videos. Import your video files, drag and drop them into the timeline. add video transitions between clips, split video clips, trim video to remove some wanted parts, add captions to video clips.
What is the best video editing software for beginners?
MiniTool Movie Maker is the best video editing software for beginners. This free, no ads video editor offers movie templates. You only need to select a template, import your files, change text, and replace music if you like. After that, you can save and share this cool movie with friends.