This article analysed by
MiniTool Software
mainly ranks the most followed accounts, people (female/male), athletes, television personalities, models, musicians, actresses/actors, etc. on Instagram. Find the lists below!
As one of the most popular social media, Instagram is special for photo and video sharing. I beg you are one of the millions of users of Ins. People take advantage of IG to share happy moments, beautiful scenes, funny videos, etc. with others.
In general, the more they share, the more popular they will become. Do you know who is the most followed person on Instagram or the most followed accounts? Although the answer can change at a different time, the popular people will still keep popular for a long time.
Top 50 Most Followed Instagram Accounts
As of June 2022, the most followed account on Instagram is Instagram itself, the official account @instagram, which has over 515 million followers.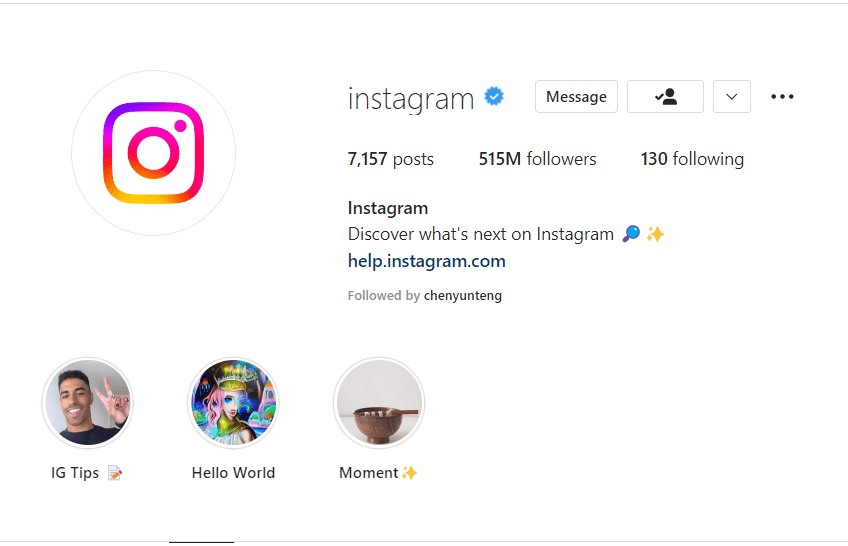 The following is the list of the Ins accounts whose followers rank in the top 50 (currently).
Rank
Followers (million)
Account
User
Gender
Country
Profile
1
515
@instagram
Instagram
Brand
USA
Social media platform
2
451
@cristiano
Cristiano Ronaldo
Male
Portugal
Footballer
3
345
@kyliejenner
Kylie Jenner
Female
USA

Reality TV star
Model
Businesswoman

4
334
@leomessi
Lionel Messi
Male
Argentina
Footballer
5
325
@selenagomez
Selena Gomez
Female
USA

Musician
Actress
Producer
Businesswoman

6
320
@therock
Dwayne Johnson
Male
USA

Actor
Professional wrestler

7
316
@kimkardashian
Kim Kardashian
Female
USA
8
315
@arianagrande
Ariana Grande
Female
USA
9
261
@beyonce
Beyoncé Knowles
Female
USA

Musician
Actress
Businesswoman

10
249
@khloekardashian
Khloé Kardashian
Female
USA
11
240
@kendalljenner
Kendall Jenner
Female
USA
12
239
@justinbieber
Justin Bieber
Male
Canada
Musician
13
225
@natgeo
National Geographic
Brand
USA
Magazine
14
222
@nike
Nike
brand
USA
Sportswear multinational
15
213
@taylorswift
Taylor Swift
Female
USA
Musician
16
212
@jlo
Jennifer Lopez
Female
USA
17
199
@virat.kohli
Virat Kohli
Male
India
Cricketer
18
192
@nickiminaj
Nicki Minaj
Female
Trinidad & Tobago
Musician
19
182
@kourtneykardash
Kourtney Kardashian
Female
USA
20
175
@neymarjr
Neymar
Male
Brizal
Footballer
21
174
@mileycyrus
Miley Cyrus
Female
USA
22
163
@katyperry
Katy Perry
Female
USA
Musician
23
145
@kevinhart4real
Kevin Hart
Male
USA
24
143
@zendaya
Zendaya
Female
USA
Actress
25
133
@ddlovato
Demi Lovato
Female
USA
26
133
@iamcardib
Cardi B
Female
USA
27
130
@badgalriri
Rihanna
Female
Bardados
28
123
@kingjames
LeBron James
Male
USA
Basketball player
29
121
@theellenshow
Ellen DeGeneres
Female
USA
30
119
@realmadrid
Real Madrid CF
Organization
Spain
Football club
31
112
@champagnepapi
Drake
Male
Canada
Musician
32
111
@chrisbrownofficial
Chris Brown
Male
USA
Musician
33
109
@fcbarcelona
FC Barcelona
Organization
Spain
Football club
34
103
@billieeilish
Billie Eilish
Female
USA
Musician
35
94.5
@championsleague
UEFA Champions League
Organization
Europe
Club football competition
36
84
@dualipa
Dua Lipa
Female
UK
Musician
37
82.2
@lalalalisa_m
Lisa Manobal
Female
Thailand
38
81.8
@gal_gadot
Gal Gadot
Female
Israel
Actress
39
80.7
@vindiesel
Vin Diesel
Male
USA
Actor
40
79.1
@priyankachopra
Priyanka Chopra
Female
India
41
78.0
@khaby00
Khaby Lame
Male
Italy/Senegal
Social media celebrity
42
77.8
@nasa
NASA
Organization
USA
Space agency
43
74.7
@gigihadid
Gigi Hadid
Female
USA
Model
44
74.3
@shakira
Shakira
Female
Colombia
Musician
45
74.0
@snoopdogg
Snoop Dogg
Male
USA
Musician
46
73.9
@davidbeckham
David Beckham
Male
UK
Former footballer
47
72.9
@shraddhakapoor
Shraddha Kapoor
Female
India
Actress
48
72.8
@victoriassecret
Victoria's Secret
Brand
USA
Lingerie company
49
71.6
@k.mbappe
Kylian Mbappé
Male
France
Footballer
50
70.1
@nehakakkar
Neha Kakkar
Female
India
Musician
In total, 34 Instagram accounts have over 100 million followers; 16 of them have exceeded 200 million followers; 8 of those own more than 300 million fans; 2 have reached 400 million followers; 1 (@instagram) gained over 500 million followers. The 50th most-followed Instagram account still has over 70 million followers.
Most of the top 50 most-followed Instagram accounts are owned by women with counting of 27 accounts. Among those women, most of them are musicians, actresses, models, or reality TV stars. Many of them play multiple roles.
Only 15 IG accounts are owned by males with most of them are athletes (especially footballers) and musicians. The rest of the 8 Ins accounts belong to brands or organizations. Within the seven Instagram accounts, there are 3 organizations related to football and 2 clothing companies.
Top 10 Most Followed People on Instagram
According to the above list, the most-followed person on Ins is the famous footballer Cristiano Ronaldo who has over 451 million followers, whose account is also the second most-followed IG account, second only to @instagram.

The top ten most followed individuals on Instagram occupy the 2 – 11 most-followed accounts. They are:
Cristiano Ronaldo
Kylie Jenner
Lionel Messi
Selena Gomez
Dwayne Johnson
Kim Kardashian
Ariana Grande
Beyoncé Knowles
Khloé Kardashian
Kendall Jenner
Top 10 Most Followed Women on Instagram
The most-followed woman on IG is the reality television star Kylie Jenner with 345 million followers. You can find the other 9 in the below list.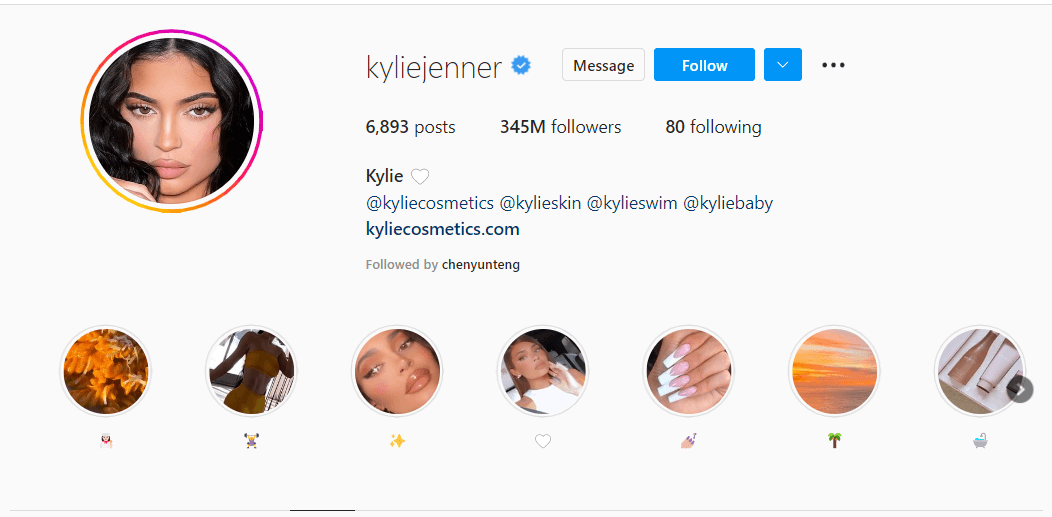 Kylie Jenner
Selena Gomez
Kim Kardashian
Ariana Grande
Beyoncé Knowles
Khloé Kardashian
Kendall Jenner
Taylor Swift
Jennifer Lopez
Nicki Minaj
Top 10 Most Followed Men on Instagram
The most-followed man on Instagram is Cristiano Ronaldo, who is also the most-followed person on IG and the owner of the second most-followed Ins account.
Cristiano Ronaldo
Lionel Messi
Dwayne Johnson
Justin Bieber
Virat Kohli
Neymar
Kevin Hart
LeBron James
drake
Christopher Brown
Top 7 Most Followed Athletes on Instagram
Next, let's see the seven most-followed athletes on Ins. All of them are males.
Cristiano Ronaldo
Lionel Messi
Virat Kohli
Neymar
LeBron James
David Beckham
Kylian Mbappé
Most-followed People of Other Roles on Instagram
Finally, let's have a look at the most-followed Instagram influencers of different professions.
Top 5 Attractive Instagram Models & Reality TV Stars
Kylie Jenner
Kim Kardashian
Khloé Kardashian
Kendall Jenner
Kourtney Kardashian
(seems contracted by Kardashian and Jenner families ?)
Top 5 Most Followed Musicians on Instagram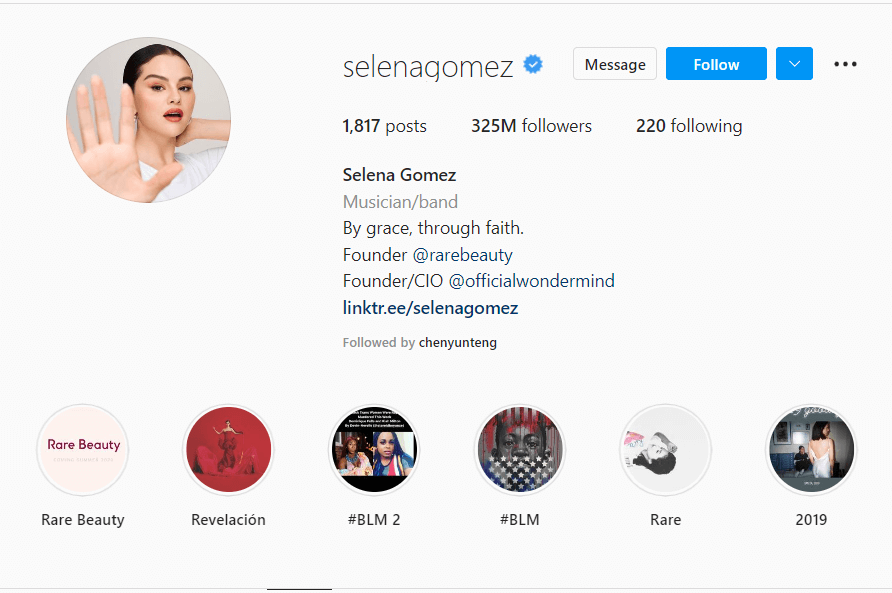 Selena Gomez
Ariana Grande
Beyoncé Knowles
Justin Bieber
Taylor Swift
Top 5 Most Followed Actresses/Actors on Instagram
Selena Gomez
Dwayne Johnson
Ariana Grande
Beyoncé Knowles
Jennifer Lopez
Videos/Audio/Photos Management Tools Recommended
These applications are completely compatible with Windows 11/10/8.1/8/7.
MiniTool MovieMaker
An easy-to-use video editing software without watermarks and limits. The embedded templates enable you to quickly make personal slideshows and share them with your friends!
MiniTool MovieMakerClick to Download100%Clean & Safe
MiniTool Video Converter
Quickly convert videos and audio from one file format to another to apply to more devices. It supports 1000+ popular output formats and batch conversion. Besides, it can also record PC screens without any watermark and download YouTube videos.
MiniTool Video ConverterClick to Download100%Clean & Safe
You may also like