Lightroom is a well-known photo editing tool. However, for people with tight budgets, this software may not be the best choice. Fortunately, this article introduces 7 best Lightroom alternatives, any of which can help you polish your photos. If you want to make a photo slideshow, please try MiniTool MovieMaker.
Lightroom is well recognized as one of the best photo editing and management software. The biggest flaw is its heavy price. For this reason, some users wish to find out an excellent alternative to Lightroom. What is the best alternative to Lightroom? Read this post and you will find 7 great alternatives, both free and paid.
1. Capture One
Availability: Windows, macOS
When discussing Lightroom alternatives, most people may consider Capture One. Capture One offers exceptional RAW image file processing, image cataloging, layers, local adjustments, keystone adjustments, and so on. There are several different versions available and all the paid versions have a free 30-day trial period.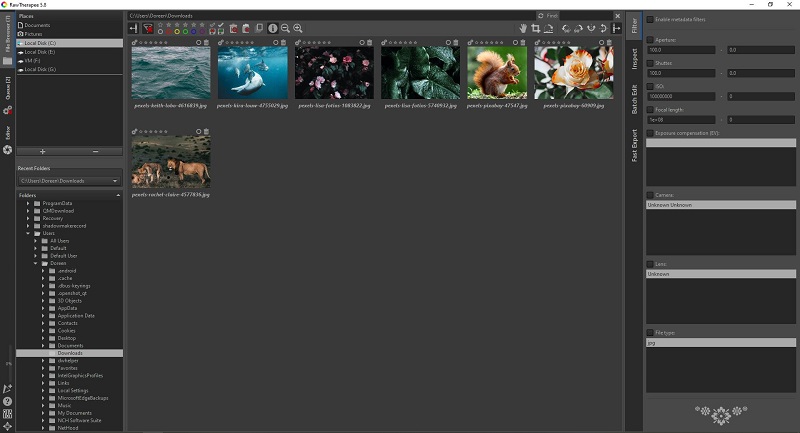 2. RawTherapee
Availability: Windows, macOS, Linux
RawTherapee is a RAW photo editor, which is designed for processing raw files with a powerful suite of tools. It has many features that are similar to Lightroom's, making it one of the best Lightroom alternatives. Basic options like adjusting exposure and sharpening are included, as well as more advanced tools like curves and color correction.
3. Darktable
Availability: Windows, macOS, Linux
Darktable is an open-source editor and is one of the top Lightroom free alternatives. This software has a full-featured image adjustment suite and extensive library management options, featuring the ability to quickly toggle between your photo library and editing tools. The only downside of this image processing app is that it does not have a much interactive interface.
Recommended post: Top 10 Best Photo Viewers for Windows 10
4. LightZone
Availability: Windows, macOS, Linux
For those who need basic photo editing tools, LightZone is another free Lightroom alternative. Overall, LightZone has fewer features than Darktable or RawTherapee. However, LightZone is best at processing black and white photos. Another advantage of LightZone is that it has a large number of detailed documents and an active user forum.
5. DxO PhotoLab
Availability: Windows, macOS
DxO PhotoLab is one of the most advanced photo editing software. You can finish many of the same tasks in DXO PhotoLab as you can in Lightroom with regards to image management and editing individual images. DxO PhotoLab isn't as organized as Adobe Lightroom, however, and misses out on some tools like HDR mergers and panoramas.
6. ON1 Photo RAW 
Availability: Windows, macOS
ON1 Photo RAW is a bit like a mixture of Lightroom and Photoshop. It includes a Lightroom-like digital asset management system with Photoshop-like single-image editing tools. And the key factor of being the top Lightroom alternatives is the ability to use Layers. However, the interface appears a little cluttered, probably due to too many features added to this software.
Also read: How to Download Flickr Photos
7. ACDSee Photo Studio Professional
Availability: Windows
ACDSee Photo Studio Professional is the last on the list of best Lightroom alternatives. It contains several essential features and advanced editing capabilities of Lightroom. Besides, it can handle RAW image files from around 500 cameras. With this program, you can easily manage several organizing tools along with comprehensive cataloging.
Have you ever tried any of the above-mentioned Lightroom alternatives?
Bottom Line
When choosing a Lightroom alternative, always make sure that the software you choose can run on your device. If you have better alternatives to recommend, please let us know via [email protected] or share them in the comments section below.