Choosing a free photo editor for most everyday editing needs is easy. However, when it comes to working with RAW images, you need a more professional yet free RAW photo editor. This post compiles 6 best RAW photo editors, free and paid. Want to make a video with photos? Try MiniTool MovieMaker.
What is a RAW image file?
When shooting with a digital camera, there are two main file formats you can use: JPEG and RAW.
A RAW file is a RAW image straight from the camera. You can make any adjustments you want.
The RAW file extension depends on your camera brand.
How to edit RAW images? Picking a professional RAW photo editor is the answer. Let's have a look at the 6 best RAW photo editors, both free and paid.
4 Free RAW Photo Editors
#Darktable
Darktable is an open-source, free RAW photo editor available for Linux, Mac, Windows, and more.  It offers exquisite tools, from an optimized RAW processor that can manage large files to non-destructive edits and professional color management. It also offers a few filters for creative effects.
It works equally well as a beginner-level photo editor for Instagram pictures as well as a high-end software for polishing magazine photoshoots.
Pros
Compatible with all popular platforms.
Good batch processing function.
Supports a variety of image formats.
Cons
Difficult to master for beginners.
Related article: Top 10 Best Photo Viewers for Windows 10
#RawTherapee
RawTherapee is a powerful yet free RAW photo editor for Windows, Mac, and Linux. It provides high-quality images with high dynamic range and uses state-of-the-art demosaicing algorithms. RawTherapee supports the most common RAW file formats.
It's intuitive, well-labeled, and has shortcuts for everything. The key features include HDR tone mapping, deep exposure color correction, bar graph matching, and a selection of various enhancement tools.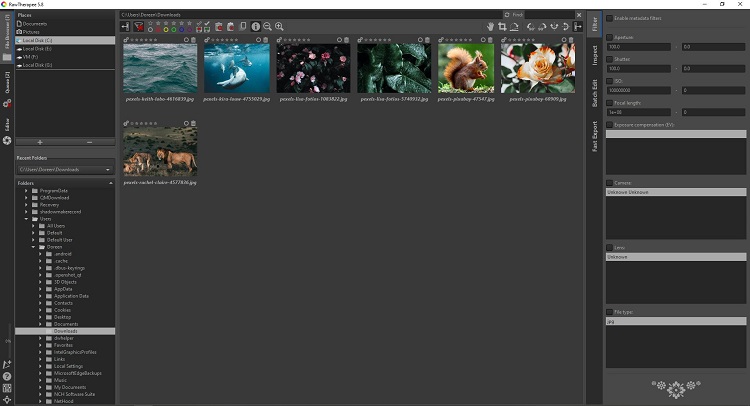 Pros
Free of charge.
Supports most popular image formats.
Cons
Lack of guides and tutorials.
Easy to get lost in all the panels and instruments.
Random crash.
#Photivo
Photivo is another best free RAW photo editor that supports most Bitmap and RAW images. Aside from common editing and retouching tools, its features include CA correction, bad pixel reduction, wavelet Denise and median filters.
A bonus point is that Photivo allows workflow integration with GIMP for importing and exporting images. It is currently available in six languages and can be used on Mac OS, Windows, and Linux.
Pros
Works with RAWs and Bitmaps.
Powerful editing features.
Cons
Not suitable for beginners.
Recommend post: How to Overlay Images | A Step-by-Step Guide
#Raw Photo Processor
The next best free RAW photo editor on the list is Raw Photo Processor, only available for Mac. It supports almost all available digital RAW formats. Despite being one of the simplest editing programs, Raw Photo Processor has quite a lot to offer. 
It is particularly good for working with underexposed images since it offers an advanced tool for exposure compensation completed with 4-channel white balance adjustment and histogram.
Pros
Supports almost all RAW formats.
4-channel white balance.
Linear and compressed exposure compensations.
Cons
Not good at color correction.
2 Paid RAW Photo Editors
#Capture One Pro 2020
Capture One Pro 2020 is a paid RAW photo editor that supports many RAW file formats and has dedicated versions for Fuji and Sony camera users. It is a complete photo editing solution for all cameras, and it provides tools for image editing and management.
It is a powerful photo editor even if its workflow isn't for beginners. It provides plenty of features range from tools for basic image adjustments to HDR tools, advanced color adjustments, and presets.
Pros
A huge amount of color editing options.
Free learning videos.
Cons
You might be interested in: How to Crop Images at Ease (Windows/Mac/Online)
#AfterShot Pro
Another excellent paid RAW photo editor from Corel is AfterShot Pro. Designed to compete with Adobe Lightroom, AfterShot Pro focuses on increasing processing speed while delivering high-quality images.
AfterShot Pro is dedicated to photography, which means it has RAW camera profiles, lens corrections, a large library of presets, and highlight recovery for images with a wide dynamic range. It also provides efficient digital asset management and integrates with other editors.
Pros
Up to 4X faster than Lightroom.
Integrates with other editors.
Cons
No graphic design tools.
Expensive.
Bottom Line
4 free RAW photo editors and 2 paid RAW photo editors are discussed above. Which one suits your needs best? If you have any questions or suggestions about it, please let us know via [email protected] or share them in the comments section below.