As an image, meme and GIF sharing website, Imgur also released its online tools to help users make a GIF or meme easily. Imgur GIF Maker is built-in on its website so that users can easily available. Want a more professional GIF maker for Windows? MiniTool MovieMaker is your ultimate solution.
Imgur Video to GIF converter stands out as its web-based and free features to be capable of converting YouTube to GIF directly by pasting YouTube video URL. Thus, this GIF maker is a good way to help you grab online video and turn it into a GIF. The following content is a brief introduction and concise guide.
What Is Imgur GIF Maker
On Imgur, apart from looking through the most viral memes and GIFs, you can also make use of its own online tools including Imgur meme generator and Imgur GIF Maker. With them, you can turn a video into a GIF, which can come from any social media platforms, including YouTube, Twitter, etc.
Besides, its dark-mode design and intuitive interface would appeal to you a lot, and its powerful social features make you share on social media in different ways, such as providing an embed post or making you download it. what's more, it's 100% free and faster compared with other online GIF creators.
Pros
Completely free, no watermark and no installation required.
Allows you to directly make a GIF by pasting YouTube, etc. social media video's URL.
Has a fast speed of making GIFs.
Supports sharing in the embedded video format.
Allows you to directly share on Imgur's community.
Cons
How to Make a GIF with Imgur GIF Maker
Imgur Video to GIF converter can help you quickly grab YouTube video and twitter video into a GIF. With it, you can manually set the starting point and ending point to choose the most valuable part of the video, and turn it into an interesting GIF to share with friends.
Step 1. Copy the video URL you want to convert from any video websites, and click Submit to let Imgur GIF Maker detect it.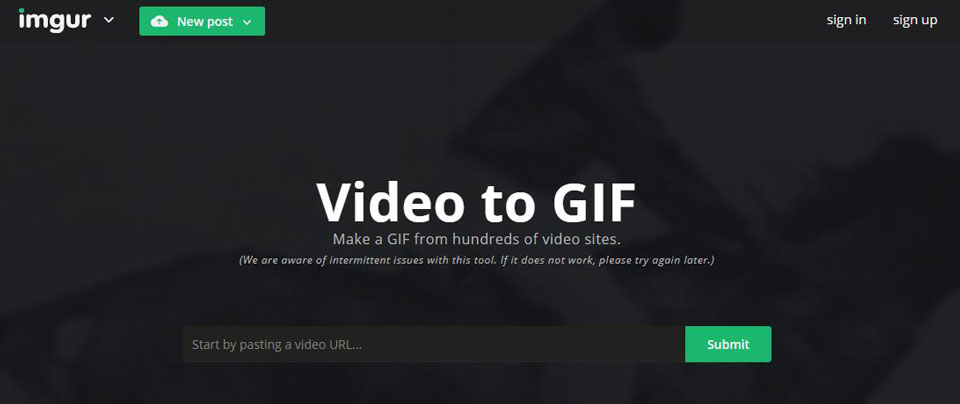 Step 2. Drag and drop the slider to set the starting point and the ending point, and define the section you want to convert. Once you finish, click the Generate GIF button to get the GIF.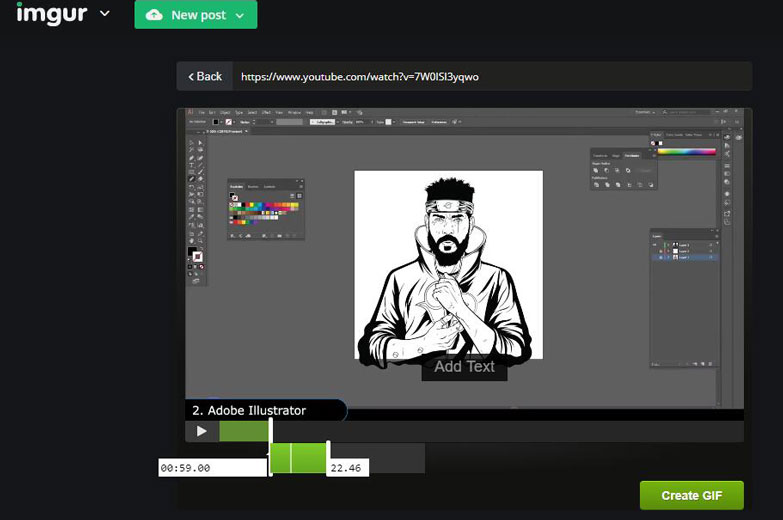 Step 3. Add some tags to make your GIF more noticeable. You can download it into your local drive or share it as an embed video on social media, like YouTube and Twitter, or share it on the Imgur's community.
How to Make a GIF with MiniTool MovieMaker
If you think Imgur GIF Maker's features are too simple to meet your advanced requirement or you want to make a GIF from your own video rather than online video, you can turn to MiniTool MovieMaker as it is a full-featured, simple-to-use and completely free GIF maker. It allows you to resize, rotate and combine GIFs as well as set the GIF speed.
Here's a step-by-step guide to help you make a GIF with MiniTool MovieMaker.
Step 1. Launch MiniTool MovieMaker, and shut down the pop-up window.
Step 2. Click the Import Media Files button to choose the target video file from the local drive, and tap Open.
Drag the video onto the timeline, or click the + icon in the right corner of the video to add to the timeline.
Here you can trim, split, add text or transitions to the video you want to convert.
Step 3. Click the Export button to open the exporting window. And then choose the GIF format as the output format. Finally, click Export to save it on your computer.
Bottom Line
Once you have tried out, you can find the above methods to convert video to GIF both work well. Imgur GIF Maker is an ideal one to convert YouTube to GIF while MiniTool MovieMaker is suitable for making GIFs from local videos. Based on different uses, you can choose the relevant methods.
If you have any questions or suggestions about it when using the above-mentioned methods, please let us know via [email protected] or share them in the comments sections below.