How Long Can a Snapchat Video Be
Snapchat is a popular multimedia instant messaging app. It allows you to take video or photo Snaps if camera access is allowed on Snapchat. What is the Snap video length? How long can a video be on Snapchat?
Snapchat used to let you record 10-second videos. Thanks to the later Multi Snap feature, you can record up to 60-second-long videos.
In other words, the Multi Snap feature allows you to record up to 6 10-second video segments in a row. After recording, you can decorate your videos with Snapchat editing features.
How to Make Your Snapchat Videos Longer
How to record more than 10-second videos on Snapchat? How to take longer videos on Snapchat? Here're 2 two methods.
Typically, you can use the camera to record a longer video within the 60 seconds limit. Alternatively, you can use the Snapchat Bounce feature on iOS or the loop feature on Android to play it automatically on repeat.
Option 1:
Firstly, let's see how to record a 60-second video on Snapchat.
Step 1. Open the Snapchat app on your device.
Step 2. Hold and press the camera button as long as you want to record.
To record a 60-second video, simply keep holding the camera button until you see 6 video clips on top of the camera button.
Step 3. Then, you can edit your videos. You can trim, add stickers, add music, draw on the Snap, and more.
Step 4. Send the Snap to your story or friends.
Option 2:
Snapchat provides a Bounce feature with iOS users to replay their favorite moments in a video Snap. With this feature, they can make a boomerang.
To make your video Snap bounce, open the Snapchat app and record a video by pressing the camera. Then, tap the Bounce button at the bottom of the tool list. Next, move the slider to select which part of the Snap you want to bounce.
The Bounce feature is not available on Android devices, but Snapchat offers a loop option for Android users. After taking a video Snap, tap the Loop icon on the right side, and click this icon twice to loop the video infinitely.
Now, send the Snap to your story or friends.
How Long Do Your Snaps Last
Will Snapchat keep your video or photo Snaps forever? How long do your Snaps last?
Snapchat will automatically delete most messages when they've been viewed. According to Snapchat, the server will automatically delete the Snaps that have been checked by all recipients, unopened Snaps you send to a friend after 31 days, and unopened Snaps you send to a group chat after 7 days.
The snaps you added to the story will disappear after 24 hours you post them. The same is true of shared stories.
The above tells you how long Snapchat can keep your snaps and stories. Before you send a Snap to a friend, you can choose how long your friend can see your Snap. After taking a Snap, tap the Timer in the lower-left corner and set the time limit from 1 to 10 seconds.
If you take a photo Snap and choose 5 seconds, it means your photo will appear 5 seconds on the screen when your friend views it.
How to Make Your Video Longer on Windows 11/10
You might need to make your video longer for some reason. How to make a video longer on a Windows PC? Here, MiniTool MovieMaker is recommended.
MiniTool MovieMakerClick to Download100%Clean & Safe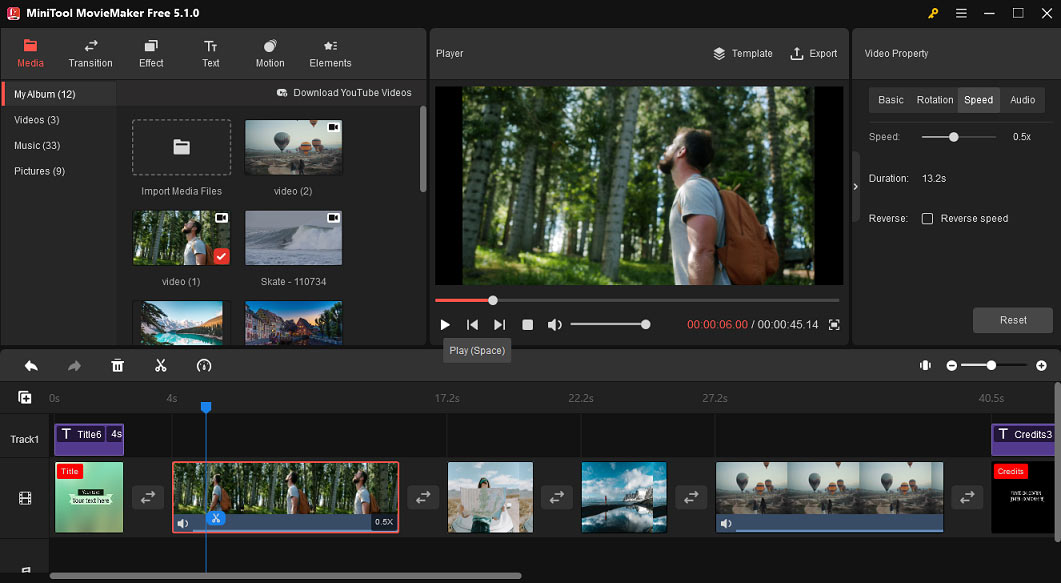 MiniTool MovieMaker is a simple video editor with many editing features. It offers you different options to make your video longer. You can add a title card and end credits, slow down the video, and add more video clips and images.
You can use MiniTool MovieMaker to add filters, transitions, pan and zoom effects, stickers, and more.
Conclusion
Generally speaking, your Snapchat videos can be up 60 seconds long. You can also use the Bounce or loop option to repeat the favorite moments of your Snap.