Compilation video is an innovative way to attract the attention of the audience. It not only brings you a lot of fun but also allows you to earn a lot of traffic on social media. Want to know how to make a compilation video? You have come to the right place.
The following will introduce you to the definition of the compilation video, how to make a compilation video and nine video compilation maker apps (including MiniTool MovieMaker).
What Is a Compilation Video?
The compilation video is a video-based on previously published or achieved chips, but compiled in the new order of appearance. Video clips can also be combined with new comments and new clips, and short new clips can be used to shorten or expand certain clips so that all the content blends seamlessly with each other.
The compilation videos are usually to highlight your best moments in travel, activities, etc. You can create tear-end compilations, game compilations, sports compilations, prank compilations, and more.
How to Make a Video Compilation?
The following will show you how to make a compilation of video clips from beginning to end in 3 steps:
Step 1. Pick and collect your clips
You must first determine the subject of your compilation video, such as movie compilation, interview compilation, performance compilation, music compilation and so on. Then search for related videos based on the determined theme.
You can use as many video clips as you need. At the same time, you also need to back up and save those video clips.
Step 2. Be creative and edit your compilation video
Import the video clips you need into the video compilation maker app and start your creation.
You can sort your imported video clips according to the order you want and adjust the duration and playback speed of each clip. There is no doubt that you can also add text, music, effects, etc. to your compilation video.
After you finish the rough editing, you can play and browse while improving the imperfections. Repeated modifications and improvements are necessary for a perfect compilation video.
Step 3. Export and save your compilation creation
After finishing the creation of your compilation video, you need to export and save it where you want. You can export your compilation video in multiple formats and resolutions.
9 Video Compilation Maker Apps
Making a compilation video is not so easy because you need to merge a large number of different video clips together. However, fortunately, you can use the following nine popular video compilation maker apps to easily complete the compilation of video production.
Whether you are a novice or a professional, these easy-to-use and powerful video compilation makers can meet all your video editing needs, including splitting, trimming, adjusting the speed, contrast, saturation, brightness and duration of the video, adding transition, effects, text, motion, music, material and template to the video, etc.
MiniTool MovieMaker
MiniTool MovieMaker is a free, no-ads, no-watermark, no-plug-ins and powerful video compilation maker for Windows operating systems. It can create your video easily and unlimitedly in a few minutes.
Even if you have no video editing experience, its concise and clear interface allows you to quickly get started. You only need to import the pictures, video and audios you need, drag them to the timeline, and start your creation.
It has so many video editing tools to surprise you. Simple timeline, stunning transition effects, exquisite animated titles and captions, creative filters with perfect aesthetics and professional 3D LUTs, color correction, trim or split video, video speed controller, animation zoom tool, autosave and other functions are all included in MiniTool MovieMaker.
Furthermore, it has recently added some new features, such as one-click apply transition/effect/motion to all clips, one-click edit colors on images and videos, edit audio in every video clip, and undo/redo image/video editing.
MiniTool MovieMakerClick to Download100%Clean & Safe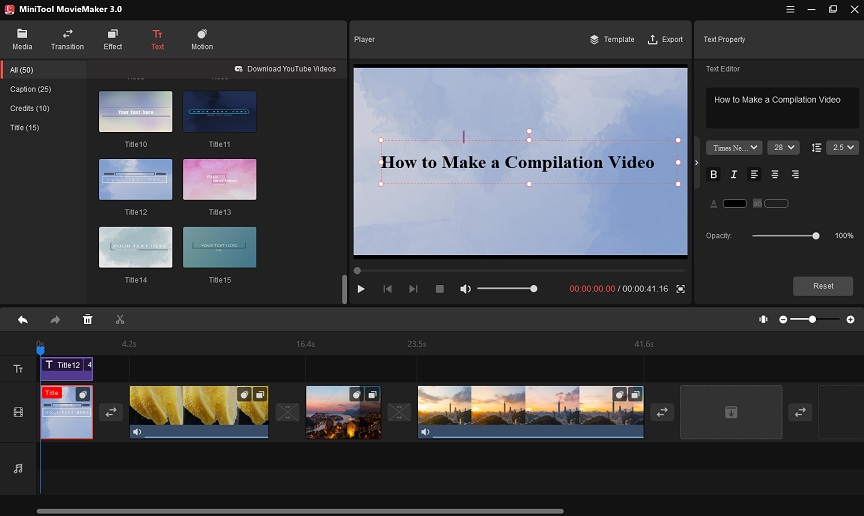 Kapwing
Kapwing is a well-known and popular online video editor.
You can use it for video recording, or you can use it to edit and collaborate on a video. This not only allows you to spend less time editing videos but also gives you more time to share your content. To a certain extent, it greatly improves your work efficiency.
Kapwing supports multiple file formats, including MP4, PNG, GIF, JPG, MOV, AVI, WEBM, etc. It only takes a few seconds to convert your uploaded videos into the formats you want. Meanwhile, it also supports full transcoding and conversion to optimize your files for the best editing experience.
Its timeline allows you to easily drag and drop files, split clips, trim shots, rearrange videos and more. It also provides you with thousands of free and professionally designed content templates, allowing you to make more exciting videos.
The most important thing is that its artificial intelligence makes the video editing process faster, including automatic generation of captions, one-click deletion of backgrounds and intelligent translation.
From beginners to experts, Kapwing has the suitable tools and features, including an intuitive timeline, mature editor, and plug-in ecosystem to help you elevate your video to a new height.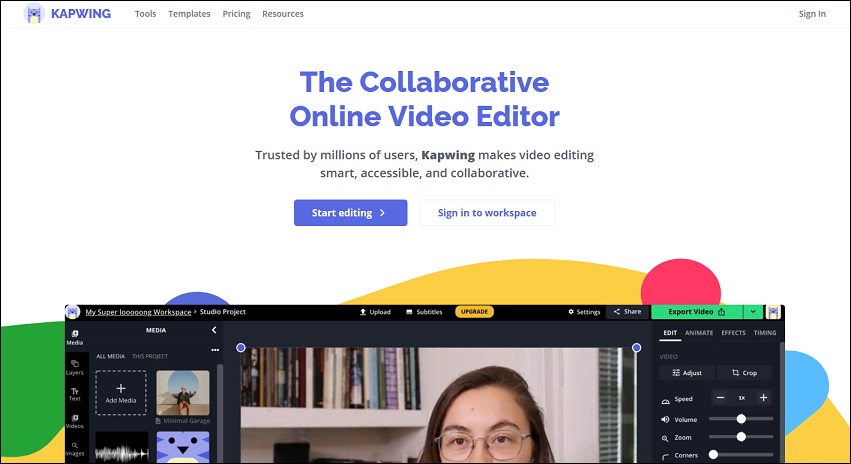 InVideo
You can easily make the compilation video you want in a short time because InVideo has more than 5,000 templates, more than 8 million stock media, a built-in royalty-free music library, and a powerful editor.
One of its special features is that it can automatically convert text to video. You only need one click to convert the article into a compelling video. It will read the words in a natural voice and automatically select images that match the texts.
It has strong flexibility, you can customize any content in the template, frag, drop, upload images and videos, add music, text and special visual effects. Moreover, InVideo is suitable for all languages.
InVideo also supplies you with direct sharing options on social media channels, that is, directly posting your videos to YouTube, Facebook, Instagram and Twitter.
Clideo
Clideo is an online video editor with a simple operation interface and complete functions. You can use it on all popular web browsers, and it allows you to directly share edited videos to all major social media platforms.
Its function division is very clear, you only need to select the editing tool you need, open it to carry out the specific editing work of this part.
Its video editing tools are beyond your imagination, including merging, compressing, adding subtitles, resizing, cutting, cropping, rotating, adding music, looping, flipping, reversing, muting, filtering, adjusting speed and more.
In addition, it also has many special tools, such as Meme Maker, Speed Video Maker, Stop Motion Maker, Slideshow Maker, DPI Converter, etc. What's more, it also gives you a huge media library and a separate tool for adding and adjusting audios.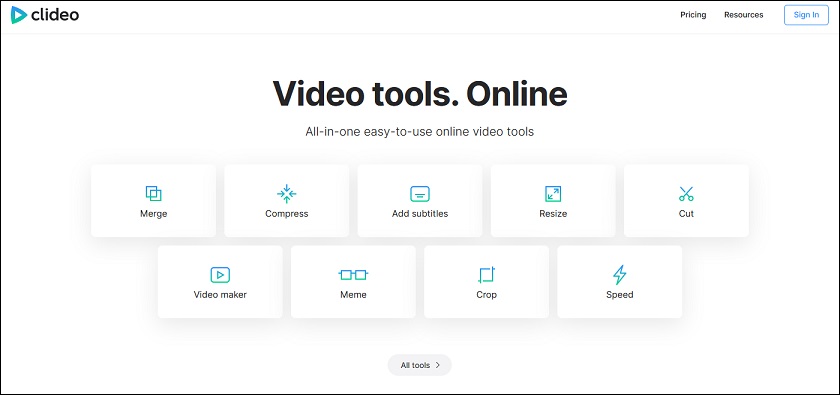 Lumen5
Lumen5 is an online video compilation maker designed to enhance your content strategy, thought leadership and brand awareness.
Its built-in media library supplies you with the various elements needed to create a perfect video, including millions of images, video clips, and audio files, which you can use to enrich your video.
It also uses artificial intelligence technology to help you convert your article into a video, match your article content with the video layout, and automatically add suitable music and visual effects to the video. To a certain extent, the automation of artificial intelligence greatly improves your work efficiency.
Additionally, Lumen5 also supports you to use various templates and customize unique fonts, colors, logos, watermarks, etc. in the video.
Promo
Promo is an online video editor that tends to make professional video advertisements, social media videos, product videos, corporate promotional videos, commentary videos, and marketing videos.
It provides you with more than 100 million high-quality photos and videos from Getty Images and iStock, as well as video templates suitable for major social media such as Facebook, Instagram, YouTube, etc. This greatly saves the time you spend looking for video materials and templates.
You can freely access footage covering the latest real-time events, trends, shows, fashion, news, celebrities, etc. Follow the time on major social media platforms anytime and anywhere.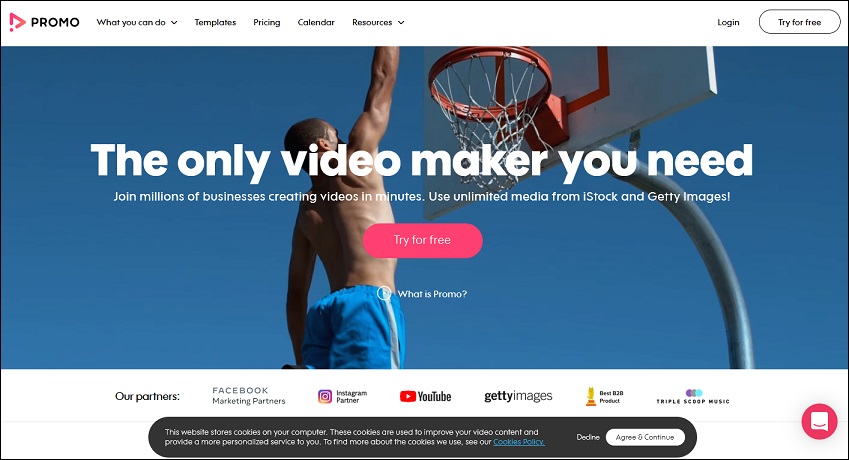 LightMV
LightMV is a video compilation maker that can be used online without downloading and is suitable for Windows operating systems, Android, iOS, and various web browsers. Its interface is very simple but the functions are quite complete.
The most remarkable thing about LightMV is that it provides you with a large number of professional, fresh and modern video templates, allowing you to make a wonderful video by just importing video clips and making small modifications.
Moreover, it also uses unlimited high-definition creation technology, allowing you to easily obtain high-definition video resolution. At the same time, you can also upload videos in full HD quality directly to Facebook and Twitter.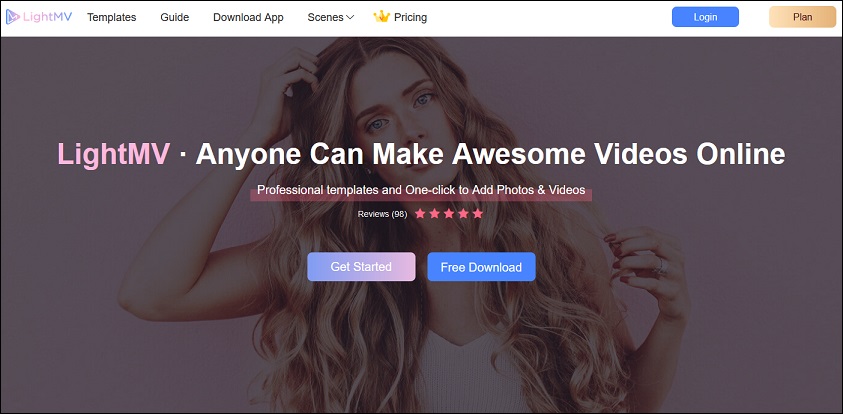 WeVideo
You can use WeVideo to easily create your own videos for brand awareness, friends and family, the classrooms, marketing campaigns and social media.
On the business side, you can increase your product sales and promote your brand awareness through beautiful videos. In terms of education, the videos you create can help you stimulate students' creative expression and participation. In terms of life, amazing family movies allow you to share happy moments with your family all the time.
You can make videos on Windows, macOS, Chromebook, Android and iOS operating systems and edit them anytime and anywhere. And you don't need to download or install software, you can get unlimited media storage space.
WeVideo gives you more than one million stock media, including images, videos and music tracks. You can add green screens, edit videos with zero upload waiting time, and export videos in multiple formats. Moreover, you can directly post your videos to YouTube, Instagram, Facebook and other social media channels.
Chipchamp
Chipchamp is an online video editor that you can access it using Google, Firefox, Mozilla and Safari browsers. You can choose different types of images, videos, and background music from its media library, or you can import photos, videos, and audio from your mobile phone and popular cloud storage services, such as Google Drive and Dropbox.
Whether you want to make social video advertisements, company slideshows, movie presentations or wedding videos, it supplies you with professional templates to inspire you.
In addition, it also provides a variety of video editing functions, such as video compression, video collection, video conversion, and video recording. These proprietary technologies not only save you a lot of time and energy but also greatly improve your video editing experience.
This article makes an introduction about how to make a compilation video and recommends some popular video compilation makers to you.Click to Tweet
Bottom Line
After reading this article, I believe you have a basic understanding of how to make a compilation video. If you want to try this, you can also download the above video compilation makers to make your own compilation videos.
If you have any questions or want to share other video compilation maker apps, you can contact us via [email protected] or leave your recommendations in the below comments area.