What Is an Unboxing Video?
An unboxing video is a video that films yourself opening items for the first time. Unboxing Videos are popular on YouTube. When a YouTuber opens a box, he/she will express his/her feelings about the item or point out the product's pros and cons. Initially, the unboxing video focused on fashion and high technology products, but now, unboxing videos can be on various kinds of products like beauty, food, clothing, toys, and more.
Why do people love unboxing videos? Why those unboxing videos are so prevailing on YouTube? People like unboxing videos for they are curious about new products. These videos can give people some ideas about whether to buy something or not. Children are also curious about unboxing videos because they can enjoy the fun of buying new items. At the festival, unboxing videos can give people ideas on giving a gift. Likewise, recording other people to unbox your gift is also a kind of unboxing video.
If you are hesitant about making an unboxing video, the following points can give you reasons to make an unboxing.
The Benefits of Unboxing Videos
1. Develop Customers
If you are a brand owner, unboxing videos can help you to grow your brand and generate a lot of revenue for your products. The more customers you have, the more likely they are to buy your products and recommend your products to their friends and family.
2. Retain Customers
If your unboxing videos can accurately and objectively point out the pros and cons of a product, you will gain the trust of your customers. People will stick around to watch your videos, which increases the likelihood of people buying your product. It is a good way to retain your customers.
3. Attract Brand Sponsors
If you are a YouTuber, making an unboxing video can be a great way to improve your niche on social media platforms. When you have a large number of subscribers, some sponsors may give you free commodity samples to unbox. If you can bring more customers to the brand, the sponsor may pay you for advertising. Other companies may begin to approach you for future cooperation.
4. Attract Influencers
If you are doing well in unboxing videos, other YouTubers may want to work with you. They may want to make a video with you to increase the number of followers of both parties. If more and more people want to be your partner, congratulations, your video will go viral.
If you decide to do an unboxing video, you need to know how to win more viewers. In the following section, we will give you some tips for making an unboxing video.
Tips for Making an Unboxing Video
If you are a green hand in unboxing videos, you can practice by recording videos with your phone. When you become experienced, you can buy some professional equipment to shoot videos.
1. Choose an Unboxing Niche
You can make an unboxing video for any kind of product, but once you've picked a niche, you'd better stick to it. Otherwise, you will lose your niche marketing. For example, if you gain some followers by unboxing makeup products, you can't switch to unboxing toys because those changes will hinder the growth of your followers.
Figure out which niche to choose is very important as it will determine the direction of your future videos. You can choose a niche in terms of your interests or advantages. If you are good at OOTD, you can unbox popular clothing and accessories to attract followers.
2. Find an Appropriate Shooting Place
To make your unboxing video attractive enough, you'd better choose a suitable place to shoot the video. If you are making a food unboxing video, red or yellow lights must be the best choice. If you are creating an unboxing video of makeup products, you should choose a place with soft lights.
3. Accurately and Objectively Express Your Feelings
Narration can make or break a video when you do an unboxing, so the narration is very important to a video. If you can express your ideas clearly and get some positive feedback from the audience, the video is a successful unboxing video.
If you're concerned that you're not speaking fluently in front of the camera, you can write a script before you shoot the video. If you are already an experienced YouTuber, you can speak directly, but you also need to pay attention to the logic of your speaking.
4. Control the Time of the Unboxing Video
If you think increasing the length of your video is a wise choice, you are wrong. People's attention spans are short. People are reluctant to spend a lot of time on a video. You should keep your videos accurate and brief.
If you want to enrich your video content, you can add some unboxing video ideas. For example, you can compare two identical products from different merchants for people to make a choice. You can combine other buyers' reviews with your opinion to express the product's performance.
5. The Right Time is Crucial
People are willing to watch unboxing videos before some major holidays like Halloween, Thanksgiving, and Christmas to prepare gifts for their friends or children. Therefore, September to November is the best time to post unboxing videos.
You might be wondering how to do an unboxing video. We are here to help you. In the following, we'll provide you with professional steps on how to do an unboxing video. Here we go! Let's take a deeper look at how to create great unboxing content for your channel.
How to Do an Unboxing Video with MiniTool MovieMaker?
Our operations are based on this app – MiniTool MovieMaker, so the first thing you need to do is download this app on your device.
MiniTool MovieMakerClick to Download100%Clean & Safe
After downloading and installing this app, double-click it and come to its main interface.
1. Upload the unboxing video you have recorded by clicking the Import Media Files button.
2. Click the + button in the bottom right corner of your target file to add it to the timeline.
3. Split or trim your file by clicking the scissors icon on the track toolbar.
4. Add transition, effect, text, motion, and elements by choosing the corresponding option at the top of the main interface.
5. Add music to your video by choosing the Music option in the left menu.
6. Change the contrast, saturation, and brightness with a slider in the Video Property section in the right panel of the main interface.
Meanwhile, rotating your file, changing the speed of your file, (Clicking the Speed icon in the track toolbar can achieve the same result.) fading in or fading out audio is also supported in the Video Property section.
7. Preview your video by clicking the Play icon in the bottom left corner of the Player section.
8. After finishing all your settings, click the Export option at the top right corner of the Player section to export your video.
There are a host of output formats like MP4, AVI, MOV, WMV, F4V, MKV, TS, 3GP, MPEG-2, WEBM, GIF, and MP3 to your PC.
You can also export your video to support the devices like iPhone, Apple TV, iPad, Smartphone, Nexus, Xbox One, Galaxy Note 9, PS4, and Sony TV.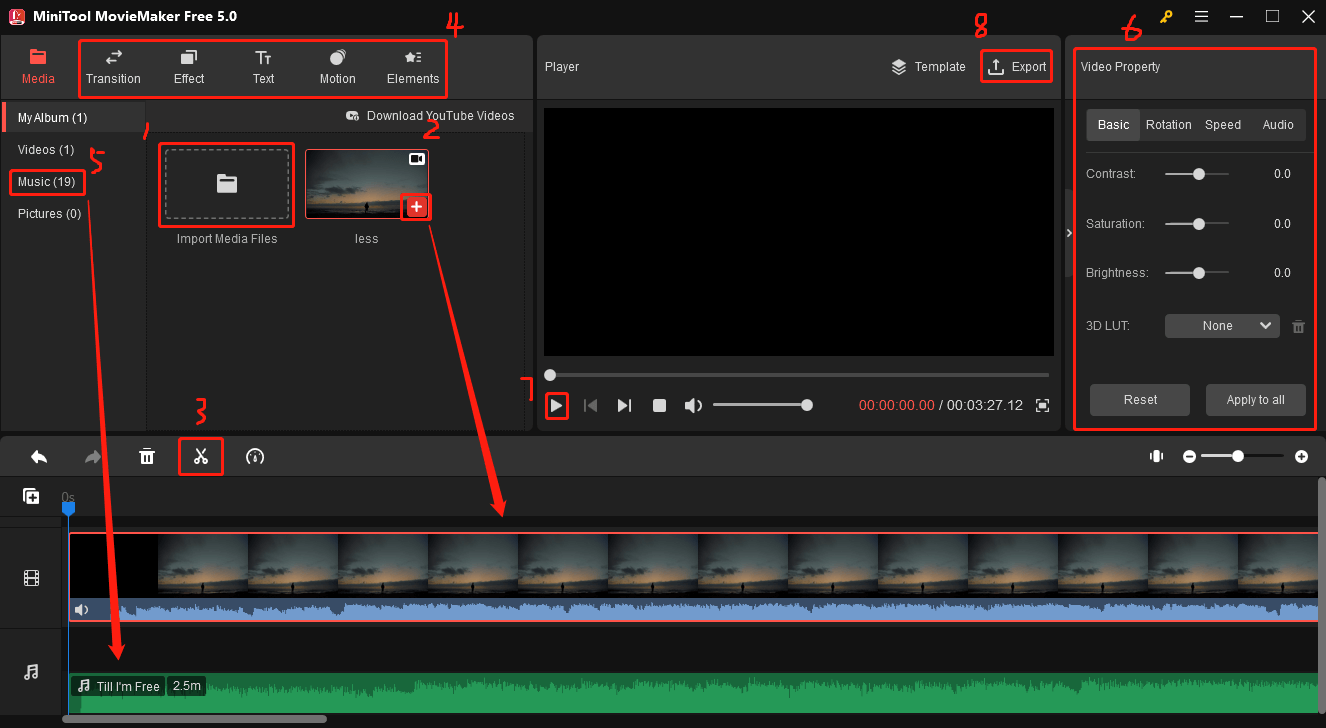 How to Make Money with Unboxing Videos?
If you know something about how to do an unboxing video, you must want to know how to make money with unboxing videos. Making unboxing videos is one of the best ways to make money. There are three ways to make money with unboxing videos.
1. Paid Advertisement
When you watch YouTube videos, you must have seen advertisements before or during the video. YouTubers get a lot of money for every 1,000 views of an ad video. If someone clicks on the ad and goes to the product's website, the YouTuber can get more money.
You need to enable the monetization feature and connect your account to a Google AdSense account, which allows you to make passive income from YouTube. You need to regularly upload videos to increase and retain your followers.
2. Brand Product Advertisement
When you reach a certain number of followers, many brands will send you free samples of their products to unbox. For example, if you are the owner of a beauty channel, lipstick or powder foundation companies might want their products to be featured in your videos. When you receive the package, you can make an unboxing video to promote the products.
3. Premium Content
When you have over 1,000 followers, you can join the ad-free YouTube Premium platform. You can charge viewers to access your content. You can charge for unboxing videos of some popular products.
Recommend Unboxing Channels on YouTube
 1. Austin Evans
Austin Evans has 5.31 million subscribers. Austin Evans' channel focuses on digital devices unboxing. Each of his videos attracts hundreds of thousands of viewers. If you are finding the latest mobile phone, gaming computers, and other technology products, Austin's channel is worth a visit.
2. Geekyranjit
Geekyranjit has 3.31 million subscribers. Geekyranjit is the first English technology channel in India. It is one of the most popular YouTubers in India. At first, Ranjit reviewed technology products on the website – Tech2buzz.com. However, people moved from PCs to mobile phones. Therefore, he created his YouTube channel where he unboxes gadgets and products, uses them, and comments on them.
3. Jacques Slade
Jacques Slade's channel is different from the others on the list we provide because Jacques is unboxing sneakers. His channel covers a wide range of topics. In addition to providing daily updates and reviews about sneakers, it also includes some videos about sports, music, entertainment, and technology. His most viewed video was when he visited Michael Jordan's house.
4. Ryan's World
Ryan's World has 32.7 million subscribers. Its videos show a young boy (Ryan) unboxing and playing with new toys. His videos are unscripted and rely on Ryan's actual reactions to the toy he just unboxed. If you have kids, this unboxing channel is recommended. However, you can see that Ryan has more toys than the average child. Therefore, you need to control the time that your child watches these videos for this may create unrealistic expectations.
5. FunToys Collector Disney Toys Review
FunToys Collector Disney Toys Review is an unboxing channel of toys, which has 11.1 million subscribers. The most popular video on this channel has been viewed more than 589 million times. It is the best unboxing video on this channel. The FunToys Collector Disney Toys Review channel is popular among toddlers, babies, and preschool children. It is a good channel for those kids who like Disney toys.
6. Unbox Therapy
Unbox Therapy has 18.2 million subscribers on YouTube. The owner of this channel is a Canadian YouTuber named Lewis Hilsenteger. Unbox Therapy is dedicated to reviewing tech products. While unboxing videos are the core of this channel, the wide range of topics covered by the channel is another factor that makes the channel popular. Lewis unboxes everything from high-end products to everyday gadgets that are useful and inexpensive.
Conclusion
That's all for how to do an unboxing video. If you get it, you can create an attractive unboxing video for your YouTube channel. Hope you can run a successful YouTube channel. For editing parts, you can use the MiniTool MovieMaker to make an appealing unboxing video.
If you have any questions about this post, please let us know via [email protected] or share them in the comments section below.