Do you know exactly where that amazing picture was taken? Sometimes you may forget that. With the help of geotag photos app, you can insert original place information within your image so that you can actually know where that particular photo was taken. This post will offer the 4 best geotag photos apps to store accurate photography locations.
Do you have many beautiful photos that you can't remember where they were captured? It can be frustrating trying to remember the exact location. Well, there is a solution to the problem – the geotag photo apps. Let's go through this post to find the best geotag photos software.
If you want to make short movies from these amazing photos, you can try MiniTool MovieMaker.
MiniTool MovieMakerClick to Download100%Clean & Safe
Geotag Photos Pro (Android/iOS)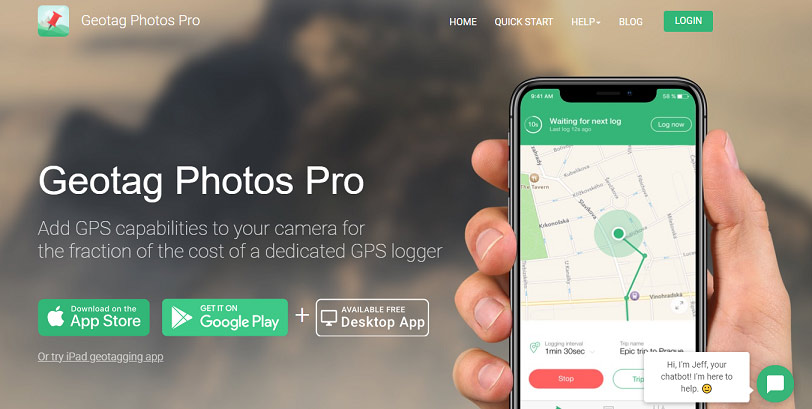 Geotag Photos Pro is one of the best geotag photos apps that record your position while you're taking great photos. It is a professional solution to almost everything related to photo tracking.
It will automatically record your GPS while you're taking photos with your phone camera. Or you can geotag photos with an external camera. As for the external camera, you may need to load the taken pictures to your mobile or get a desktop version of the app to get the geotagged photos data.
All your recorded routes can then be exported as a GPX file via Dropbox, email, or the web. GPX files from this app work flawlessly inside Lightroom's Map module for geotagging.
GeoTag (Android)
GeoTag is also an amazing geotag photo app that lets you create and view geotag on photos with high accuracy. It is unable to sync with DSLR cams, but you can add and edit geotags to any offline images stored on your mobile phone
With it, you can show and share your current GPS location, take photos and video while displaying real-time coordinates, altitude, and accuracy, add text and voice notes to your photos and display your photos with geotags on the map. Plus, you can export geodata as KML, CSV, or XLS files.
You may also like: Top 6 Best Photo Organizers to Organize Your Photos Easily
Pixelgarde (iOS)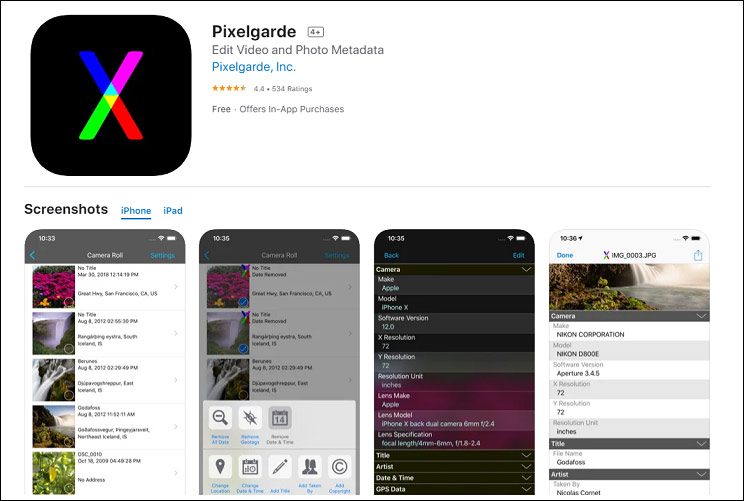 Pixelgarde is another great app that enables you to add, edit and organize geotags of the photos. It covers tags like GPS, date, time of the day, weather, copyright, titles, and more for better content management.
With this app, you can take pictures and record videos for automagical geo-marking. It also lets you view photos and videos with EXIF and IPTC metadata details, or use tile view to quickly scroll through large content libraries.
Plus, you can view all your photos and videos marked on a worldwide map, and you can save or share them on social media like Facebook, YouTube (video only), Twitter, Picasa, Flickr, Tumblr, and more. As for sharing, it lets you resize the photo to fit better and blur the private information and add a watermark to prevent the unlicensed use of your shots.
GeoSnap(Android)
GeoSnap is a different application on this list. It provides you with geo-filters for Snapchat. These geo-filters not only let you mark your location on snaps but also allows you to view restricted stories of other people. You preview the filter before using it. Once you're ready, you can post your picture right on Snapchat.
If the location you need is not in the filters yet, you can use the built-in worldwide map and tag yourself in any place needed. It also lets you use continent filters or view the most used tags right away.
Conclusion
To sum up, this post shares the top 4 geotag photos apps. With these tools, you will never encounter the frustrating problem of trying to recall the exact location of your photos.