Emoji photo editors make it possible to add stickers to photos, which seems very interesting compared with a single photo. Additionally, an emoji serves as a tool to hide somewhere you don't want to show. If you want to make a video montage with emoji image, try MiniTool MovieMaker.
Stickers can replace language to convey people's emotions humorously. Thus, pictures of emojis shared on social media also seem interesting to attract user's attention, which can be realized by emoji photo editors if you want to create an emoji image. Below are 5 free emoji photo editors to make you add stickers to photos easily.
5 Emoji Photo Editors
Kawping
Canva
Pizap
Insta Emoji Photo Editor
Emoji Photo Editor
Kawping (Online)
An online emoji photo editor is always an ideal choice, as they are easily available and web-based not to download any third-party software. Among them, Kawping is the best emoji photo editor that provides many emoji elements and emoji overlay templates.
Aside from being an emoji photo editor, Kawping is also a versatile video editor and a blank meme generator that possesses many excellent features that can be used to make your own video, GIF, memes, and so on. Moreover, it has provided a wide library of memes for you to freely customize photos, and you can add stickers to photos, overlay images.
Canva (Online)
Canva is a useful graphic design website that provides many kinds of templates to easily create an elaborate image, including album cover, emoji images, Facebook/Instagram posts, etc. Furthermore, there are many free elements for you to add on your images, including adding stickers, GIF overlay, adding background, applying effects, etc.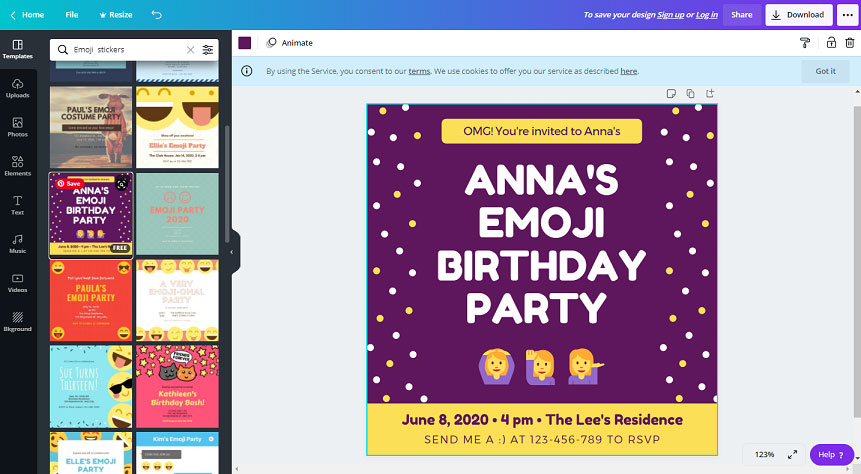 Pizap (Online)
Similar to Canva in a way of adding stickers, Pizap provides tons of stickers for your option to add to your photos. As a free online emoji photo editor, there is no doubt that Pizap is your emoji photo editor alternatives. Apart from adding stickers to photos, Pizap is also capable of making some great edits to your photos, like adjusting the size, rotating images, remove background, etc.
In all, Pizap can meet your other needs about designing pictures. However, it should be mentioned that it is not 100% free and it has a purchasing option if you need more advanced features.
Insta Emoji Photo Editor (iPhone)
From another perspective, recommending emoji photo editor for mobile phones may be virtually practical, as people get used to shooting and editing their photos on phone directly. If you are an iPhone user, Insta Emoji Photo Editor worth installation considering that it has a high rating in App Store.
It is a specialized emoji photo editor, whose icon is an interesting sticker. And it's very easy-to-use and user-friendly. All you have to do is upload a photo and then use oceans of stickers to decorate it. There are over 3200 emoji images to add and other features to allow you to add text, filters, overlays.
Emoji Photo Editor (Android)
Available on Google Play Store, Android users can get the Emoji Photo Editor app. Using it, you can edit your selfie with free emoji background, emoji face, heart crown effect, flower crown, dog face camera, cat stickers, etc. it provides.
Besides, it won't damage your photo's quality after editing, and you can save your emoji photo with full HD quality. And it supports sharing on social networking directly or saving as a wallpaper.
Bottom Line
Using emoji photo editor to edit your photos is a good way to distinguish yourself on social media platforms. Thus, you can use the above-recommended emoji photo editors to add stickers to photos, which is really 100% working.
If you have any questions or suggestions about it, please feel free to contact us via [email protected] or leave your comments in the below section.