Using an interesting anime avatar in social media is one way of raising the attention of your profile. The list of best anime avatar makers can help you create an amazing anime avatar. According to the platform, the below anime avatar makers have been categorized clearly.
Since anime characters are always cute, young, and idealized, using an anime face as the avatar becomes popular recently. These recommended great anime avatar creators can help to create your own anime character as you expect, such as turn your photo to cartoon free, create a whole anime character more than the face.
If you want to extract a video clip to share on social media from your interested anime episode, MiniTool MovieMaker can help you.
7 Best Free Anime Avatar Makers
Kusocartoon (Online)
Cartoonize.net (Online)
Sp-Studio (Online)
Zmoji (Android/iOS)
Anime Avatar – Unique Character (Android)
SuperMii (Android)
Avatar Factory (iPhone)
1.Kusocartoon (Online)
If you are searching for a cartoon avatar maker that can cartoonize a photo, the website Kusocartoon would satisfy your needs. Utilizing this cartoon avatar creator, you can turn your own photo to cartoon avatar for free. It must be amazing when Kusocartoon cartoons your selfie, full-length body photo, or scenic photo.
Besides, it offers different filters to your anime avatar, and you can adjust the color, saturation, and brightness of your avatar. It also supports the export of cartoon avatar in JPG or PNG format. But you should note that the maximum photo size is just 5MB.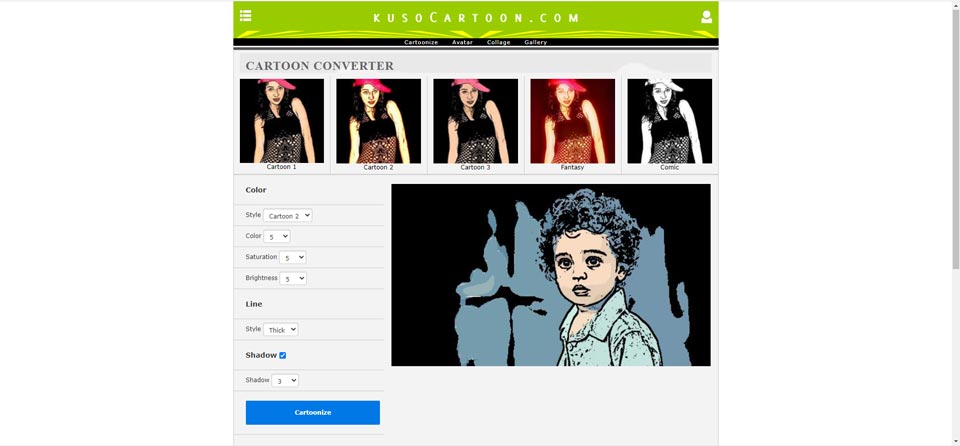 You may also like: Top 10 Best Cartoon Makers of 2020 (Desktop/Online/Mobile)
2.Cartoonize.net (Online)
You can perfectly cartoon yourself on the website Cartoonize with a wide range of excellent elements for customization. As an excellent anime avatar maker, it provides you with many kinds of effects, filters, text styles, fonts, and other clip arts to customize your anime avatar. You can add a hat on your head, change the background, and use other types of eyes.
Note: Its online tool is available for free, while you should pay for its desktop software.
3.Sp-Studio (Online)
If you are crazy about South Park, Sp-Studio would help you create anime character avatar of South Park. It's so funny that you customize the character Kenny with a mid-century wig or a COVID-19 musk. Otherwise, there are other funny tools for you to dress up the character in South Park and then put your work as an avatar.
4.Zmoji (Android/iOS)
If you want to directly make an anime avatar on the mobile phone, Zmoji is both available for Android and iPhone. It has many amazing features that let you customize anime avatar after cartooning your selfie. You can change your hairstyle, eyes, nose, lip color, etc. in your anime avatar.
As a mobile anime avatar maker, it is convenient for users to easily make a cartoon avatar, without uploading photos to the computer. It also offers free website service and sent your anime avatar to the mailbox.
5.Anime Avatar – Unique Character (Android)
As the top anime character creator in Google Play, it has many famous Japanese anime characters for your option. When you launch this app, it can match a Japanese anime character for you in accordance with your personality. Furthermore, you can choose one to represent yourself, and then edit it as your anime avatar.
6.SuperMii (Android)
SuperMii is Android users' other choice. If you want to make a cute girl/boy anime avatar, you can utilize SuperMii. This anime avatar maker offers lots of extra material and interesting stuff that could be applied to your anime avatar. Based on the Japenese animation concept, SuperMii makes efforts to create a comic anime style.
7. Avatar Factory(iPhone)
If you are interested in the cute young girl in Japanese animation, Avatar Factory is suitable for you. There are so many comic young-girl presets and other accessories for you to make cute anime avatar. It offers a diverse array of hair and clothes to try on so that you can create a special avatar.
Bottom Line
These 7 best anime avatar makers in 2020 can be used right now to create your own anime character.  With the above cartoon avatar makers, you can both choose your own selfie to turn into an anime avatar or create a new anime avatar to apply to your social media profile picture.
If you have any questions or suggestions about it, please let us know via [email protected] or share them in the comments section below.