A special album cover tends to impress the audience or customers from the first glimpse, and album cover art is the key to reveal the inside music. You may wonder how to make an amazing album cover without design and image editing experience. The below will recommend 5 free album cover makers with oceans of templates to help you.
Even you don't need to make album cover, you can create an amazing cover for your Spotify playlist because they are both in square format (1:1 ratio). The difference between them is just the resolution that the album cover has higher requirements. If you want to make a slideshow or video to display your works of album cover art, MiniTool MovieMaker will help you.
Top 5 Free Album Cover Makers
Canva
GraphicSpring
Fotor
UnderCoverXp
Membrane
Free Album Cover Maker Online
The below are 3 free online album cover makers that all provide a numerous collection of cover templates to help you create an awesome album cover. Besides, they are available for any platform, without installation. In other words, they are portable and convenient.
1.Canva
Canva is a free album cover maker that enables you to make album cover easily. This online tool offers a wide range of templates for users. You just need to choose one and edit the text to finish an album cover quickly. Of course, you can upload your own image to edit with the help of many useful elements it provides.
Moreover, if you want to customize the template, there are many optional features, anime, fonts, and frames for you to add to the template. And you can also add some short videos to it to create a motional effect, and change the album cover size. Furthermore, it supports downloading in various formats, JPG, PNG, PDF, etc. and without the watermark in your output work.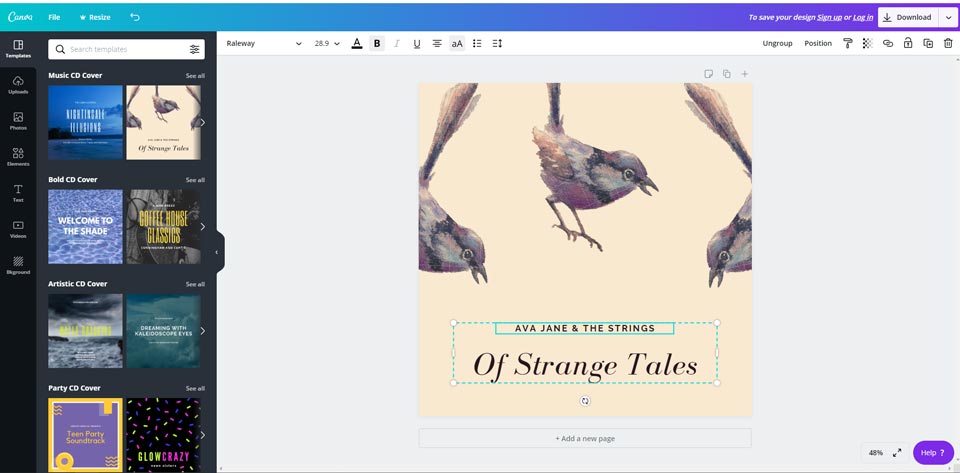 2.GraphicSpring
Featuring the band and the music, GraphicSpring can make your album or CD avoid cluster and heavy effect to create an organized and contemporary design. There are some optional templates for you to customize further. Besides, this free album maker offers various text layouts and fonts that you can put it in a proper place.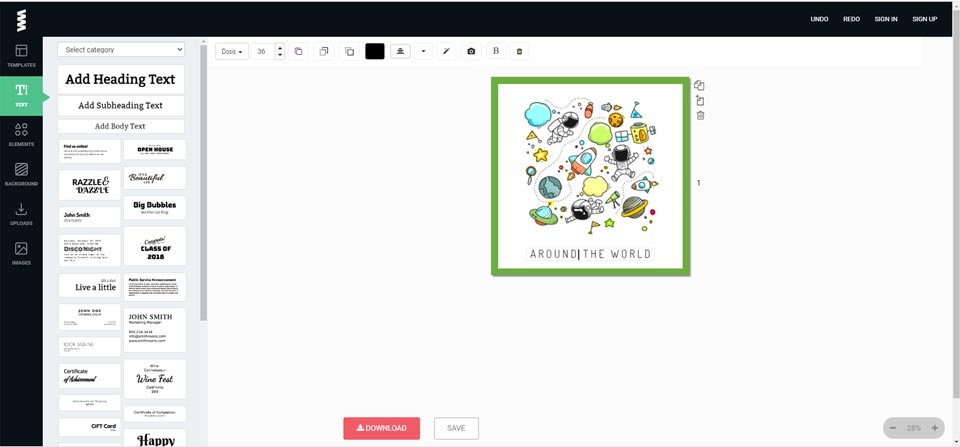 3.Fotor
You can find different styles of design in Fotor's website. Apart from album cover templates, it also provides other kinds of templates for different uses, such as poster, social media cover, business logo, etc. Some templates are free-to-use, while others should be paid.
When you would like to make album cover, choose one template that fits with your music genre, and customize it using various free tools. Until you have made an attractive album cover, you can preview it to check its size and save it in an appropriate format.
Free Album Cover Maker on Desktop
For Windows/Mac OS users, owning a desktop album/CD cover maker can help you manage your CD collection with a recognizable album/CD cover. Here are two recommended album/CD cover makers.
4. UnderCoverXp(Windows)
Available for Windows series, this free CD cover maker has an intuitive interface and many excellent features to help make album cover easily. CD, DVD, album cover can all be made in this software with many optional templates. Furthermore, it supports making cover in bulk and is a good choice to print your own CD cover.
Besides, it supports different languages, including Russian, Greek, and French. And it remains updating to fix bugs, promote the interface design, and optimize functions.
5. Membrane(Mac)
As a decent album cover maker, Membrane is designed for Mac users to create album cover quickly, which is also embedded with excellent tools to help you. Its stylish interface perfectly fits the Mac OS style, and its template library is diverse. Choose one template and the platform when outputting, and the software will automatically fit the output into the platform.
To customize the template, you can insert some presets to your cover, adjust the text size, and add fonts. Other embellished border or gradient color can also enhance your album cover.
Related article: Solved – How to Add Album Art to MP3
Bottom Line
These recommended free album cover makers can all serve your purpose of making a stunning album cover. According to your platform, you can choose one to start your album cover making journey!
If you have any questions or suggestions about it, please let us know via [email protected] or share them in the comments section below.