A DNG file is a lossless image format with metadata about the image and camera details. It is developed by Adobe Systems as a standard for digital photography. This post offers the 4 best DNG file editors for you to apply editing to DNG photos easily.
To modify DNG photos, you will need to choose a compatible editor that supports the format. What is the best DNG file editor? The following part covers the 4 best DNG editors for your PC and mobile phone. Let's look at them one by one.
If you want to create a short video from images or edit your videos, MiniTool MovieMaker is the top recommendation. It is totally free and simple to use.
MiniTool MovieMakerClick to Download100%Clean & Safe
Adobe DNG Profile Editor
Developed by Adobe Systems, Adobe DNG Profile Editor is a free DNG photo editor for Windows. It allows you to work with one DNG photo at a time. You can use the dedicated menu and further enhancement tools to manipulate the DNG image.
There are four main editing sections on its interface. Profile management allows you to edit, import, and export your images. The color tables let you adjust the hue, saturation, and lightness of your DNG photo. If you want to adjust the tonal values of your DNG image, then you can do it through tone curve and color matrices.
Fotor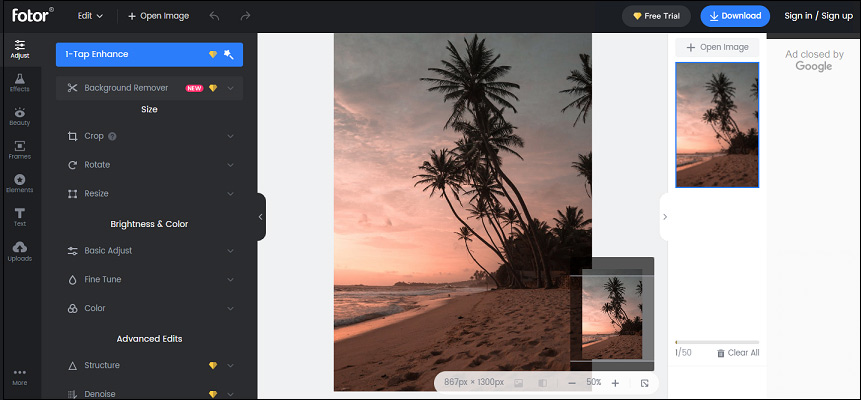 Fotor is also one of the best DNG file editors that enables you to edit DNG photos. It is a cross-platform photo editor that provides different tools to deal with the DNG image. You can install it on your Android and iOS devices or PC. It also offers an online version to edit the DNG photo.
You can crop, rotate, resize, flip the DNG photos, apply effects, and much more. It also has stickers, frames, fonts, backgrounds, mosaic, stock photos to enhance your creation.
Apart from editing operations on the DNG photos, it is also an easy-to-use graphic design tool. With it, you will also access powerful features for photo collage, stunning photo effects, creative design templates, and advanced design resources.
Able RAWer
Able RAWer is one of the best free DNG editors that allows you to edit DNG photos on Windows. It is a simple software that integrates many useful options for manipulating DNG files. Many DNG image adjustments can be performed on its image menu. For instance, you can rotate, resize, crop, add effects, change the contrast and saturation, adjust color and brightness, and even change the exposure and white balance of the DNG photo.
More than just editing, it also supports image format conversion. You can export your final result DNG image to different popular image formats such as JPEG, PNG, TIFF, BMP, and more.
Adobe Photoshop Lightroom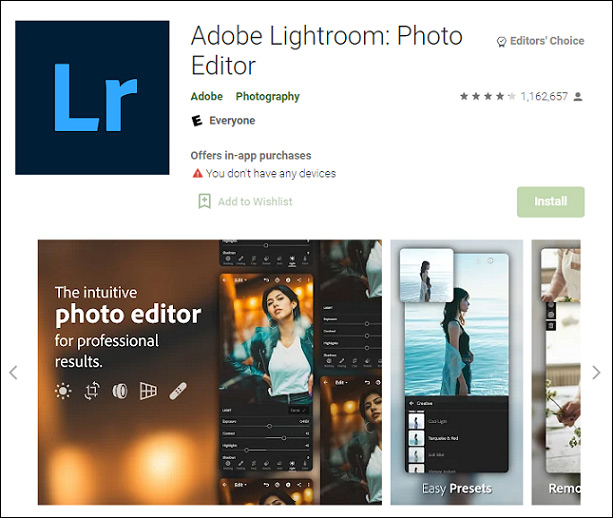 Adobe Photoshop Lightroom is also from Adobe Photoshop which lets you edit DNG photos on Android and iPhone like a pro. With the built-in presets and powerful image editing tools, you will experience the simplified editing process with the help of AI technology.
It enables you to adjust the light and color, apply filters and presets to pictures just by tapping and moving the sliders. You can retouch and apply enhancements to any part of your DNG image with advanced editing tools.
You can also achieve stunning effects with advanced color grading and import your own graphical watermarks. It also features unique camera controls that allow you to take a photo with exposure, timer, instant preset, and more.
Conclusion
To sum up, this post recommends the 4 best DNG file editors for you. These DNG editors offer you many useful editing tools.  If you know some other software to edit DNG photos, you can share your ideas and let me know in the comments area below.