This post from MiniTool MovieMaker explains 8 methods to fix Canva something went wrong errors when using it on a browser. 
Canva is a popular online graphic design tool for creating social media posts, posters, logos, videos, presentations, editing photos, and more.
Some users said when they use the web Canva app, they received an error message saying Sorry, something went wrong (500). This error may occur when you log into your account or when Canva failed to load or save your project.
Currently, there's no specific reason for Canva something went wrong 500 error. If this bothers you occasionally, you can try out the following methods to fix the problem.
These ways also apply to other issues you may have when using Canva on the browser, including Canva sorry, something went wrong (503) or Canva download something went wrong errors.
#Way 1. Check the Status of Canva Server
If you have problems when accessing or using Canva, firstly, you should go to the status page to check if there's any reported issue.
If Canva's servers crash sometimes, this may cause errors like something went wrong 500, or 503.
To check Canva's server status, open your browser and search for Canva server status, and then open the official Canva Status website.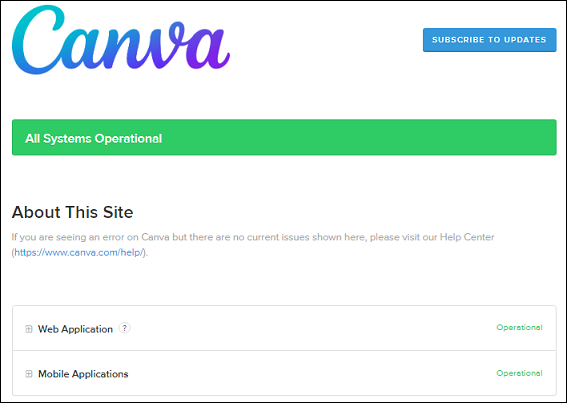 From this page, you can check the status of the Canva website and mobile app. Click Operational to see the status of individual items like image uploads and design downloads.
If everything is optional well but you still have problems, try the following ways.
#Way 2. Check Your Internet Connection
To use Canva on your browser properly, make sure your network connection is stable. You can troubleshoot possible network issues with the following tips.
Reconnect your network, use another network, and disable or enable your VPN service.
#Way 3. Update Your Browser
Another fix for Canva something went wrong errors is to update your browser. Canva is compatible with many browsers including Chrome, Firefox, Safari, Microsoft Edge, and Opera.
You can update your browser to the latest version to fix the problem and ensure that JavaScript is enabled. Here we take Google Chrome for example.
To update Chrome, click the three vertical dots in the top right corner, choose Settings, and click About Chrome. It automatically detects and installs updates for your Chrome browser. Then relaunch Google Chrome.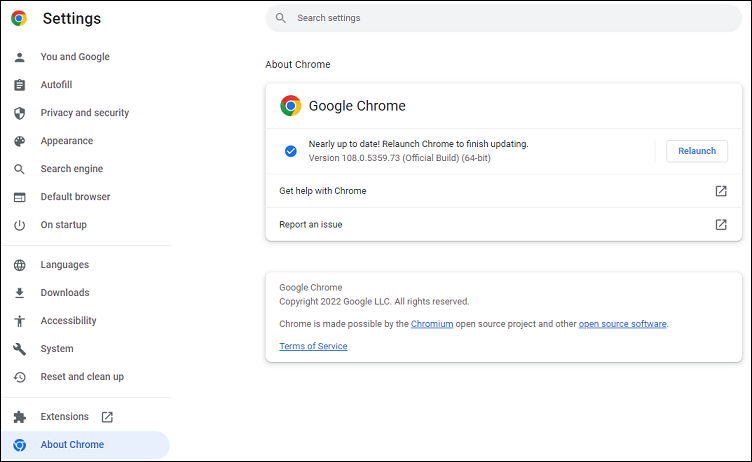 #Way 4. Clear Browsing Data
Too many cookies and cache files will affect the performance of your browser. You can clear the browser data to troubleshoot Canva 500 internal server error.
We also take Google Chrome as an example.  Click the three vertical dots in the top right corner, choose More tools and Clear browsing data, select the time range and check the boxes to clear, and click Clear data. Alternatively, press Ctrl + Shift + Delete.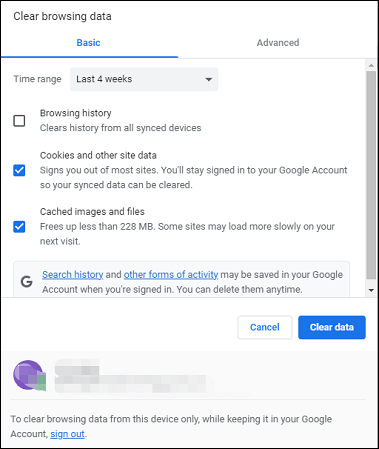 #Way 5. Disable Extensions
If you still encounter problems using Canva, try to disable the extensions and plugins you've installed.
Click the three dots icon, select More tools > Extensions, and drag the toggle to disable the extensions.
#Way 6. Log out and Log into Your Canva Account
Also, you can sign out and resign into your Canva account to fix something went wrong error on Canva.
#Way 7. Try a Different Browser
Canva web app works on many modern web browsers. If it's still not working on your current browser, try another one to fix the issue.
#Way 8. Use Another Tool Like Canva
If the above solutions don't solve your Canva 500 internal server error, you can try a Canva alternative like Adobe Spark to restart your creation.
If something went wrong error happens when you use Canva to edit videos, you can try other video editors like MiniTool MovieMaker to edit and create amazing videos.
Canva Download for Windows, Mac, Android, iPhone
In addition to the Canva web app, Canva also offers separate apps for Windows, Mac, Android, and iPhone.
Canva download for Windows desktop app: https://www.canva.com/download/windows/
Canva download for Mac: https://www.canva.com/download/mac/
Canva for Android: https://www.canva.com/download/android/
Canva for iOS: https://www.canva.com/download/ios/
Conclusion  
That's all about the fixes for Canva something went wrong errors. If these methods fail to solve your problem, you can contact Canva for help.