For those who love singing, Karaoke is one of their favorite activities. If you want to sing on some Karaoke apps of Android and iPhone, you've come to the right place. Just check the list of the 7 best Karaoke apps in this post.
Karaoke is a very popular interactive entertainment. And people always love Karaoke parties where they can sing songs with friends. Sometimes, you may want to sing at home with some mobile apps. Thus, this post will describe the 7 best Karaoke apps for Android and iPhone.
Tips:
Try MiniTool MovieMaker to add your favorite song to your video, and you can fade in and fade out this song. 
MiniTool MovieMakerClick to Download100%Clean & Safe
#1. Smule
Smule is the first recommend Karaoke app for Android and iPhone. It offers over 10 million songs and allows you to sing solo or in a duet or group, sing a cappella, or just enjoy another singer's show, etc. And it also lets you sing live with others, record your vocals and add music recordings to your video to make music videos. More importantly, this Karaoke app offers studio effects to polish your song recordings.
#2. Karaoke by Yokee Music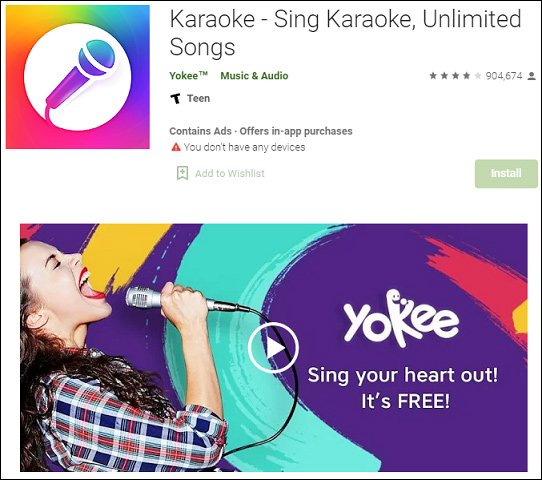 It's also one of the best free Karaoke apps to sing Karaoke with friends. This app features unlimited songs from various genres and themes. Once you sing, it will start recording your, and you can add voice effects if you like.
Also read: 4 Websites to Download Public Domain Classical Music
#3. StarMaker
StarMaker is another best free Karaoke app for Android and iPhone. As one of the best singing apps, StarMaker offers millions of songs from a variety of types, including many hit songs like Stuck With U, Someone You Loved, Dance Monkey, and more.
Also, it provides many voice effects to help you record your singing and also lets you record and edit your selfie music videos. And this Karaoke app has a large community of music lovers where you can find friends who love singing.
#4. The Voice – Sing Karaoke
The Voice is also taken as one of the best Karaoke apps for iPhone and Android. It has a huge library of songs for you to sing Karaoke for free. Also, it has the ability to record your singing with amazing voice and visual effects. And it also lets you duet with other singers and create amazing covers with them.
#5. iSing
iSing is another best singing app. It offers thousands of songs of high quality and supports full-screen Karaoke for singing. And you can browse by category to find your favorite songs. Besides, this app allows you to record covers and publish them on your profile and watch recordings from other users.
Also read: Top 7 Voice Changers for Discord in 2022
#6. Karaoke Online
Karaoke Online is another best free Karaoke app for Android, helping you sing and record songs easily. This singing app has a lot of songs, including many new songs. It lets you sing Karaoke online with video. Once finished, you can add effects to your recordings like echo and reverb.
Also read: Top 6 Best Places to Buy Music Online
#7. Sing Karaoke
Sing Karaoke is one of the best Karaoke apps for iPhone. It features a song category library to help you explore your favorite song. With lyrics, you can sing in sync. When you sing with friends, this app also lets you record yourself alone.
Conclusion
That's all about the 7 best Karaoke apps, and most of them are free with in-app purchases. If you'd like to recommend other Karaoke apps, just leave them below.