Public domain music is legal and free to listen, download, and use, and it's without copyright restrictions. Sometimes, you may need to add a piece of classical music to your video. But many tracks are copyrighted. Where to find public domain classical music for videos or just for listening? Here we provide 4 places.
Many music streaming services and websites that offer a large of music tracks and songs, but not all of them are free and can be used for other purposes. Thus, this offers 4websites where you can explore public domain classical music and many other types of music. Want to add the downloaded music to a video? Try MiniTool MovieMaker.
MiniTool MovieMakerClick to Download100%Clean & Safe
4 Public Domain Music Websites
Musopen
Open Music Archive
FreePD
International Music Score Library Project
#Musopen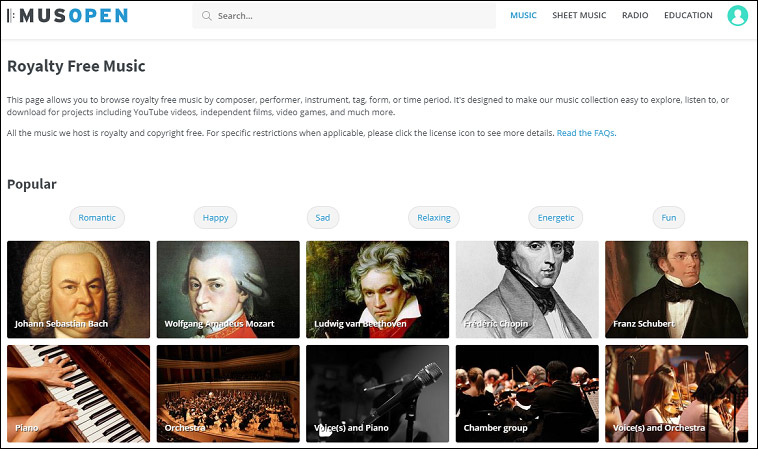 If you'd like to find public domain music tracks, you must try Musopen. It has a large collection of royalty-free music and allows you to filter them by composers, instruments, periods, moods, length, ratings, licenses, and quality. After registration, you can download a piece of music in MP3 format for free.
In addition to public domain classical music recordings, Musopen provides 100,000 classical sheet music PDF files that are free and in the public domain as well as textbooks and music education materials. Besides, it offers a mobile app available on phone, tablet, and Apple TVs to enjoy free streaming of classical music radio.
Also read: 4 Best Free Places to Watch and Download Public Domain Movies
#Open Music Archive
Open Music Archive is also a free public domain music site and a good place for public domain classical music. This website is aimed at acquiring, digitizing and distributing recordings that are not protected by copyright.
Compared with Musopen, Open Music Archive does not offer multiple filters, but it allows you to browse for recordings by tags. You can download the available music recordings for free as an MP3 without an account.
Want to download slideshow music? Read this post – Top 6 Websites to Download Slideshow Music (Free and Paid)
#FreePD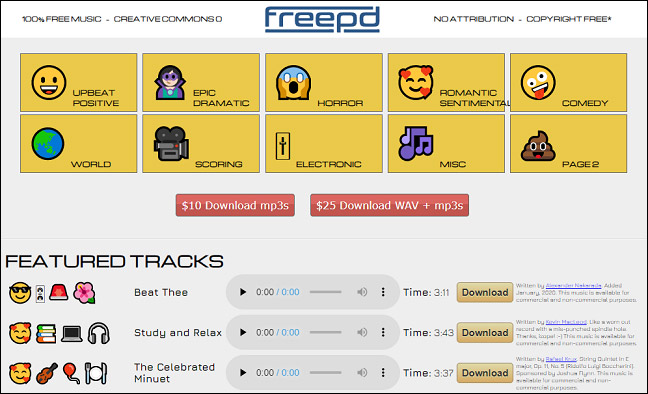 FreePD is another public domain music website that offers interesting music types. All songs on this site are copyright-free and can be previewed before downloading. And you're allowed to download songs for free in MP3 without registration. But it has no search function.
If you want to download MP3s in bulk on the FreePD website, you need to pay $10. And it also costs some money if you want to download a song in WAV format.
Also read: Top 6 Best Places to Buy Music Online in 2022
#International Music Score Library Project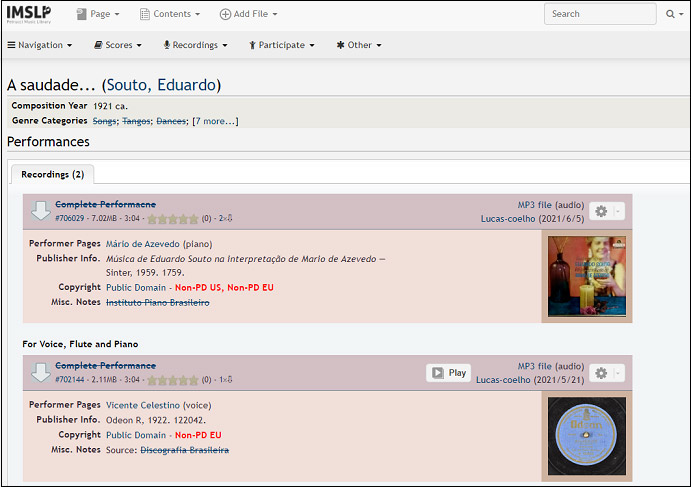 International Music Score Library Project is also one of the best public domain music websites, offering thousands of music recordings. And it allows you to browse by composer and performer name to find the desired recording. Also, it provides commercial recordings, but you'd better read the disclaimer before downloading.
And this site also offers various music scores and lets you search by composers, time period, nationality, instrument, etc. All visible public domain music recordings and scores on this site can be downloaded for free with waiting periods. To avoid it, you need a membership. The standard subscription plans include $2.99/month and $28/year.
Conclusion
With the 4 websites, you can easily find public domain classical music. Before downloading, you'd better check out related information because public domain and copyright laws are complex and can change sometimes. And this post is for personal fair use only.
If you'd like to share other public domain music sites, you can leave them in the below comments area.