Adding high-quality music to your podcast will make it more charming. There are many great websites where you can download free music for podcasts. Of course, you can also add these downloaded free music clips to your videos with MiniTool software.
Since the podcast is an audio-based platform, adding music and sound effects into your podcast is significant. In this article, we will introduce 10 resource-rich websites for you to download free podcast music. Without further ado, let's get started!
10 Best Sites to Download Free Music for Podcasts
Free Music Archive
Incompetech
Free-Stock-Music
YouTube Audio Library
SoundBible
Freesound
Silverman Sound
Audionautix
Purple Planet
Internet Archive
1. Free Music Archive
Free Music Archive is the No.1 resource for free music and royalty free music for podcasts. It collects music from hundreds of artists around the world, and you can legally use them for podcasting.
2. Incompetech
Incompetech is one of the older and well-known royalty free music sites. The site has hundreds of different types of songs to choose from. As long as you give credit, you can freely use any music on the site for your podcast.
Related article: Top 10 Best Royalty Free Classical Music
3. Free-Stock-Music
Free-Stock-Music is an excellent site to download free music for podcasts, blogs, vlogs, YouTube videos, etc. It provides hundreds of free tracks in a range of genres and the majority of the royalty free music on this website is released under Creative Commons Licenses.
4. YouTube Audio Library
Most people do not know that YouTube provides a large amount of royalty free music available for use. YouTube Audio Library provides millions of free music and sound effects options for podcasts, which can be filtered based on Genre, Mood, Instrument, Duration, and Attribution.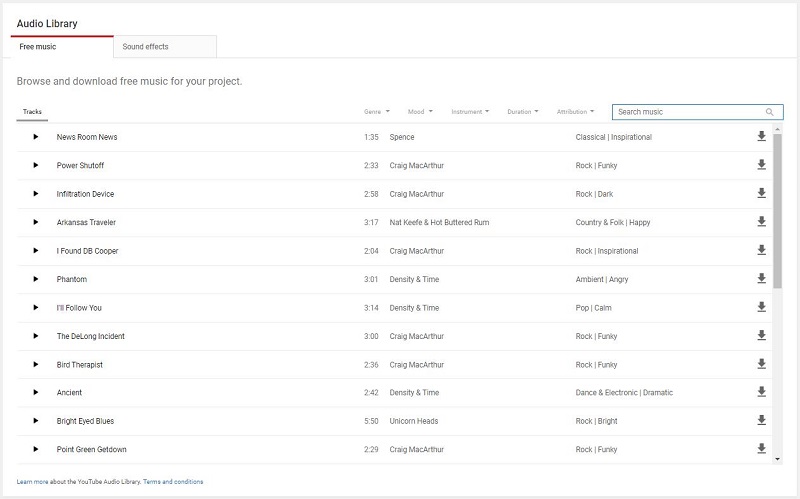 5. SoundBible
SoundBible is also an option to download free music for podcasts. However, unlike other sites on this list, it only offers sound effects. You can download free sound clips for podcasts, videos, and movies in either WAV or MP3 format.
You might be interested in: Top 8 Unblocked Music Sites
6. Freesound
Founded in 2005, Freesound aims to create a huge collaborative database containing audio clips, samples, recordings and sound effects released under the Creative Commons license to allow them to be reused.
7. Silverman Sound
Silverman Sound is another best royalty free music library. You can find the appropriate free music for podcasts, videos, games, movies, advertisements, and YouTube here. And it allows you to easily filter and preview tracks to find exactly what you need.
8. Audionautix
All music clips on Audionautix are composed and produced by Jason Shaw. The music is royalty-free and completely free. As long as you provide credit, you can download and use them, even for commercial purposes.
Related article: Top 10 Free Music Ringtones Review & Download
9. Purple Planet
Purple Planet is a collection of music written and performed by Chris Martyn and Geoff Harvey. The site has a large number of easily searchable music tracks. It also provides bundles if your podcast has a continuous or seasonal theme.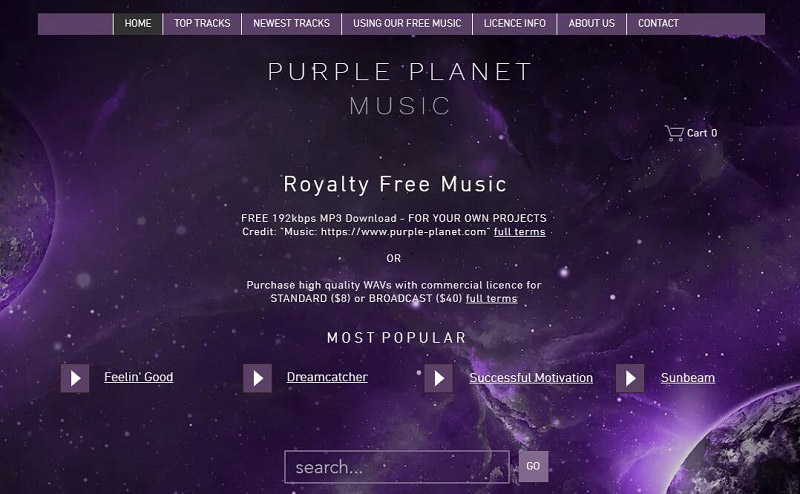 10. Internet Archive
Internet Archive contains more than 2 million free digital audio files. It not only provides you with free music but also provides audiobooks, podcasts, radio shows, and live music. You can quickly find the music you need based on the release year, creator, language and other filters.
Bottom Line
10 best sites for downloading free music for podcasts have been discussed above. When you decide to download music from any of them, just be sure to take a close look at the license.
If you have any questions or suggestions about it, please let us know via [email protected] or share them in the comments section below.