When it comes to amazon music vs apple music, we know both of them are outstanding and popular performers in the music streaming industry. If you want to make a choice between them, this post is coming to help you. We will compare the two music streaming services to find which one suits the best to you.
The following content will present you the comparison of Amazon Music vs Apple Music price, sound quality, features, etc. Besides, if you want to create a music video or add music to your video, you can try the free video editor – MiniTool MovieMaker.
MiniTool MovieMakerClick to Download100%Clean & Safe
Amazon Music vs Apple Music: Price
When it comes to the comparison of Amazon Music vs Apple Music, price is one of the most important factors that makes sense. Let's take a look at the table below:
| | | |
| --- | --- | --- |
|   | Amazon Music | Apple Music |
| Starting Price | $9.99/month | $4.99/month (Apple Music Voice) |
| Free Trial | 3 months | 1 month |
| Price for Offline Mode | Free (Prime members only, but with library size limit); $9.99/month (standard) | $9.99/month |
| Student Plan | $4.99/month for eligible students | $4.99/month for eligible students |
| Family Plan | $14.99/month for up to 6 members | $14.99/month for up to 6 family members |
| Annual Plan | $79/year (Prime members only) | $99/year |
The price for an individual Amazon Music Unlimited subscription varies. If you're already an Amazon Prime member, the streaming music service costs an additional $7.99/month (or $79/year). For everyone else, it's $9.99/month, which is the same as ‌Apple Music‌. The subscription gets you ad-free access to Amazon's millions of song music catalogs with offline listening and unlimited skips.
After the 1-month free trial, Apple Music membership allows you to stream Apple's music catalog, download music and videos for offline listening, and get access to new releases and exclusives, as well as a back catalog of shows broadcast.
Amazon Music vs Apple Music: Sound Quality
As for the quality of the audio, Amazon Music and Apple Music both provide a high degree of music quality, with Apple Music providing 256 kbps AAC and Amazon Music providing 256 kbps MP3.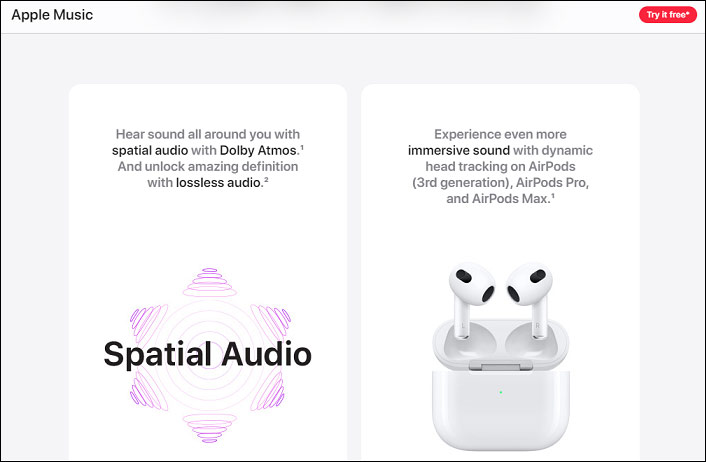 Apple's service includes Spatial Audio with support for Dolby Atmos (technology that aims to mimic surround sound) to improve‌ the listening experience. By default, the service will automatically play Dolby Atmos tracks on all AirPods and Beats headphones, as well as the built-in speakers in the latest versions of iPhone, iPad, and Mac.
Like Apple, Amazon Music also provides a high-fidelity streaming service – Amazon Music HD, now available to Amazon Music Unlimited subscribers. In addition to lossless and Dolby Atmos enhancements, users can stream songs in Ultra HD (which Amazon claims is better than CD quality), with a depth of 24 bits and a sample rate of up to 192 kHz, though Amazon's hi-res library is more limited.
Amazon Music vs Apple Music: Device Compatibility
Apple has its ecosystem. Apart from browsers and the iOS and Android apps, Apple Music is available on the Apple TV 4K, Apple HomePod and HomePod mini, Apple Watch, and Apple CarPlay. Apple Music will not officially work with Amazon's Alexa-powered smart speakers, like the Echo or Dot, though you can stream it on iPhone via Bluetooth, but lacks voice control.
By comparison, Amazon Music works on almost all smartphones, tablets, and smart speakers on the market. It has a comparably broad range of supportive devices, like the Fire TV range of media streamers and Amazon Echo speakers. Furthermore, if you have Amazon's Alexa-powered smart speakers, Amazon Music is undoubtedly the best option.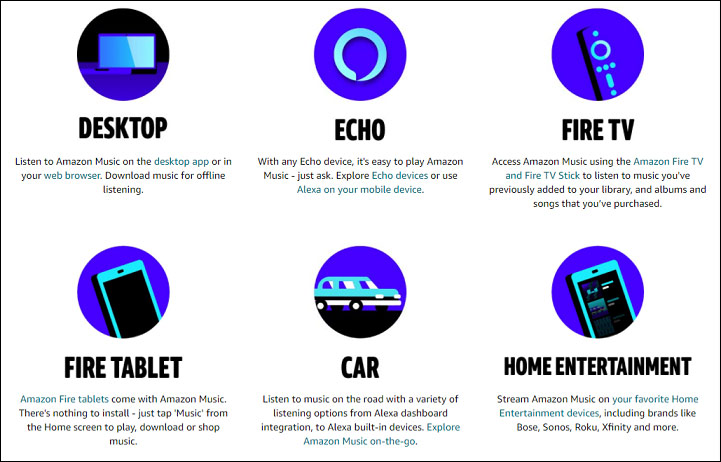 Amazon Music vs Apple Music: Music Sharing
‌In addition to creating shareable links that you can post wherever you want, the Amazon Music app lets you post a song directly to the social network of your choice.
Apple Music‌ allows you to follow friends who are also subscribers and share playlists you've personally created. ‌You can share songs with other registered users over AirDrop but don't have the immediacy of Amazon Music's social sharing. The For You tab will show you what your friends are listening to if you've connected.
Conclusion
In conclusion, this post discusses the comparison of Amazon Music vs Apple Music sound quality, price, device compatibility, and music sharing. Which one do you prefer? You can share your ideas in the comments.