Have you ever encountered such a situation that when you open your Facebook application, the playing Apple Music stops on your iPhone? If so, do you know why opening Facebook stops the music? Do you know how to fix this issue? If not, just rely on the following content!
Why Does Facebook Stop My Music?
Why does my music stop playing when I open Facebook? You may ask this question or similar ones. Let's see the reason or cause.
Both Apple Music and Facebook apps are massive and data-heavy. If you use them at the same time, it must put some strain on your iPhone's processor. Although most Apple phones can handle that. Yet, there are a few cases where opening a source-heavy program will lead Apple Music to stop playing or even crash.
Data-heavy apps require the hardware device to spare extra resources like processor, memory, and storage to run them. So, it is possible that opening such an app will force other running apps to close, especially the one that is also data-heavy.
How to Stop Facebook from Stopping Music?
After knowing "why does my music stop playing when I open Facebook", next, let's see how to stop Facebook from pausing music.
Apple Music will stop playing music when you open Facebook if there is a video on FB that is auto-playing. Also, Facebook will auto-play videos as you start scrolling through it. You may see some variations in volume when you launch Facebook, which is a result of the mic and sound control being required by FB.
#1 Deactivate Auto Play
First of all, you can try to deactivate the automatic play of the video in Facebook settings. In Facebook settings, scroll down to Preferences and tap on Media. Then, select Never autoplay videos to turn off the function and restart Facebook.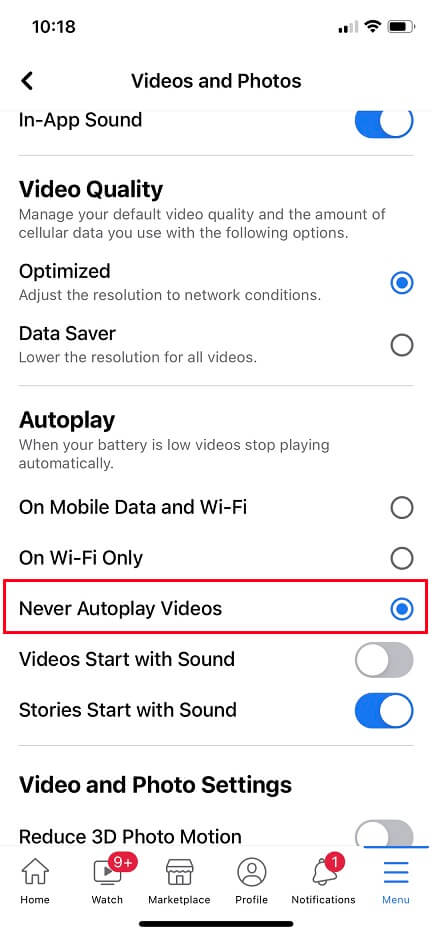 #2 Turn off the Camera
Secondly, you can go to your iPhone settings, then navigate to Facebook settings, and turn off Facebook's access to the device camera. Then, you can scroll through Facebook and listen to Apple music simultaneously without the mentioned problem. If you watch a video, the music will pause. Yet, it will resume when the video finishes.
#3 Disable Facebook Sound
In the third place, you can mute the sound in the Facebook app to avoid the opening of FB interrupting Apple Music. Just navigate to Facebook Settings > Account Settings > Sounds and uncheck In-App Sound. Then, the auto-play feature will be disabled.
#4 Close Other Running Apps
Just as mentioned above, too many running programs or services will eat up the phone's resources. Thus, another way to stop Facebook from blocking music is to close as many other tools as possible, especially the ones running in the background.
To achieve that, just tap on the Home button twice and wipe it up to close the displayed app. You are recommended to do that regularly since it will help to improve the speed of your iPhone and optimize its performance.
#5 Relaunch iPhone
If the above methods fail to stop music from stopping when on Facebook, one more solution is to restart your iPhone to force close all running apps and services. This might also get rid of some bugs or glitches with the Facebook app.
However, doing that will also reset your auto-play settings to the default and make it enabled. You need to disable the auto-play feature again to try to fix the issue.
#6 Update Facebook
Besides, you can try to update your Facebook to the latest version to avoid possible bugs sticking with the old version of Facebook. In a few cases, you might downgrade to an older working version of FB to handle the problem.
#7 Reinstall Facebook
Furthermore, you can try to stop Facebook from muting music by uninstalling and reinstalling its app on your iPhone. The incorrect or incomplete installation may cause Facebook to interfer with other apps. Don't forget to disable FB's auto-feature utility after reinstallation!
Finally, if none of the above solutions work, the last resort you should try is to contact the support team of either Apple or Facebook. Good luck!
Videos/Audio/Photos Management Tools Recommended
These applications are completely compatible with Windows 11/10/8.1/8/7.
MiniTool MovieMaker
An easy-to-use video editing software without watermarks and limits. The embedded templates enable you to quickly make personal slideshows and share them with your friends!
MiniTool MovieMakerClick to Download100%Clean & Safe
MiniTool Video Converter
Quickly convert videos and audio from one file format to another to apply to more devices. It supports 1000+ popular output formats and batch conversion. Besides, it can also record PC screens without any watermark and download YouTube videos.
MiniTool Video ConverterClick to Download100%Clean & Safe
Also read: