To help you learn more about Imgur, this post will tell you what is Imgur and teach you how to upload to Imgur. Besides, it also offers 10 sites like Imgur and teaches you how to make memes with the Imgur meme generator. Want to create a stunning meme video? MiniTool MovieMaker is recommended here.
What Is Imgur?
In the previous post, you might have learned about the Imgur GIF maker. But what is Imgur? Imgur is an American free online image sharing and hosting website. It has been very popular and has millions of users.
And it provides a large library of various GIFs, images, memes, and more, and it also allows you to share images on it. The following part will show you how to upload to Imgur. With Imgur, enter a keyword then tap the Search, you can easily find any content like many cute animal GIFs.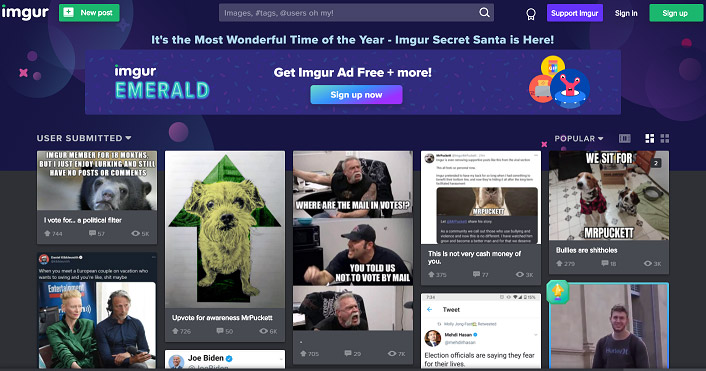 With Imgur accounts, you can create custom photo galleries and organize the images. The image organization including image editing, deletion, photo album creation, and the ability to give comments on images. The image editing allows you to resize, crop, and rotate images. You can upload a bulk of images, and every account can upload an unlimited number of pictures, and the upload limit per hour is 50 images.
Moreover, it offers an online Imgur meme generator and GIF maker, you can make memes and convert video to GIF. And Imgur offers a mobile application for Android and iOS, making it easy to find and create funny memes and GIFs and watch viral videos.
Note: When you upload to Imgur, you must know the supported formats: JPEG, PGN, GIF, TIFF, APNG, MP4, MPEG, AVI, WEBM, QuickTime, X-Matroska, FLV, x-Msvideo, and WMV. But currently, it doesn't support GIFV format. The maximum file size of non-animated images is 20MB, but the PNG files more than 5MB will be converted to JPEGs. The maximum size of animated images and videos is 200MB, and the video length limit is 60 seconds.
How to Upload to Imgur?
Here's how to upload to Imgur on the desktop website.
Step 1. Navigate to the Imgur website.
Step 2. Tap on the New Post, then directly drag images to Imgur, or click Choose Photo/Video or tap the Paste image or URL to add your pictures.

Step 3. After uploading images, give a title to the post, add a description for each photo, or add tags.
Step 4. To edit a photo, hover the mouse over it, and then click the three-dot icon.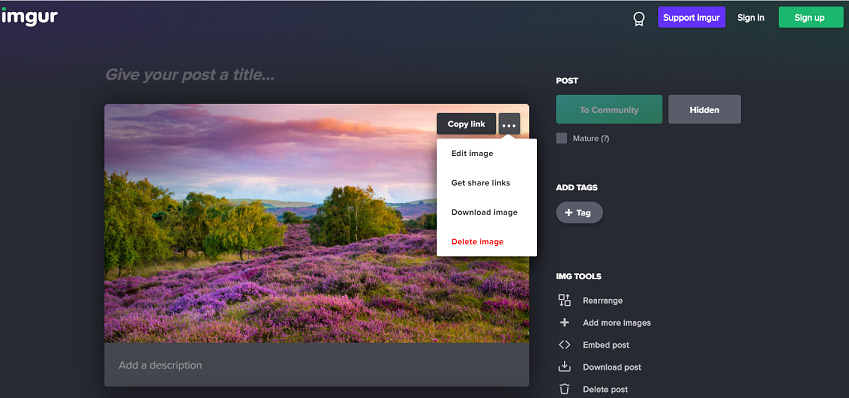 Step 5. Select an upload option. The To Community asks you to sign in with your Imgur account and means everyone can see this image. The Hidden doesn't require an account and you'll get a share link.
How to Use Imgur Meme Generator?
The following shows you how to make a mem with the Imgur meme generator on the desktop website.
Step 1. Go to the Imgur website, click the green New Post button and then select the Video to GIF.
Step 2. On the new page, hit the New Post and choose the Make a Meme.

Step 3. Choose the select a default meme, or upload new background, or Browse memes. The following steps are based on the choice of upload new background.
Step 4. Add text to the meme in the TOP TEXT and BOTTOM TEXT box, and give the meme name.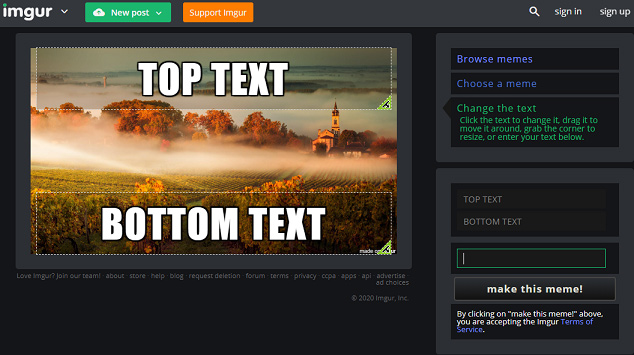 Step 5. Click the make this meme to create your meme.
Step 6. To download or share this meme, click the three-dot icon and select the Download. Hit the share icon to share this meme on Facebook, Twitter, Reddit, and Gmail, or tap the link icon to copy the link to the clipboard.
Top 10 Imgur Alternatives for You
Apart from Imgur, there're many other sites like Imgur to find, share, and upload images. Here's the list of Imgur alternatives.
Top 10 Sites Like Imgur to Share and Upload Images
PostImage
Kek.Gg
ImageShack
UltraIMG
ImgBox
PhotoBucket
ImgPile
FunkyIMG
Unsee
Picpasteplus
Conclusion
Now, I believe you get the answer to what is Imgur and know how to upload to Imgur. So, you can try to upload your photos to Imgur and share them with others. Also, you can try to create your meme with the Imgur meme generator. And if you'd like to recommend other Imgur alternatives, leave them below.